Vegans have rebranded dairy-free cheese 'Gary' after a woman's angry Facebook rant about a new range of coconut-based alternatives went viral.
Sainsbury's supermarket in the UK released a new line of cheeseboard-style dairy free cheeses last week, which infuriated one troll who raged against the products online.
After demanding vegans call dairy-free cheeses "Gary or something", the vegan community responded by embracing the idea, sparking a torrent of jokes and memes on social media.
Even Sainsbury's jumped on board, uploading a Photoshopped picture of the front of a vegan cheese packet, which replaced the name of the "cheese" with "GARY".
The supermarket released its new range of seven £2.25 ($4) coconut oil-based cheeses last week, which include alternatives to Wensleydale with cranberries, and cheddar.
But the launch incensed one unidentified woman, who wrote on Facebook: "As a real cheese fan myself it's really annoyed me that Sainsbury's have brought out a 'Vegan Cheese' made with COCONUTS.
"CHEESE IS NOT MADE WITH COCONUTS. Call it Gary or something but don't call it cheese."
The epic rant, which went on for several paragraphs, quickly went viral.
Vegan Life Magazine posted a picture of the rant on its Facebook page, before writing: "Has anyone else seen the new vegan-friendly Gary?"
The post soon was being shared hundreds of times on Twitter and Facebook, and spawned a Facebook page: It's not Vegan Cheese, it's Gary.
The page has gained more than 9000 likes with nearly 200 people sharing photos of their memes and "Gary" jokes.
And soon Sainsbury's joined in, writing on its Facebook and Twitter pages: "Thanks to customer feedback, we're excited to introduce our new range of #Gary."
The post has been shared more than 7,000 times and sparked more than 2,600 comments.
It then shared a Facebook post from Bute Island Foods - which makes the vegan cheese for Sainsbury's - showing a picture of "line manager Gary" holding up a packet of the dairy-free cheese with a "Gary" label.
It has been liked nearly 250 times.
Thousands shared memes and jokes about "Gary" vegan cheese after the original Facebook rant went viral.
On the It's not Vegan Cheese, it's Gary Facebook page, a picture of vegan cheese was posted with the caption: "We interrupt this broadcast to inform you that vegan cheese is now called "GARY".'
The page then riffed on the popular "One does not simply walk into Mordor" meme from Lord of the Rings, instead writing: "One does not simply call it vegan cheese. It's Gary."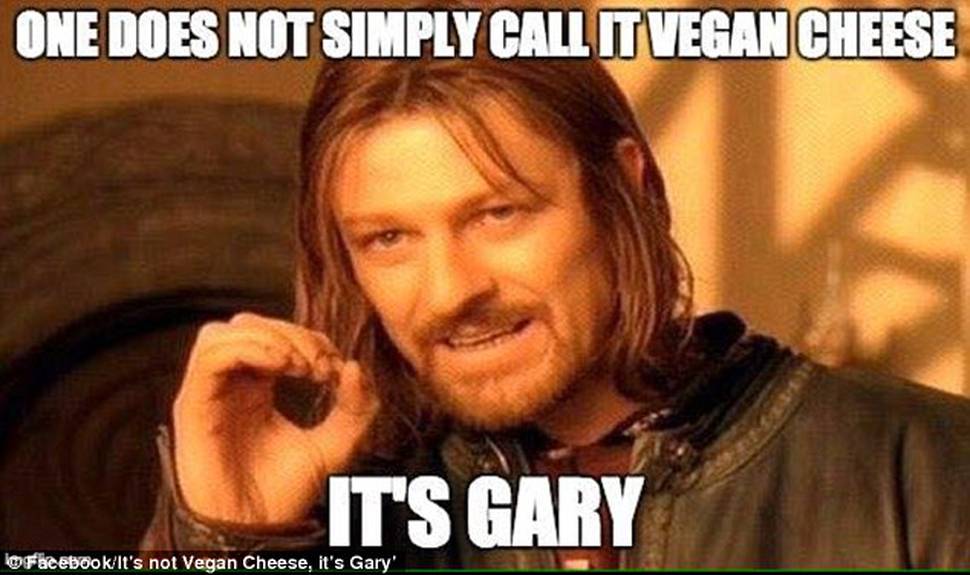 On the same page, a meme was posted of cheese-loving Wallace from Wallace and Gromit with the caption: "GARY!" instead of his usual catchphrase of "cheese, Gromit".
Fra Casta shared a photo to show that the viral sensation had even reached Italy.
The picture shows that someone has placed a label with "vegan cheese" crossed out, replaced with "Gary".
The page reported that: "Now we've had The Netherlands, Germany, America, Canada, and Italy joining the fun!

The whole incident has been a marketing success for Sainsbury's, with even non-vegans convinced.