Their children have been described as "the best thing to ever happen" to them.
But it seems that conflicting parenting styles eventually drove a wedge between Brad Pitt and Angelina Jolie.
In legal documents lodged on Monday, Jolie, 41, filed for divorce from her husband of two years and partner of 12.
In what is being seen as a serious blow to 52-year-old Pitt, Jolie requested sole physical custody of the couple's six children (Maddox, 15, Pax, 12, Zahara, 11, Shiloh, 10, and eight-year-old twins Knox and Vivienne).
Her lawyer stated that she was ending the marriage "for the health of the family". Her manager Geyer Kosinski continued, saying: "Angelina will always do what's in the best interest to protect her children".
These official statements combined with various comments from sources close to the couple indicate that Jolie disapproved of Pitt's parenting.
"Sources connected with the couple tell us ... Angelina's decision to file has to do with the way Brad was parenting the children ... she was extremely upset with his methods," TMZ wrote. "Her decision was solely over Brad's interaction with their children."
The same source also claimed that Jolie grew "fed up" with Pitt's consumption of "weed and possibly alcohol".
TMZ reports that these particular comments have infuriated Pitt, and he is claiming that she has put their children in the spotlight.
"We're told Pitt is 'furious' at Angelina for allegedly spinning stories that he poses a risk to their kids because of ... weed and alcohol," writes the website.
"Pitt says there's now a bounty on the heads of the entire family, because they've now become a prime target for the gaggle of paparazzi. We're told the way Brad put it is this ... 'She's just unleashed hell'."
The website also claims Pitt had conversations with Jolie over the last few days and pleaded for her to handle the divorce "like adults."
"He wanted to low-key it for the benefit of the kids. Instead, he says, she went scorched earth by asking for sole physical custody and suggesting he's a risky dad".
Officially, Pitt has said: "I am very saddened by this, but what matters most now is the well being of our kids. I kindly ask the press to give them the space they deserve during this challenging time."
The children have always been a key focus for both Jolie and Pitt.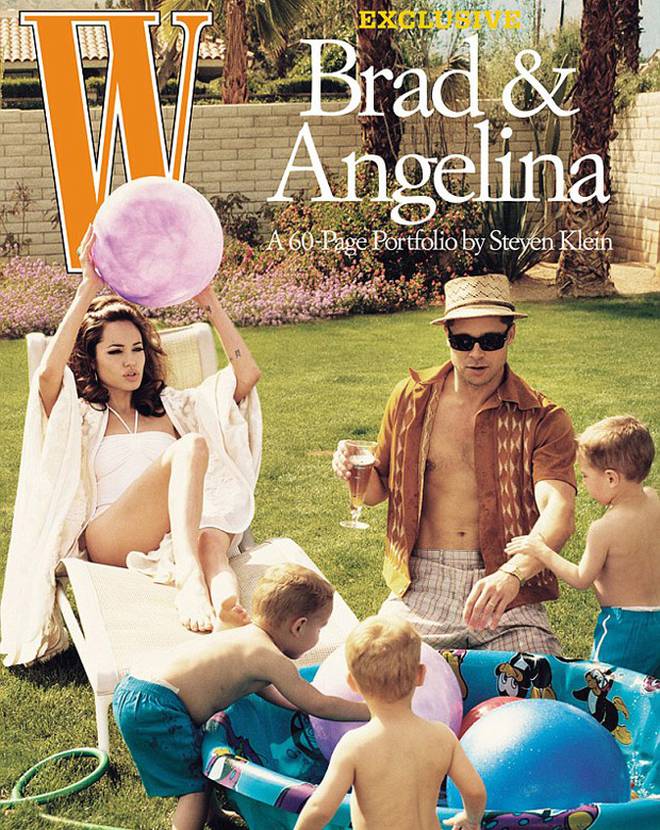 "I feel like the richest man alive since I've become a father," Pitt told Psychologies magazine in 2014.
"I worry about them all the time ... That's the emotional bond and responsibility that sweeps over you when you have a family to look after. I care about them more than I care about myself which I think is the real definition of love."
The children were a key reason the pair tied the knot two years ago (they had previously said they wouldn't wed until their gay friends were given the same rights).
"The kids ask about marriage," Pitt told USA Today.
"It's meaning more and more to them."
The whole family played a role in the intimate wedding ceremony, held in the chapel of Château Miraval - the family's estate in the French village of Correns.
Eldest sons Maddox and Pax walked Jolie down the aisle; flower girls Zahara and Vivienne tossed petals gathered from the garden; and Shiloh and Knox served as ring bearers. Pax baked the cake and all the children helped write their parents' vows and decorated Jolie's wedding dress with drawings.
"It was important to us that the day was relaxed and full of laughter," Pitt and Jolie told People at the time. "It was such a special day to share with our children and a very happy time for our family."
While the kids have clearly been a shared priority, People reports that the pair have often argued over disciplining the children, with a source claiming that Brad was more focused on having rules and structure.
"Brad has always been stricter," the insider claimed. 'He has wanted the kids to have more structure. Brad will get frustrated sometimes and yell at the kids.
"Angelina always had a more relaxed attitude ... She definitely never yells."
The Jolie-Pitt children have enjoyed a fairly bohemian upbringing, travelling the globe and enjoying an unconventional education.
"With my family, I'm trying to raise them to have respect for all people and make friends around the world and feel at home with the world and really live a truly global [life] because I think it's what forms them and it's really important to me," the actor told StarPulse.
"All the kids are learning different languages," Jolie told BBC Radio 4's Women's Hour in June this year. "I asked them what languages they wanted to learn and Shi is learning Khmai, which is a Cambodian language, Pax is focusing on Vietnamese, Mad has taken to German and Russian, Z is speaking French, Vivienne really wanted to learn Arabic, and Knox is learning sign language".
A source revealed to DailyMail.com that while working on her latest directorial effort First They Killed My Father in Cambodia, Jolie "let her kids run wild".
"The children can all be a nightmare apart from Maddox. He's really, really sweet and nice," the insider said.
"Angie believes everything the children tell her. They can do no wrong in her eyes, everything they say becomes the gospel truth".
In March 2012, Jolie admitted to Britain's OK! Magazine that Pitt had adopted the role of the stricter parent.
"I used to be the tougher parent but since the birth of the twins, Brad's had to play bad cop more often," she explained.
So is it likely that the children will be pulled into an ugly custody battle?
US lawyer Barry Slotnick tells Bustle that the pair could very likely bring this to court.
"As far as a legal battle, as long as there are lawyers involved there will be a battle. She has made allegations that are severe with regards to his relationship with the children and they count," Slotnick said in an email statement via his publicist.
Likewise, he said that the pair will most likely receive joint custody unless Jolie can prove that her supposed allegations made against Pitt are true.