If you're going to make a complaint, it pays to think outside the box. That's the lesson this woman learnt after receiving an epic response to her complaint about a worm-riddled lettuce.
Discovering the bug in an iceberg lettuce she'd bought from a Sainsbury's supermarket, Leila Jayne Daly decided to take to social media to share her dismay.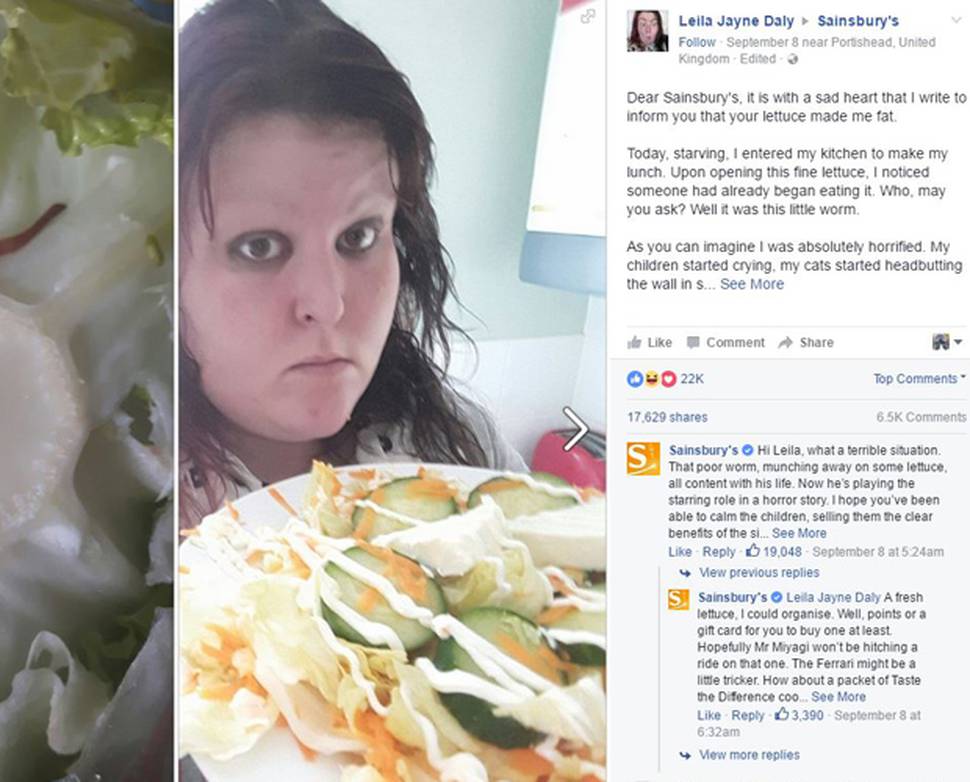 Posting an image of herself looking glum alongside the contaminated lettuce, Daly wrote:
"Today, starving, I entered my kitchen to make my lunch. Upon opening this fine lettuce, I noticed someone had already began eating it. Who, may you ask? Well it was this little worm.
"As you can imagine I was absolutely horrified. My children started crying, my cats started headbutting the wall in shock, I soiled myself, my husband divorced me, it was complete madness.
"I sat on the floor crying for a little over an hour. Until, puffy and red, I gave in and ate a burger. This was solely because I could not eat the lettuce purchased from you."
She continued with her cheeky spiel, asking: "What kind of establishment allows worms on food that comes from the ground? Do you want me to die?"
She also suggested the company fire all its staff and close the business.
The British supermarket chain picked up on Daly's sarcastic tone and responded accordingly:
Although, a 12 stone weight gain from a burger, that's quite the achievement. Not at all your standard burger, it sounds amazing. Was it one of ours, as I'd like to try it? Judging by your picture, you make a mean salad, perhaps salads could be an alternative option to your new career move? Of course, it's clear we should hang our heads, and worms certainly don't belong in lettuce, but as an alternative to closing down and issuing P45s, how about we sort a refund, with maybe a little extra to help feed your new friend and treat yourself to something nice on us? Drop us a PM, we can discuss. Ross

SHARE THIS QUOTE:
Daly responded by telling "Ross":
"... I am willing to let you keep your stores if you buy me a Ferrari and a fresh lettuce. If we make a deal I'll call off my lawyers."
She also shared that the worm that sparked the complaint had become a pet, named Jackie Chan, and was currently "terrorising the neighbour's dog" out in the garden.
During the compensation negotiations, Daly revealed she could be bargained with, as long as the worm got something as well.
Sainsbury's Ross eventually managed to satisfy Daly and her new pet by sending them a voucher and a Netflix card "for the worm".