Greg Bruce meets the psychiatrist behind the All Blacks' battle for mental resilience, who reveals how Richie McCaw stood out from the rest.
In the new documentary, Chasing Great, there's a scene where television sports reporters Jenny-May Coffin and Andrew Saville are on air following the 2007 World Cup loss. Coffin asks Saville which of the All Blacks leadership team has fallen on their sword, to which he replies, "No one, and that's quite surprising, really."
An exhaustive list of World Cups the All Blacks failed to win, in order: 1991, 1995, 1999, 2003, 2007. There are many possible explanations for why they lost at all those tournaments, even though they were generally considered the best team in the world going into each one. One interesting and possibly relevant fact, though, is that at every one of those World Cups, the All Blacks had an entirely different leadership team - coach and captain - from the previous event.
From 1991 onwards, the post-World Cup cull was, like so much of what goes wrong in life, something that was just assumed, a reaction, an unexamined prejudice. Getting rid of people who have failed, we thought, is just the sensible thing to do.
After that 2007 World Cup press conference and for months - and even years - afterwards, that assumption was still strong and presented with extreme force by many in the sports media and beyond but, for whatever reason, it was ultimately ignored by the New Zealand Rugby Union.
In Chasing Great, after the scene in which Saville and Coffin have finished their 6pm back-and-forth about who's falling on which sword, there is an interview with the All Blacks' mental skills coach Gilbert Enoka, who says, "Success is a lousy teacher."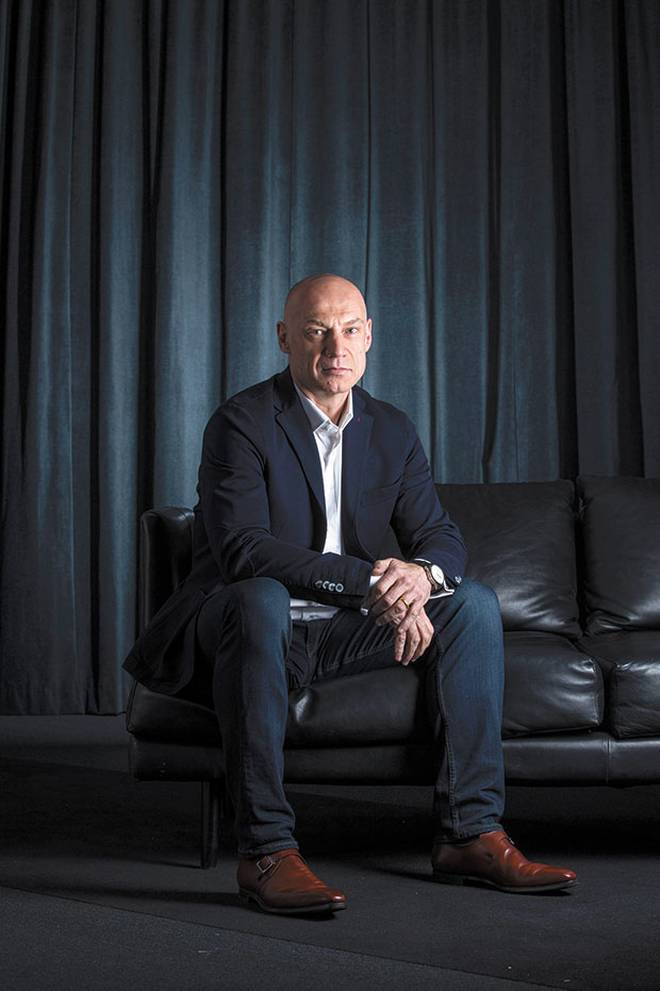 In 2010, after the All Blacks had gone 23 years without winning a World Cup, Enoka met with a psychiatrist named Ceri Evans. They discussed whether Evans thought he could make some contribution to the All Blacks around resilience. Evans gave what he describes as his standard response: "I don't know."
Of course he didn't. How many variables are there in a single game of rugby? Thirty players, plus reserves, all with their own issues, multiple coaches, referees, weather, injuries, multiplied across the multiple games of a World Cup tournament and across the long, difficult years in between.
Nothing is certain; nothing is even likely. You take a leap of faith when you engage somebody like Evans to work with a team. Even after a team has won two World Cups working with him, and looking a lot more resilient, you can't be sure he's the difference.
Evans is a former captain of the New Zealand soccer team, a Rhodes Scholar, a practising forensic psychiatrist, a director of an organisation called Gazing Performance Systems and a consultant to a range of corporate and sporting organisations on the issue of performance under pressure - this last piece of expertise being what drew him to the attention of the All Blacks.
What he was offering was effectively an anti-choke mechanism - a way to deal with the discomfort that comes from high-pressure, high-stakes environments - to a team greatly in need of one.
Improving the performance of any organisation under pressure, particularly one with a history of being as bad at it as the All Blacks, is not a quick job. "Breadth and depth" is one of many phrases Evans likes to use to explain the level of involvement needed to make it work; "hints and tips" is a phrase he hates.
What Evans was offering was effectively an anti-choke mechanism - to a team greatly in need of one.
Nevertheless, if we're going to be reductionist about it - and we are - a significant part of what he wants players to do is to take their focus off the outcome and to focus on the challenge instead - to stay in the moment. Outcomes divert players from a moment-to-moment focus on performing well.
Still, the All Blacks really, really wanted the outcome of a win at the 2011 World Cup, the country pretty much demanded it, and Evans' paycheque probably depended on it.
"There are no guarantees around this," he says of his work, "and it has to be a systematic approach. It's not something you can guarantee.
It's not something you can quickly deal with.
It's not a, 'do this and tick it off'. I talk with organisations about breadth and depth. If someone wants to develop their capacity and their threshold resilience, it's not one thing."
He had a year until the World Cup.
Chasing Great is not a celebration of Richie McCaw's physical brilliance so much as it is an examination of his mind. We see him writing advice to himself in his 1B4 notebook, talking about where he's gone wrong, about how he's trying to get better.
"This isn't a tour de force," Evans says. "That's not going to make a movie. It's actually about the vulnerabilities. And I think that's the bit that is the exciting thing, that the rest of us average New Zealanders can look at that, and someone who does extraordinary things, we can identify with aspects of that - the fact that he said 'I have doubts', the fact that he may not have got things right, the fact that he was able to see if he could do it a different way, a better way - the fact that he could learn."
The doubts, the vulnerabilities, are obviously not the sort of doubts most of us have - are we ever going to amount to anything? Is this job worthwhile? But they're still instructive: how can I be as good as it's possible for me to be?
Evans says that, in his time working with the All Blacks, McCaw asked him more questions than any other individual and also did more work on his own. "If I simply toted up the number of hours that he did individually, he stands alone."
In 2011, and particularly by the time of that year's World Cup final, McCaw should not have been playing, not if he was really interested in his long-term well-being. His foot was broken and every time he played on it, it was getting more broken.
On the other hand, well-being is a broad concept, to do not just with significant, ongoing structural damage but also with the emotional and spiritual importance of taking part in the most important event of your life so far, and possibly of your life, ever.
"The mind often limits us," Evans says, "and actually our body can do more, and that gets played out in different ways, even just in straight endurance. We think we've reached our threshold but the mind gives up first.

After the 2011 World Cup final, which the All Blacks won 8-7, many of the world's rugby journalists wrote about how France had outplayed the All Blacks.
What did they mean by that? By what measure did France play better? Some possibilities: They had more possession, more territory, forced the All Blacks to make more tackles and spent more time inside the All Blacks' 22.
Statistics are one way to assess which team has played better, and another way is to ask, when most of the statistics point to a particular team's superiority, why they didn't win.
Asked about the All Blacks' mental performance in the 2011 final, Evans says: "The overriding sense of what they said of their experience at the time was that they were calm. They had debate. It wasn't all clear to them but they were able to discuss and debate and stay in the moment, make decisions, adapt to certain scenarios as they played out, and stay on task, rather than getting diverted by the situation ... From an external perspective it looked like they wobbled and had certain moments but they certainly didn't fold and actually they finished strong and I think that was the story they described.
"Even people that went on the field, water and things like that, were saying that they seemed to be discussing things, they were composed, under the pressure, they were clear. So we can say what we like in terms of the judgement but that was what they were going through. From the mental perspective, they stayed in there."
How were things for France, mentally, in that final? Are there numbers that can tell us? The most likely possibilities, given their statistical superiority, are 8 and 7.
"What does it mean to stay in the moment?" Evans asks. "Do you believe it's a given? We've got certain technical things, we've got certain physical capacities, therefore it's easy, we can just play the game and because we've got that, that's the outcome of the game done right there? No, that's not respect for the environment.
"The environment will set certain challenges and within a game you fluctuate mentally. That's why the mental isn't just - I've heard the phrase, 'a spoke in the wheel' right? I would say it's the hub of the wheel. Because the team has the same technical and physical aspect. The coaches prepare them with the leaders in a certain way to get that mindset but if the mindset is not right, your performance can go up and down dramatically."
By and large, Evans says, people who work in demanding contexts tend to be more interested in their vulnerabilities than in their abilities. They don't ignore their abilities but they understand the importance of knowing how things can go wrong. They are open to uncertainty. Those who are successful learn from it. "I think a big part of Richie wanting to tell his story is he's reaching out because he realises it could be valuable for New Zealanders to learn about the vulnerability of an All Black captain, for goodness' sake, and that acknowledging some of these things at a practical level allowed him to take a different approach to things and face things in life and go on and extend himself further."
In their physical traits and technical ability - in their ability to play rugby - the All Blacks have been peerless. What they were missing, at least until 2010, was the ability to deal with being human.