Steve Braunias is on a mission to eat at each one of the 55 food joints on Lincoln Rd in West Auckland. • Episode 19: BBQ Hut Nood Les
The man who ate Lincoln Rd has a lot of time for farm animals, mostly at lunch time and dinner time. I like meat. It's good. In fact even the thought of it causes me to interrupt writing this latest installment in the series everyone is talking about to go into the kitchen and cook a sausage.
Ten minutes later: delicious! Thank you, Hellers, for your New Yorker Porker! But the experience reminded me that one of the virtues of a sausage is that it doesn't look like meat. The point of it is that it operates in disguise; it's processed, given shape and purpose by machines, backstage, out of sight. It's the meat that cheats. It saunters into the room all cheerful and innocent. You'd never know it was pulled out of a screaming animal.
You know all about it at BBQ Hut Nood Les on Lincoln Rd. Once you recover from the incredible decision to spell noodles as two words on the outside sign, you're confronted with the indoor window display of killed whole meat hanging from a hook. There were five ducks. There were five chickens. There were pork spare ribs, too, and the display told you in explicit terms that they'd been pulled out of a screaming animal.
All the meat was coated in some sort of deep dark soy. The sauce dripped off their carcasses in long, sticky lines of ooze. The ducks in particular caught my eye; they were pierced, with little metal piercings, and it took me a while to realise that the leathery thing draped over the hook was their necks. I attempted a sketch.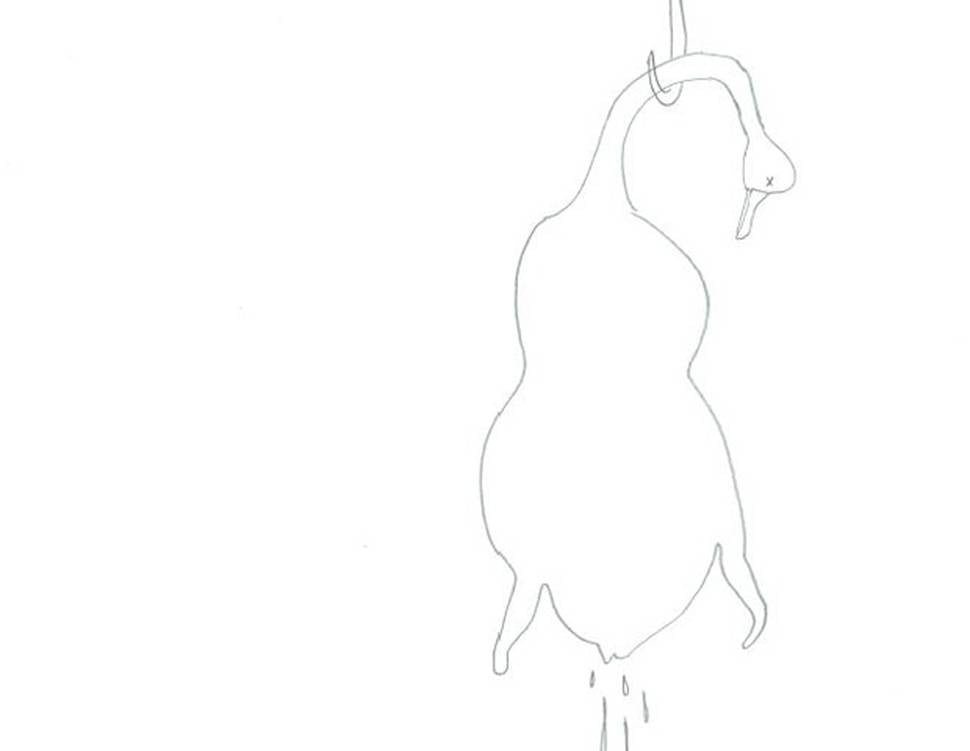 I went there for lunch this week and enjoyed it very much. It's a busy, no-nonsense Chinese restaurant. It has cheap yellow tablecloths and it doesn't have any pictures on the yellow walls. There are always people inside BBQ Hut Nood Les, mainly Chinese who speak limited or no English, which is always a good sign of authentic food.
There are a wide range of hot lunches for $10-$11. They do chicken and pineapple fried rice, and ma po tofu, and salted fish. I ordered the three BBQ meat dish.
Three or four mamas bustled around at the front; gaunt men hacked and chopped and sauced out the back. I sat at a little table directly beneath the pierced ducks. It's not a place I could ever take my daughter. She became vegetarian when she was about seven. She read a slogan somewhere: "Keep pork off your fork." She thought about that, and put it into practice.
The three BBQ meats on my plate were chicken, duck, and spare ribs. They were served with rice, and bok choy. I didn't touch the bok choy. The meat was tasty, succulent, rich. There wasn't a lot of it but I suppose it was fair for the price. A glass of hot tea was served free of charge.
I was finishing off the last slices of duck when a truck pulled up outside. It was marked REFRIGAFREIGHTERS. The back doors opened, and two guys in white overalls got to work. They hooked up a sliding metal rail on an angle, going from the truck to the freezer rooms of the next-door butcher warehouse, Mr Meats Plus, which advertises whole pigs, whole lambs, whole beef.
And so whole pigs, whole lambs and whole beef were hooked up to the rail, and slid down into the freezer. Red in tooth and claw, they were presented as shocking corpses, once upon a time farmed and herded, put in a truck alive and taken to a slaughterhouse, then murdered, washed, skinned, disembowelled, and put in a truck, dead.
It was quite a sight to see so much tortured, murdered flesh in broad daylight. It made a statement. It said: this is how we treat living things. It said: forget the threat of a planet of the apes, wait and watch for the threat of a planet of the livestock when it rears up and decides enough is enough.
The bill at BBQ Hut Nood Les: $11. The rating: 8/10.
STEVE'S EARLIER ADVENTURES ON LINCOLN ROAD:
• Episode 1: Entering heart attack alley
• Episode 2: Moto sushi
• Episode 3: Sierra
• Episode 4: Sal's Pizza
• Episode 5: Langtons On Lincoln
• Episode 6: Nando's Chicken
• Episode 7: The man who ate Lincoln Rd's doughnut dilemma
• Episode 8: The man who ate Lincoln Rd rates Eves Pantry
• Episode 9: The man who ate Lincoln Rd rates Burger King
• Episode 10: Bad times at Burger Fuel
• Episode 11: Mr Burger
• Episode 12: Saaj
• Episode 13: The little guys on Lincoln
• Episode 14: The Coffee Club
• Episode 15: Subway
• Episode 16: Carl's Jr.
• Episode 17: Mitre 10's café
•All views expressed are the author's.