A rumour started circulating in the '80s that made many men shift uncomfortably in their seats.
People were saying that one of the scantily-clad women in the Bond film For Your Eyes Only was ... wait for it ... actually a man.
It was scandalous. People felt duped. Could it really be that the woman in the bikini by the pool that they'd been ogling along with Roger Moore was indeed male? Then a journalist from a British tabloid confirmed that the actress was transsexual, and everything Caroline Cossey had worked so hard for fell apart.
Caroline Cossey is in the spotlight at the moment, as she recently spoke extensively to The Huffington Post about her experience as a young trans model. With the trans community beginning to play a bigger role in Hollywood (think Orange is the New Black's Laverne Cox, Caitlyn Jenner and cult TV show Transparent), Cossey spoke about her experience being "outed" in the '80s.
Caroline Cossey was born Barry Kenneth Cossey and was raised a male.
In her younger years, she was "distinctly feminine" in appearance, due to a variant of an intersex condition known as Klinefelter's Syndrome, where, instead of having the XY male chromosome, she possessed the genotype XXXY.
She remembers an unhappy childhood, punctuated by instances of bullying at school. She spent a lot of time with her sister Pam dressing up in her mother's clothes.
"I was forever getting beaten up", she wrote in her autobiography My Story.
"I was punched and kicked and often sported a black eye or a split lip at the end of the day."
When school became intolerable, she left at 15 and found work in a clothing store, then at a butcher's shop.
At 16 she moved to London.
During puberty realised she wasn't attracted to women, so she thought she must be gay.
"But I was not accepted in the gay scene," she reflected to The Huffington Post.
"I was also dissatisfied and felt unfulfilled by gay sex. The need and identity within me was for men to desire me as a woman and that put me into a seemingly impossible position. Not being able to fit into the heterosexual or homosexual worlds left me utterly lost and hopelessly lonely".
In London she had a chance meeting with a post-operative trans woman and something within her clicked. At 17 she began her own transition and started hormone therapy.
Shortly after, she found work as a showgirl at a London club. Breast augmentation surgery followed and she began working as a topless dancer in Rome to save up for gender reassignment surgery. She legally changed her name and had her reassignment surgery at age 20.
Afterwards, she felt that she was her "true self".
"The world treated me as a regular woman," she told the Huffington Post.
"The playing field was level for the first time in my life and through perseverance and hard work, I had achieved personal and professional success".
She began working as a model under the name Tula and appeared in Australian Vogue, Harper's Bazaar and as a "page three girl" for The Sun in the UK.
Although her career was taking off, she felt it was important to keep her past hidden.
"Unfortunately, during the '70s and '80s, there was so much stigma around transgender people. Success was only possible living in stealth," she said.
"I was in a difficult position. I made my living on a highly visible platform."
Things started to come unstuck in 1978 when she won a part on the British game show 3-2-1.
A tabloid journalist contacted her to say that they had discovered she was transsexual and they planned to write about it. Cossey dropped out of the show.
Then in 1981 she was cast in the Roger Moore Bond film For Your Eyes Only. Shortly after the film's release, British tabloid News of the World came out with the front page headline "James Bond Girl Was a Boy".
She was so upset she contemplated suicide and almost dropped out of the spotlight completely, only taking on small assignments.
One of the most hurtful moments she had after she was outed was an interview with radio shock jock Howard Stern:
"Everything changed when I went on Howard Stern," she said.
"He came out dressed up as a woman in order to interview me and joked that he'd gone through the surgery, and I didn't know he'd do any of that.
"He also made a joke about cutting off his penis and then handed me a sausage, and I just felt like, I don't need this. I need to keep my sanity."
Her experience at the hands of the tabloids and shock jocks like Stern propelled her "into the realm of activism".
Cossey fought for her right to legally marry and to be recognised by the law as a woman.
She began her legal battle with the British government, and it culminated at the European Court of Human Rights.
"I wasn't going to spend the rest of my life feeling ashamed or apologising for it and I didn't think anyone else should either," Cossey told The Huffington Post.
In 1991 she appeared in Playboy, as an openly trans woman: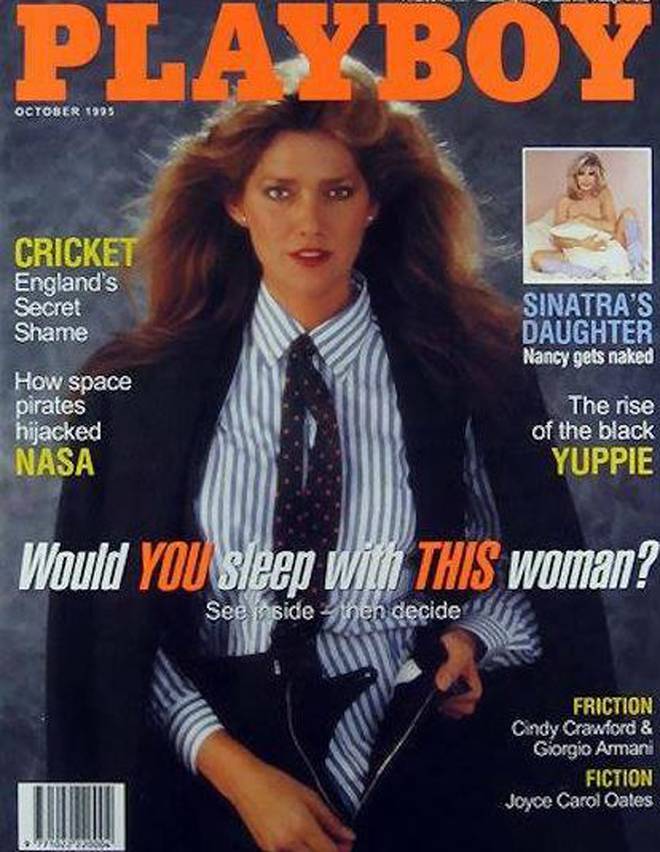 Around this time she also met a Canadian, David Finch, and they married in 1992 (they still live together in Atlanta).
The marriage to Finch came after a string of difficult relationships for Cossey.
Earlier, she had been engaged to Count Glauco Lasinio, an Italian advertising executive who was the first man to date her knowing of her past. He was credited with encouraging her to begin her petition for changes to the British law concerning transsexuals.
Unfortunately that engagement came to an end.
After that relationship ended she met Elias Fattal, a Jewish businessman, who was unaware of her history until he proposed marriage on St Valentine's Day 1988. When she told him, rather than rejecting her, he merely asked if she would convert to Judaism.
She agreed and they were married in 1989, just weeks after the European Court of Human Rights decided legally to recognise Cossey as a woman. They returned from their honeymoon to find that the News of the World had published a story on their wedding.
Fattal's family was angry and persuaded him to have the marriage annulled.
Cossey has enjoyed life largely out of the spotlight in the past few years, but since Caitlyn Jenner's very public transition and the rise of trans models such as Andreja Pejic, she's been asked for her comments, as something of a pioneer of the trans community.
"It's absolutely great to see people are finally beginning to embrace transgender models today," she told The Huffington Post reporter.
She also said she was moved to tears by Caitlyn Jenner's speech at the ESPY Awards, however, she did feel a little left out.
During the speech Jenner mentioned famous members of the transgender community, including former tennis star Renée Richards, Chaz Bono, Laverne Cox, and Janet Mock.
"I was a bit hurt she never mentioned me," she admitted to the Daily Mail.
"Maybe she never heard of me and my struggles and what I had gone through."
But regardless, "each and every one of us is wonderfully unique and we should always be proud of it.
"I'm proud that I did my part in helping advance transgender visibility, awareness and acceptance".