Make today memorable for Mum by taking over the kitchen and serving something special.
We always try to make our mum feel special every day but it's nice to have a day dedicated just to her. We like to cook every meal for her on this day because to us, food is love and it's how we like to say thank you to our mum for everything that she does for us. Plus we do all the dishes and cleaning up afterwards, as well. We hope you our recipes help you find inspiration to make your mum feel special today.
Tuna nicoise salad
Serves 1
100g piece of tuna
Salt and pepper
1 Tbsp oil
¼ cup cherry tomatoes, halved
1 endive, leaves separated
½ cup green beans, trimmed and cooked
2 Tbsp olives
1 boiled egg, halved
2 Tbsp chickpea sprouts
Microgreens to serve
For the dressing:
¼ cup olive oil
¼ cup red wine vinegar
2 tsp Dijon mustard
1 tsp honey
Heat a large frypan over a very high temperature. Season the fish generously with salt and pepper.
Add oil to the pan and add the fish when the oil is very hot.
Sear on each side for less than a minute so the inside of the tuna does not cook through. Remove from the heat and arrange the salad.
Place all dressing ingredients into a jar with a tight-fitting lid. Place the lid on and shake the dressing until combined. Dress the salad and serve.
Scotch fillet with saffron butter and silverbeet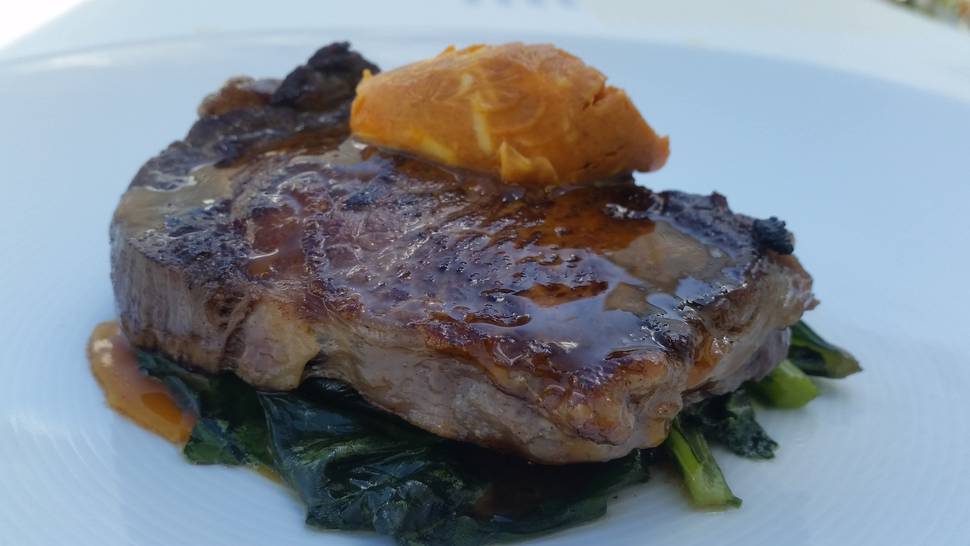 Serves 1
2 pinches saffron
2 tsp hot water
¼ cup butter, room temperature
200g piece of Scotch fillet
Salt and pepper
2 Tbsp oil
1 tbsp butter
¼ cup white wine
1 clove garlic, skin on, crushed
1 cup silverbeet
Steep the saffron threads in the hot water for 5 minutes and try and mash them up as much as you can. Add this to the room temperature butter and mix well. Use cling film to roll the butter into a log and refrigerate until ready to use.
Heat a heavy-bottom pan over highest heat. Dry steak with paper towels and season generously. Coat steak in oil and add to the pan once it is smoking hot. Depending on its thickness, cook for 2 to 3 minutes on each side, flipping once. Once the steak is on the second side, add the butter and spoon the frothy butter over the steak for about 20 seconds. Remove and allow to rest for 2 to 3 minutes.
Place wine and garlic in a fry pan and bring to a simmer over medium to high heat. Simmer for 5 minutes or until most of the alcohol is cooked out. Add the silverbeet, cover and steam for 5 minutes or until tender and cooked through. If the wine has reduced too much before the silverbeet is cooked just add a little hot water.
Place the silverbeet on a plate topped with the steak and a dollop the saffron butter.
Chocolate pancakes with orange and maple sauce
Makes 10
For the pancakes:
1 cup flour
3 Tbsp cocoa
2 tsp baking powder
¼ cup sugar
3 Tbsp butter, melted
2 tsp vanilla
1¼ cup milk
1 egg
100g dark chocolate chopped into chunks
Butter for cooking
For orange and maple sauce;
2 oranges
¼ cup real maple syrup
Walnuts
Dollop of creme fraiche or natural yoghurt
Mix all pancake ingredients in a large bowl and stir well until combined.
Heat a large frypan to medium heat and add a teaspoon of butter. Add a ladle of the pancake batter and tilt the pan so the mix spreads evenly. Flip the pancake once you notice bubbles around the outer edges. Flip and cook on the other side for about a minute. Remove the cooked pancake to a plate and repeat until all the batter has been used. Wipe any excess butter from the pan with a paper towel to avoid the butter burning after each pancake.
Peel the oranges, trying to get as much of the pith off as possible. Cut each segment of orange from the white part that attaches the segments together. Place the orange segments into the maple syrup then squeeze any juice left from the remaining part of the orange the sections were removed from. Pour the syrup and oranges over the pancakes and add walnuts and a dollop of creme fraiche or natural yoghurt.