A woman who tried to outsmart Woolworths in Australia has been seriously burned by the supermarket giant online.
She posted on the company's Facebook page complaining about the state of some avocados she bought from a store in Sydney's Double Bay.
"I purchased these avocados from your store at Double Bay yesterday, upon making a sandwich today I came to find these avocados are rotten! THIS IS UNACCEPTABLE, I demand my money back!!! and at your Double Bay store as well," she posted.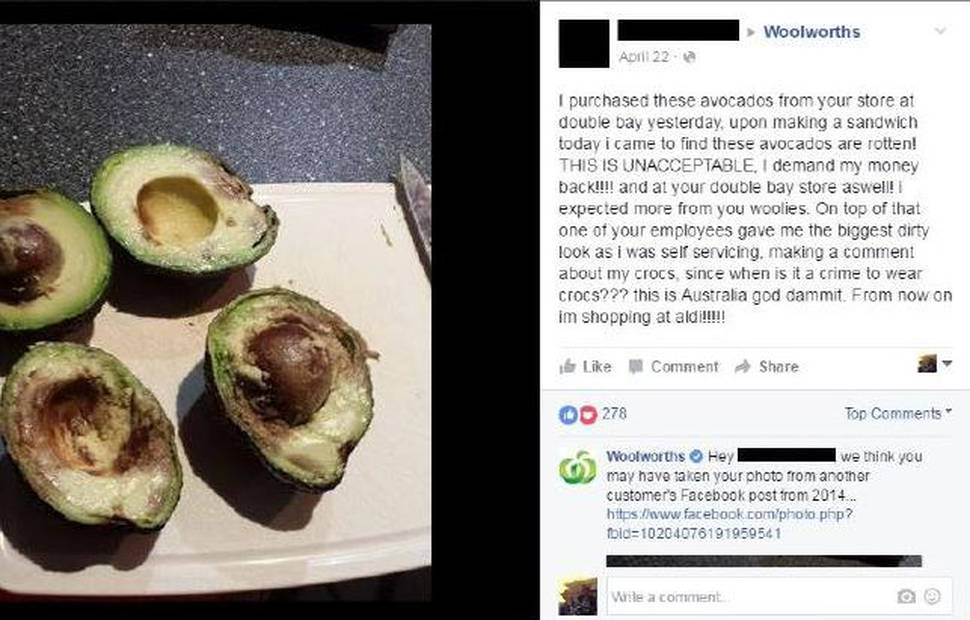 READ MORE: • How to ripen an avocado in minutes
"I expected more from you Woolies. On top of that one of your employees gave me the biggest dirty look at I was self servicing, making a comment about my Crocs, since when is it a crime to wear Crocs???"
This is Australia god dammit. From now I'm shopping at Aldi!!!!"
The customer appeared outraged, but the social media boffins at Woolies have long memories. Someone recognised the picture from a complaint back in 2014 and politely suggested the woman's picture was not all it seemed.
"Hey [name redacted]," the supermarket giant replied.
"We think you may have taken your photo from another customer's Facebook post from 2014" along with a link to the post and picture of the same image.
In the original post from November 2014, the complainant received some compensation from Woolworths to make up for the bad avocados.
The company also received praise on social media for its detective work.
"Awesome work Woolworths," one comment on the photo said.
May this be a lesson, nothing gets past Woolworths.
• For loads of avocado recipes, head to bite.co.nz