When it comes to fancy foodie trends, it seems the Queen is not amused.
In an exclusive interview with the Daily Mail, Her Majesty's former chef, Darren McGrady, revealed some of the secrets of the Buckingham Palace kitchen.
According to the chef, the Queen hates garlic, and during his time at the palace it was banned from the table while she was present.
"She was very Victorian and believed when she was brought up that you don't eat garlic - because if you were holding an audience the next day, you didn't want to be breathing garlic," said McGrady. "It was seen as anti-social."
Prince Philip, on the other hand, loves the stuff, and is said to ask for his steak slathered in garlic whenever the Queen is away for dinner.
Although garlic is off the cards, the Queen loves eating game meat from the estate, and is very partial to chocolate for dessert. The chef revealed Her Majesty has a favourite dessert called 'chocolate perfection pie'; a pastry lined with meringue, cinnamon, and chocolate cream.
READ MORE: • The Queen: 90 years of style
Her former chef also revealed that Her Majesty insists the menu is written in French, and prefers very bland food, without anything spicy.
"Her ideal meal would be venison medallions with a whisky mushroom cream sauce, rice and salad," said the chef.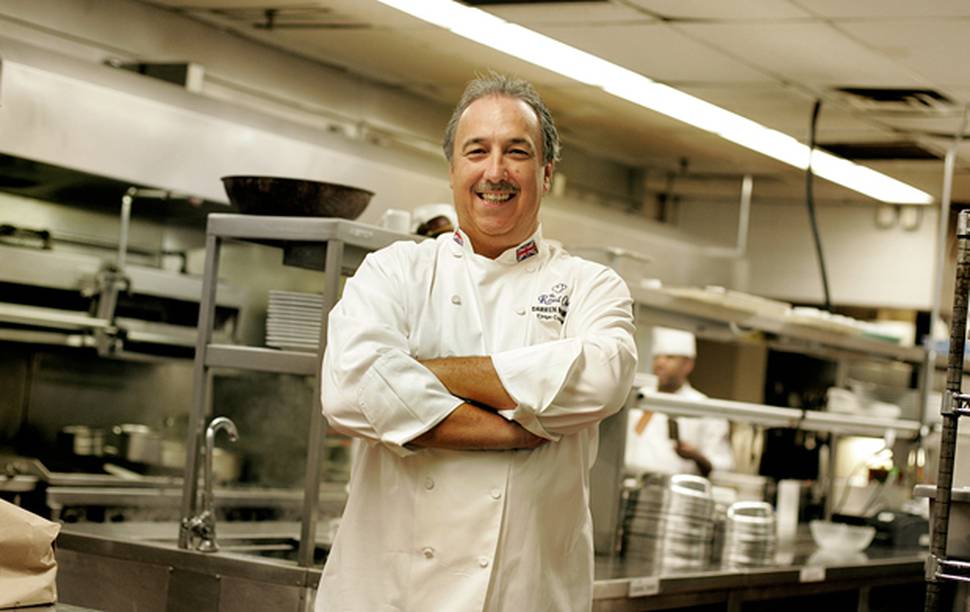 "She's not a foodie at all," McGrady revealed. "She eats to live; it's Prince Philip that lives to eat. He loves food, he's interested in food, he wants to know where it comes from. The Queen, not so much."
The chef, who also worked for Princess Diana, said the Queen would always oversee the catering menu at Buckingham Palace, despite not being particularly interested in food.
"The menu book was sent up to her and she'd put a line through the ones she didn't want," he said. The Queen would then often ask if there was going to be enough pheasant or partridge on offer to guests.
"She loved the hosting side of the event," said the chef. "Garden parties were huge, we'd have to do so much food, scones and pastries, ice cream made fresh."
"The best ones were state banquets when there was a king, queen or president visiting. That's when they'd break out the Rockingham china from Queen Victoria's coronation."
While it must have been a fascinating job, the chef said cooking for the Queen was tough at times. When she held diplomatic receptions, the team of 20 chefs would be tasked with making canapés and appetisers for 2,000 to 3,000 people.
"They were long, hard days," he recalled. "You might be working from 7am to 10pm, but you felt like you were part of a state banquet, with all that pomp and pageantry."
And when it came to washing down all that banquet food, the chef said he rarely saw the Queen drink wine.
"She loved gin and Dubonnet, as did the Queen Mother and Princess Margaret. But she's not a big wine drinker, so at state banquets she didn't drink much at all. If she was having a quiet dinner with the family, she'd have just a small glass of sweet German wine."
- nzherald.co.nz