Every Royal inevitably attracts a nickname. The Duchess of York will always be Fergie. The late Princess Diana was Lady Di, before tragically becoming the People's Princess. As for poor Lady Helen Taylor, well, her unfortunate tag became Melons - for obvious reasons.
Now the Duchess of Cambridge has acquired a moniker of her own - and it's certainly a little barbed. To her critics, Kate has become known as the Duchess of Do-Little.
The voice: Coached by her very own Henry Higgins
Why? Well firstly, because Kate does seem to do very little. Last year (when, in fairness, she was pregnant) she undertook just 62 royal engagements, compared with the 340 of our nearly 90-year-old Queen. So far this year, she and William have had an even emptier schedule, with only seven completed engagements to their name.
It's a startlingly low figure, bearing in mind that there are sometimes two appearances in one day, and other appointments are just an hour or so long. Last week Kate, 34, abandoned the 115-year-old tradition for a female Royal to honour the Irish Guards with shamrocks on St Patrick's Day in favour of remaining at home.
Kate's new nickname is also a reference to her startling rise up the class ladder - much like Eliza Doolittle, the energetic commoner who was turned into a society beauty in George Bernard Shaw's play Pygmalion.
Commentators, and indeed some courtiers, say that Kate - who boasts distinctly working-class ancestry, thanks to her mother Carole's family of County Durham miners - has become even more regal than her Royal in-laws.
Long gone are the days of hot pants, roller discos and see-through dresses. At the Commonwealth Day service earlier this month, the metamorphosis was complete, with Kate appearing in a long grey coat, demure hat, invisible tights and neat clutch bag - the picture of modest royal elegance.
And, in a rare TV interview to be broadcast tomorrow night to celebrate the Queen's 90th birthday, Kate's voice actually sounds even plummier than William's.
How ironic then, that aged 11, Kate actually played Eliza Doolittle in My Fair Lady on stage at prep school, apparently with comic timing and a rather good Cockney accent.
In My Fair Lady, Professor Henry Higgins, the phonetics expert who takes Eliza under his wing, tells her he has made her a 'consort for a King'. So how has Kate transformed herself into the impeccably royal - albeit rather under-occupied - Duchess of Do-Little?
Professor Higgins felt Eliza Doolittle's voice was the key to her transformation. So it remains. Kate's voice, according to classmates, got posher and posher while she was a teenager at Marlborough College and then posher still after marriage.
Now it's even plummier than William's. While he has the Etonian modern accent, which has a touch of Estuary English to sound suitably "everyman", Kate has chosen to adopt old-fashioned Received Pronunciation.
While Kate hasn't had elocution lessons, she did engage the services of a voice coach before her wedding: Anthony "Ant" Gordon Lennox, Old Etonian, nephew of the Duke of Richmond and former producer of Question Time.
He now teaches breathing techniques and voice control with his communications company AGL. He coached Sebastian Coe before the Olympics and got Kate's dyslexic brother James, 28, through his reading at the Royal Wedding, too. Kate's clear cut-glass delivery is all down to him.
The manners: Tips from Camilla
Even walking is an art when you are royal. Heavy-footed striding looks inelegant, while slouchy backs and lowered heads look unenthusiastic and proletariat.
Sitting down is also more complicated than it is for commoners. No leaning against the back of the chair or using the armrests; all these things look a touch Wayne and Waynetta when photographed.
And so Kate makes sure she's all straight back, arms folded in lap and, most importantly, legs together but only crossed at the ankle, if it all.
A glimpse of royal thigh or underwear isn't on. So much so that sitting with legs at a slight diagonal angle is now known as the "Duchess Slant" among those who teach the ever-increasing number of "How to Act Like Kate" classes.
Getting in and out of cars - legs first, again no underwear flashing - is a skill all of its own. Then there is the handshake technique - not too hard or soft, nor too long, and the Royal always extends the hand first.
There are also rules for posing: Kate never gazes directly into cameras as it looks too keen. No Royal worth their salt should be seen eating canapés - too fiddly - and there should be no posing with a drink in hand.
Kate has also had to master when to "turn" and join another conversation at banquets, in order to avoid the awkward scene when two people are talking to one person in between, leaving a fourth beside them staring bleakly at the Holbeins on the wall.
Kate's curtseying, too, has been a learned art - a deep sweep for the Queen only, a little bob for others.
Her waving has been modified to be more magisterial, from flappy at the wedding to more discreet, much like the Queen's.
Her coaches for all these subtleties? Jamie Lowther-Pinkerton, godfather to little Prince George, and Royal Private Secretary, was always on hand to play Higgins in the early days of marriage.
For foreign tours, the Queen's favourite diplomat, Sir David Manning, once Our Man in Washington, makes sure the royal foot doesn't go in mouth and Kate doesn't confuse her Slovakias with her Slovenias.
Another, perhaps surprising, regular source of advice, according to one royal insider, is Camilla. She's told Kate her golden rules to survive royal life, which, according to a source, are: "Keep smiling, stay attentive even if bored rigid, never be flustered and make sure you do your homework."
But when one's learning to be more queenly, there's perhaps no better guide than the Queen herself, as Kate admits in tomorrow's documentary. "She's really been there in a gentle guidance for me," says the Duchess.
And Kate's seemingly determined to become even more regal, admitting that her in-laws tease her for occasionally being too friendly with the public.
"There's a real art to walkabouts, everybody teases me in the family that I spend far too long chatting," Kate says. 'I still have to learn a little bit more, and to pick up a few more tips.'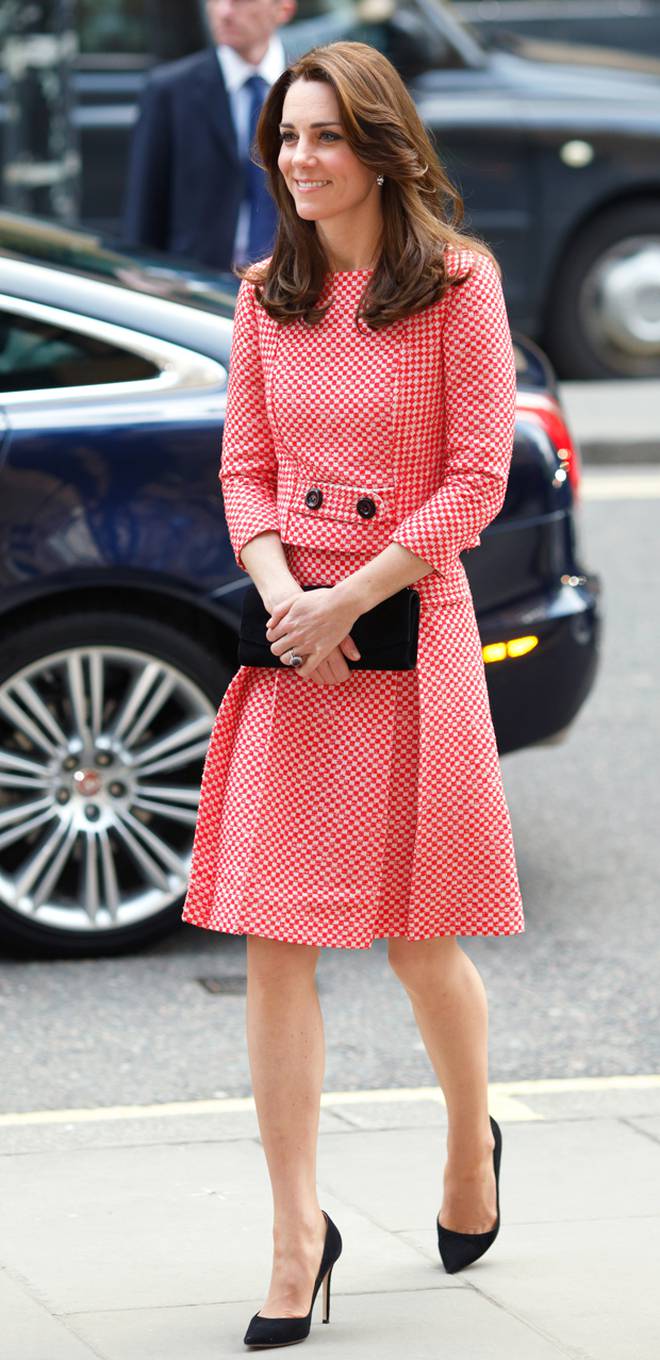 The style: From hotpants to couture
Initially famed for her love of High Street shops such as Reiss and Zara, Kate has transformed herself into creature of couture. And while once reluctant to wear tiaras - she wanted to wear a floral wreath for her wedding - Kate has embraced more regal jewellery, regularly dipping into the Queen's treasure trove.
Once, she showed bare arms and hints of cleavage, and displayed her trim legs in mini skirts. Shoes were either clumpy wedges or those notorious nude heels. Today, Kate's wardrobe is one of long-sleeved tops and dresses to emphasise her maturity, higher necklines and lower hemlines, particularly since the birth of Charlotte, as well as dainty spike heels.
Kate is also now insistent on having clothes tailor-made for her - despite the astronomical cost. To her eye, anything off the rack can look ill-fitting with too-high waistlines, thanks to her having a long back for her height. Favourite designers include Sarah Burton at Alexander McQueen, Jenny Packham, Emilia Wickstead, Alice Temperley and Erdem.
And, much to the Queen's delight, the black tights once so favoured by Kate have been exchanged for nude hosiery - much more elegant, says Her Majesty.
While her hair length has been stubbornly maintained, Kate has shifted her style. Gone are ponytails, which rather screamed student, in are occasional fringes and half-up, half-down dos. For more formal events, Kate's hairdresser, Amanda Cook Tucker, gives her curls and sleek up-dos.
As for the make-up, the perma-tan is no more and the bronzer has been ditched. Apart from the ever-present black eyeliner, Kate's make-up is highly subtle.
Occasionally, though, she slips - and while she likes to do her own make-up, her over-enthusiastic application of the eyebrow pencil several weeks ago shows she still needs professional guidance. Her nails are always manicured and she only ever wears a pale princess-like pink by Essie.
Her figure, meanwhile, has been maintained by running, tennis and swimming, plus that iron self-restraint. Kate's fashionable NutriBullet blender is in daily use.
Country pursuits are also regularly on the agenda - indeed, the whole Middleton family have been given lessons by Charles's ghillie at Balmoral (who can forget the sight of Carole Middleton lying down in the glens, clutching a rifle?).
Today, Kate is confident with a gun - but still cannot ride, thanks to her allergy to horses. All in all, it's a regime awarded her a most trim figure. The young curves and softer jawline of her teens have been transformed into something far more lithe.
The help: Discreet foreigners and mum
Kate's early desire not to have a nanny is long dead in the water. Paid childcare is an essential for the Duchess these days - although Carole does help out an awful lot.
While traditionally posh people favour homegrown nannies, Kate chose a Spaniard, Maria Borrallo. She is however, Norland trained, in keeping with royal tradition.
As well as this, Kate also has an Italian housekeeper and other foreign staff.
A royal insider says Kate finds non-English staff a relief as she doesn't feel judged and they are discreet.
Her Italian housekeeper, Antonella Fresolone, according to a contact, keeps both of Kate's residences, Anmer Hall in Norfolk and Apartment 1A in Kensington Palace, "gleaming, with cushions plumped and candles lit, like a five-star hotel".
It's a step up from her five-bedroom childhood home in Bucklebury. Apartment 1A, which has 22 rooms, has undergone a renovation (cost to taxpayers: £4.5 million) with lots of open fires, a gym, a lift and neutral decoration, with the help of fashionable interior designer, Ben Pentreath.
Anmer Hall, the Georgian ten-bedroom country house, has also had a lavish makeover, with a high-tech kitchen, pool, tennis court, and more scented candles and cashmere throws than George can count yet.
And as for George and Charlotte, their upper-class makeover is complete. No clothes from Baby Gap for these two: instead they wear sweetly traditional clothes, proper shoes, woollen tank tops, smocked dresses.
Their toys, too, are tastefully wooden. The school that George is already registered for is posh and private. He has even already been on horseback, as truly befits a future Windsor king...
The holidays: Ibiza is out, jetset is in
Once upon a time, Kate's Uncle Gary's house in Ibiza felt like luxury. Not any more. Her tastes in travel have become increasingly refined.
Take that trip to the Maldives, just seven months after George's birth. She and William spent a week at Cheval Blanc Randheli on Noonu Atoll, a resort which charges upwards of £7,000 per person.
Kate's also a long-time fan of British Airways first-class flights to Mustique, where she holidays with her family.
But even this level of glitz has been exchanged for a more oligarchical style of holiday. See, for example, the family's latest skiing break. Whereas once Royals holidayed at the traditional resort of Klosters, Kate chose Courchevel, a chic French ski spot favoured by the Beckhams, with seven Michelin-star restaurants and branches of Chanel, Dior and Valentino.
And unlike the days when Charles, William and Harry would pose happily for the world's press, only one Press Association photographer was invited along.
Indeed, the latest trip took place entirely in secret, with details only being released after the event - a decision which grated with a public weary of what they saw as more grandiose behaviour from the Duchess of Do-Little.
As well as this, BA wasn't good enough for Kate this time, with the Cambridges reportedly flying in on a £5 million Cessna Citation X private jet. Renting the aircraft would normally cost up to £12,000 a day, but the billionaire Duke of Westminster, husband of Prince William's godmother, gave it to them on loan.
The friends: William's world
Pity Kate's old friends from Bucklebury. For they seem to be little in evidence now Kate has made herself more regal.
Instead, Kate now associates with William's friends, particularly when at home in Norfolk. Even friends from Kate's school days at Marlborough, such as George's godmother Emilia Jardine-Paterson, knew William before Kate did.
And the selection of godparents for George and Charlotte shows how strong William's influence is.
For example, among their number are Julia Samuel, Diana's friend; Earl Grosvenor, son of the Duke of Westminster - the Duchess of Westminster is William's godmother.
Many close friends of Kate's, the Van Cutsems for example, are second-generation royal friends. Those who knew Kate when she was just another Sloane simply don't feature.
- Daily Mail