A new reality show gives a warts and all view of weight loss. Russell Blackstock reports.
Pasione Paea, 31, wants to leave a legacy for his daughter Sophia, 4, to ensure she doesn't go down the obesity path.
After hearing he was a ticking timebomb, 180kg Pasione Paea knew he needed to turn his life around or face certain death.
Already diagnosed with Type 2 diabetes and in pain from slipped spinal discs, the stay-at-home dad-of-one owed it to himself and his family to lose the weight that had crept up on him after a back injury.
The wake-up call came last year when a doctor told the 31-year-old Aucklander he would not live to see his 4-year-old daughter, Sophia, grow up if he did not slim down.
"I was in shock when the doc said if I kept going the way I was, by the time my kid was 21 I would be a very sick man indeed," Paea says. "By the time she was 25 she would be asking 'where's my dad?'
"It was pretty brutal news to take in but I decided I would go to any lengths to get the weight off and get well again."
Paea's fight with obesity is charted in a hard-hitting new TV2 reality show The Big Ward. The series - which launches on Tuesday at 7.30pm - will follow the emotional and inspiring journeys of six morbidly obese Kiwis.
For these people, weight-loss surgery is their last chance in our increasingly fat and sugar-fuelled society.
The Big Ward is set in the Manukau Superclinic and the South Auckland community it serves. Each patient must put in the effort to lose weight to qualify for potentially life-saving bariatric surgery, more commonly known as stomach stapling.
As they are forced to change their eating habits and start exercising, viewers will follow their progress and it will be revealed if they have the strength and determination to reach their goal weight for surgery.
The 10-part series will then share the highs and lows of the patients during their year-long quest back to health. It also monitors the challenges faced by their families and medical staff who care for them.
South Auckland is the ground zero of New Zealand's obesity explosion. Sixty-three per cent of the adult population is dangerously overweight.
The Manukau Superclinic is on the frontline of the epidemic. It has treated more than 1500 patients with controversial weight-loss surgery in the past eight years.
Dr Richard Babor is the face of the clinic's bariatric team. He hopes the reality show will help debunk some of the misconceptions surrounding weight-loss surgery.
"Most of the public think being grossly overweight is simply a personal choice," he says. "They think it is down to a chips versus veges mentality but there can be many reasons for obesity, including complex genetic causes.
"A lot of people also form opinions by watching voyeuristic TV shows about the fattest people in the world, some of whom have to be hydraulically removed from their homes by teams of people.
"However, we do not drive around Auckland in a flatbed truck with a crane on the back and smash through people's bedroom walls to hoist them out.
"It is not necessarily the fattest people who will benefit the most from bariatric surgery but those whose weight issues are causing them other serious health problems that losing weight has the potential to address."
Babor says another myth about bariatric surgery is it is the "easy way out" for people too lazy to diet or exercise.
"Having much of your stomach removed with all the attendant possible risks is hardly a soft option," he says. "By the time people get to the stage of considering having an operation they have usually tried everything else they can to lose weight."
We do not drive around Auckland in a flatbed truck with a crane on the back and smash through people's bedroom walls to hoist them out.

SHARE THIS QUOTE:
Although New Zealand is marketed as an outdoor, athletic haven, global statistics suggest the truth about our health is quite different.
According to official statistics, we are the third-fattest of the OECD countries, behind the United States and Mexico.
One in three Kiwi adults is seriously overweight, and around 35 per cent of Kiwi kids are overweight or obese. Forty-six per cent of Maori are obese, as are 66 per cent of Pacific Islanders living here.
In October the Government launched an advertising campaign featuring well-known sports stars to try and encourage New Zealanders to make healthier lifestyle choices.
The campaign includes Olympian Valerie Adams, Silver Fern captain Casey Kopua, All Black Israel Dagg, Black Caps skipper Brendon McCullum and Warriors star Shaun Johnson.
"The campaign is one of 22 initiatives in an obesity plan aimed at preventing and managing obesity in children and young people," a spokesperson for the Ministry of Health says. "The package provides targeted interventions for those who are obese, increased support for those at risk of becoming obese and broad approaches to make healthier choices easier for all New Zealanders."
The Government also invests more than $60 million a year on healthy lifestyle programmes such as Kiwisport, Green Prescriptions and Fruit in Schools.
But it is too little, too late for leading Kiwi diabetes expert Dr Robyn Toomath. Just weeks ago she announced she would wind up her national campaign to tackle the obesity epidemic because she felt she had "achieved nothing" in her 14 years of effort.
Toomath - clinical director of general medicine at Auckland Hospital - insisted she had seen no progress in the battle to solve the country's crisis.
The action group she founded - Fight the Obesity Epidemic - will close its website and Toomath plans to release a book on obesity this year which will be her "swan song".
She regularly sees patients who are heading for serious health complications because they are seriously overweight.
"Every single ward round, I see patients who are morbidly obese and have medical problems as a result," she told Radio New Zealand. "We are ordering more and more large-sized beds, we are ordering more hoists.
"It is expensive and there is going to be more of it."
So what is the solution to halting the rising numbers of Kiwis eating and drinking themselves to an early grave?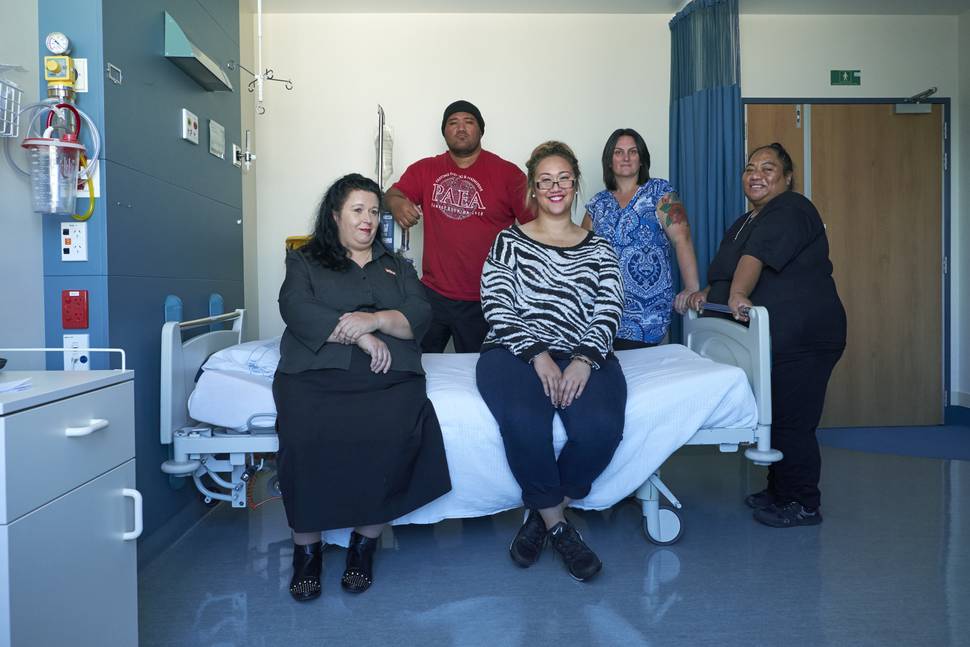 Boyd Swinburn, professor of population nutrition and global health at the University of Auckland, says educational campaigns on their own have proved ineffective and a more holistic approach needs to be introduced.
"Obesity isn't just a physical problem, it is a psychological and a social issue, too," he says. "New Zealand is number three in the world for having the fattest adults and kids. Neither of those bronze medals are things we should be proud of.
"It is a difficult situation for any government to deal with but progress is being made in places like Mexico, Japan and also in Queensland, Australia, and we should be looking to what initiatives are working best around the world and start adopting those."
Swinburn believes GPs should consider a patient's weight as being one of their vital signs - along with blood pressure and heart rate - and doctors should start giving appropriate advice and treatment before this gets out of hand.
"The Japanese have started taking weight issues seriously in the workplace and have introduced healthier canteens and physical activities and health checks," he says. "And in Mexico, taxing sugary drinks has resulted in a 12 per cent reduction in consumption."
Swinburn thinks New Zealand needs to step up its efforts, too.
Parents have to start recognising obesity in their own kids, politicians need to introduce sugar taxes, health professionals should start monitoring patients' weight more closely; better healthy food policies need to be introduced at schools and the growing gulf between the rich and poor has to be addressed, as people on lower incomes suffer the worst obesity-related problems. "A lot of big mindshifts have to start happening in New Zealand," he says.
"Every year, obesity is bringing more and more health issues and related costs with it.
"We really need to get serious about tackling this epidemic. It should be a no-brainer."
Back in Manukau, Paea is contemplating the prospect of shedding half of his 180kg bodyweight. He is optimistic he will qualify for bariatric surgery and the operation will be a success.
"I have seen too many close family members die because of illnesses related to their weight," he says. "I don't want to add to the statistics.
"I also want to leave a legacy for my daughter so she doesn't go down this path either. The cycle of obesity in our family has to be broken and I have got to at least give it my best shot."
Betting on a losing streak
Veronica Tawhai, is sick of sneaking out under the cover of darkness to buy food at drive-through takeaways so no one can see how much she is really eating.
The solo mum is also fed up with people nudging each other in the aisles at supermarket and rubbernecking at the mountains of grub in her trolley.
And she is tired of her 148kg frame causing problems with her knees and making her give up playing her beloved netball.
The 42-year-old from Pukekohe, Auckland, has been overweight for 20 years and wears size 28 tops and pants. She signed up to be part of TV2 reality show The Big Ward to encourage others suffering from obesity to do something about the problem.
"After I had my second child my weight kept creeping up and it has been a struggle ever since," she says.
I was shelling out hundreds every week on weight loss programmes, but none had a lasting effect.

SHARE THIS QUOTE:
The primary school personal assistant has turned to food and drink to ease the pain of her depression, anxiety and loneliness for years. "It got to the stage I would buy takeaways from drive through fast food places because it is an easy way to be anonymous, no one really knows how much you are eating," she explains.
"I also get embarrassed at supermarkets when people see the size of me then start looking at what is in my trolley."
Tawhai has spent many thousands of dollars down the years trying to shed the kilos through weight-watching clubs, fad diets and exercise classes.
"I was shelling out hundreds every week on weight-loss programmes, but none had a lasting effect so I would just get more depressed.
"I also started becoming dependent on alcohol. It is all such a vicious circle and it seems like there is no way out of it." Her increasing weight also brought on osteoarthritis, which further restricted her mobility.
"Even walking had become painful and I was heading for a wheelchair," she says.
When approached to take part in The Big Ward , Tawhai at first declined because she did not want her private life aired on national television.
"But then I bumped into another woman who had applied for bariatric surgery and she said she was going on the show to help other people. That got me thinking and I realised if I can do something to inspire just one other person with the same problems as me to seek help, it will be worth it.
"There will be a lot of eyeballs on me because of the TV show and a lot of people will be checking what I am eating when I am out and about, so that will be another incentive to stick with the programme."
• The Big Ward starts on Tuesday on TV2 at 7.30pm.