We're between seasons (in the fashion world at least), so invest in long-term trends that will offer up plenty of mileage.
Gender fluidity, the "Me Decade" of the 70s (amplified through Gucci's re-invented estate-inspired collections) and athleisure were the strongest talking points for fashion in 2015, eventually finding their way to mainstream retailers.
But what can we look forward to wearing in 2016? The fashion stories from last year show no sign of slowing down as pre-autumn and recent menswear collections have signalled. This year it's about all investing in pieces that can go beyond a season.
As retailers focus on sale time right now, this trans-seasonal period is an opportunity to look at investing in long-term trends that will easily update your wardrobe for the year. Take note.
Upcycle
A make do-and-mend attitude is a great way to update tired staples. Look to the myriad pop art patches available at rebelsmarket.com or American sportswear label Trademark and its utilitarian-inspired emblem patches. They're a fun way to update handbags and luggage - the flags from patches.co.nz are a good way to remind you of all the wonderful places you could visit this year.
Patches, $6, from Rebels Market.
Go wide
Our hero image from Preen by Thornton Bregazzi is an ode to English eccentricity.
A wide-leg trousersuit is a perfect way to play with proportion, and you can easily tailor your pant cuffs to suit your height. Worn with a pair of flat, lace-up shoes or trainers for the weekend, several local designers, from Kate Sylvester to Helen Cherry, have included wide-leg pants with matching jackets. If a matching suit won't do, try a palazzo pant with a tailored jacket in the same colour. It offers the same effect without looking too corporate. For the whole 70s shebang, add a frill-neck blouse for a more romantic look.
Ruby pants, $199.
En pointe
Good news: flats are here to stay.
Not that they went anywhere, but you'll be seeing retailers opt for loafer styles and classic leather flats more than ever. While there are myriad options on that ubiquitous lace-up brogue for both sexes, added points are given for a sharp, pointy toe. They work well with oversized pants and give a languid, but polished approach to dressing.
Mi Piaci loafers, $270.
Gold or bold
For those who say they don't suit gold jewellery, the trend for very fine gold rings and miniature earrings allows for plenty of opportunity to test the waters. Gold jewellery has become a key statement item for the new year on the back of that hackneyed 70s trend, and for those bold enough to turn it up a notch, both local and international jewellers have included some large gold pieces in their collections.
Costume jewellery is key, and while the beautiful gold earrings featured in Kate Sylvester's winter look book aren't going into production, it doesn't mean you can't be inspired to make your own (a trip to Spotlight might inspire you) or look into the carefully sourced vintage and handmade earrings available at themercantilestore.com.
Country Road earrings, $54.90.
Noughties mania
The early noughties, much like the 80s, might be an era that most people would like to forget in terms of fashion, however the new millennium has filtered through several pre-collections offering an irreverent take on dressing, from polarising slip dresses (Penny Sage, Wynn Hamlyn) and cowl-neck tops (Carlson, Harman Grubisa) to patchwork denim (Stolen Girlfriends Club, Tom Ford) and the return of underarm handbags - such as Dior's saddle bag and Fendi's Baguette. Both styles are now collectors' items and nod to the idea that you can re-use and recycle rather than splash out on a brand new bag.
Louis Vuitton Essential V belt, $800.
Wrap it up
Shawls and scarves are another year-round staple, so look at lightweight options that offer just the right amount of warmth without being too bulky.
The silk cashmere blends available at Louis Vuitton are investment pieces. But there are plenty of great local brands doing their own thing, including the beautifully printed oversized scarves by Bird & Knoll and Sydney-based label Good & Co.
Good & Co silk scarf, $235.
Totes amazing
Tote bags are a failsafe way to carry a load, without feeling laden.
Try this beautiful embroidered option by Karen Walker, made as part of the designer's latest project with the Ethical Fashion Initiative.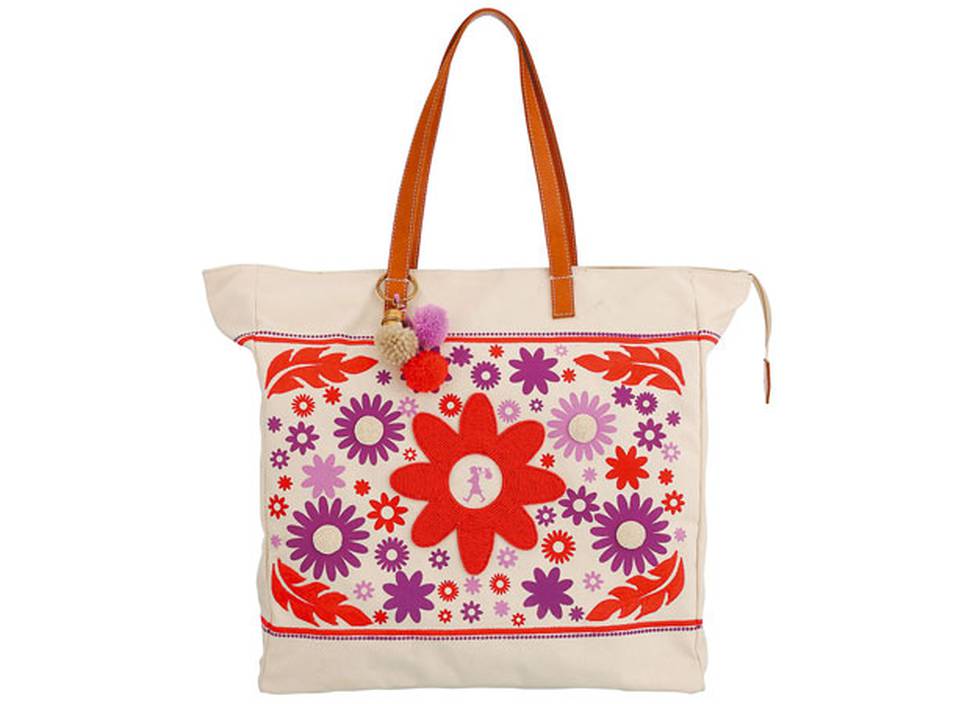 Karen Walker tote bag, $225.
Get to know
Go forth and explore with four local labels worth knowing more about. They'll add something new and exciting to your wardrobe staples this year.
Harman Grubisa
Designed by Madeline Harman and Jessica Grubisa, this is a brand that knows how to dress women, with a focus on accessible luxury made in New Zealand. The brand's winter 2016 collection debuted at fashion week last year and consists of office-appropriate tailoring, beautiful silk dresses and fun fur stoles, a welcome dose of glamour to the local market.
Beach Brains
A brand that elevates our national preference for casual separates, inspired by surf and skate subcultures. Think drill cotton shorts and post-surf T-shirts for both sexes. Run by brother and sister duo Gareth and Meghan Hemmings, the latter also has her own eponymous line of easy separates such as crisp cotton shirt dresses and languid T-shirts to wear all year round.
Wynn Hamlyn
Quietly self-assured, designer Wynn Crawshaw has made a big impact locally with his considered approach to classic womenswear pieces, particularly knitwear. Available from Fabric and Eugenie, the young designer has a bright future, if his latest collections are anything to go by.
Eugenie
Designer Elizabeth Wilson's knack for clever cutting on sharp separates has earned her a loyal following. Her current collection, on sale now, touches on the noughties trend well.
Modern Manners
From embroidered faces of Bart and Lisa Simpson on baseball caps to fun T-shirts, Modern Manners focuses on fresh casual pieces for both sexes.
Stockists
• Country Road (09) 529 1987
• Good & Co.
• Karen Walker
• Louis Vuitton (09) 358 0422
• Rebel's Market
• Ruby