Get creative to give your meals that sizzled summer feel.
The smell of an open flame and the orange tongues of heat reaching up through the grill to scorch the meat are things that always remind us of our childhood here in New Zealand. Papa Peter singeing the hair off his arm is a memory we always laugh about when we are standing in front of our barbecue, where we prefer to be instead of in the kitchen. There was also the time Mum's oven was broken for about a year so Dad showed up one day with a "surprise", which turned out to be a barbecue with a hood. "You can cook a roast in this," were his exact words. Let's just say Mum was in no mood to be cooking him a roast that night.
We have always preferred to be where the fire is and we have waited patiently for our Dad to hand over the reins (and the tongs) so we can be in charge.
We admit there is still joint custody but we definitely have more responsibility now. This responsibility includes making sure there is always at least one gas bottle completely full and that, without fail, the barbecue is
cleaned to an immaculate state after it has been used.
We have our barbecues down to a fine art these days. Our mum always has the tray for the meat on the oven waiting for when everything is cooked. Michaela has the butter out of the fridge so it is at the perfect spreading temperature. The tomato sauce bottle is refilled and the salads are ready to be dressed at the last minute.
Barbecues are a quintessential part of Kiwi summer for us and so many other New Zealanders and we are so happy to share some of our barbecue creations with you.
Mushrooms with blue cheese and thyme
- Serves 4
We absolutely love cooking big, fat portobello mushrooms on the barbecue. They are like earthy sponges that suck up all of the smoky, charred flavours. The texture of the big mushrooms feels substantial in the mouth and paired with other bold flavours are great to enjoy instead of the usual hunks of meat. Freshen them up with some fresh salad greens and this makes a tasty and satisfying vegetarian meal.
4 large portobello mushrooms
120g blue cheese, chopped
½ cup walnuts chopped
3 sprigs thyme
1 bag rocket leaves
Creme balsamic, for drizzling
1. Remove stalks from mushrooms and stuff with blue cheese, walnuts and thyme.
2. Heat the barbecue to a medium heat, cook mushrooms on the oiled barbecue hotplate with hood down for 20 minutes or until you see the top of the mushrooms turning soft and dark in colour and the cheese has melted.
3. To serve place a handful of the rocket on top of each mushroom and drizzle with the creme balsamic.
Barbecue T-bone steak with smoky red capsicum sauce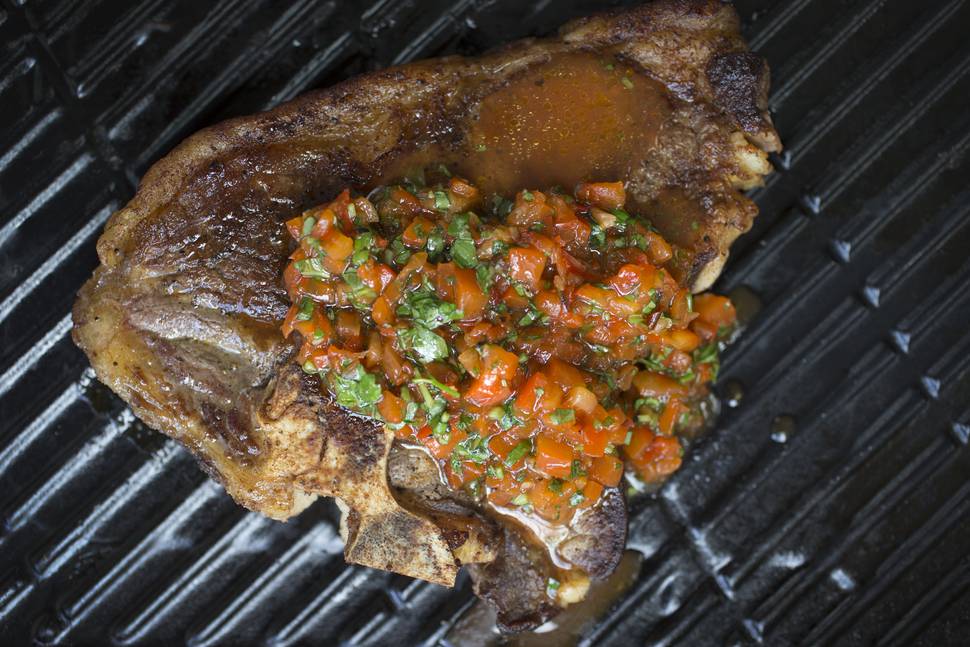 - Serves 4
Our Dad has always been able to cook an awesome steak on the barbecue. He says the secret is to be at one with the steak and each steak is different. We think it's about good seasoning and having the plate nice and hot. We love coating our steak in a fresh chimichurri. This fresh, zingy sauce lightens the dish and the leftover juices from the meat and sauce is delicious mopped up with some crusty bread.
Smokey red pepper sauce
2 roasted red capsicum, peeled, seeded and chopped
½ red onion, chopped
¼ cup chopped parsley
4 cloves garlic, chopped
¼ cup red wine vinegar
¼ cup red wine
1 Tbsp honey
1 Tbsp dijon mustard
1 Tbsp smoked paprika
1 red chilli, finely diced
½ cup olive oil
4 T-bone steaks
Oil
1. Mix together all of the sauce ingredients and season with salt and pepper to taste.
2. Remove the steaks from the fridge and allow to come to room temperature. Heat your barbecue to a medium to high heat.
3. Pat the steaks dry and season well with salt and pepper.
4. Cook on the barbecue turning only once during the cooking process. Cook for four minutes on each side for medium rare. Remember to rest your meat, then serve it with a generous amount of the capsicum sauce.
To roast the capsicum: Place the capsicum straight on to the flames in the barbecue and rotate until all of the outside is blackened. Place in a plastic bag and tie a knot in the top to make the capsicum sweat so the skin is easier to remove.
Barbecue banana with chocolate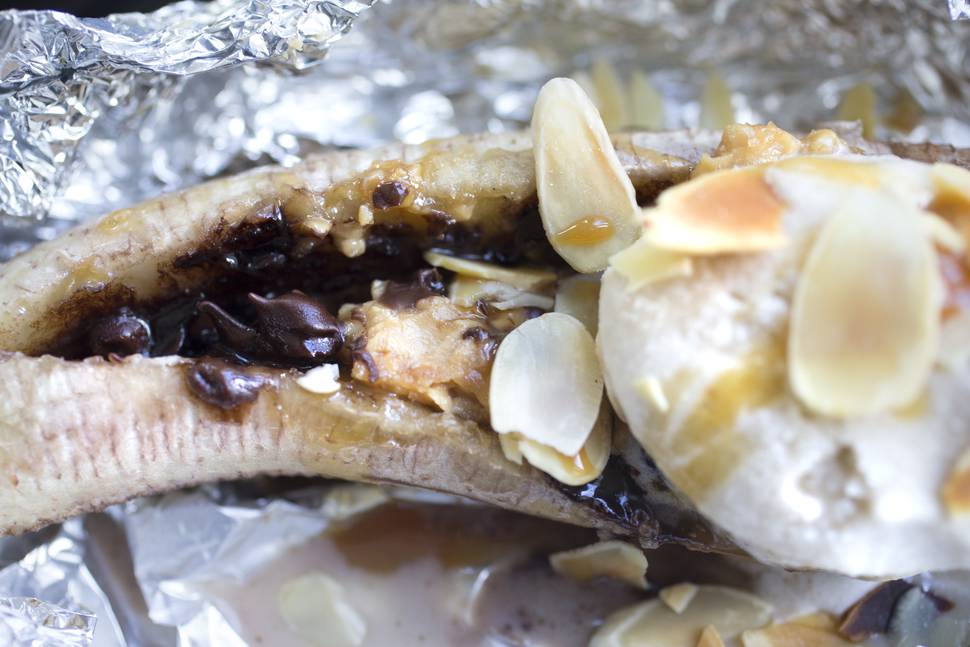 This is our youngest cousin Enoka's favourite. We wrap the bananas in tin foil and add delicious toppings. Place them on the barbecue and when they are nice and hot and the chocolate has melted we like to add a big scoop of icecream. Use whatever flavours you like. Our Dad likes chocolate and jersey caramels, aunties always go for berries and Enoka loves chocolate sauce, peanut butter and marshmallows. Get creative!
4 large bananas
100g chocolate buttons
Vanilla icecream, to serve
½ cup caramel sauce
Sliced almonds, to garnish
1. Remove the bananas from their skin. Cut along one side of the banana making sure you don't cut all the way through to the other side. Poke in the chocolate buttons along the cut.
2. Put each banana on to a sheet of foil and fold the edges together to seal into a parcel. Bake on the barbecue for 12 minutes or until all of the chocolate has melted. Gently open each banana and place a large scoop of icecream on top followed by a drizzle of the caramel sauce and sprinkle of nuts.