As recently as the 1970s, Beirut was where Europe and Asia met and danced in the streets. The great writer James Morris wrote in the 1950s that the Lebanese capital was "impossible in its headiness of character, its irresponsible gaiety".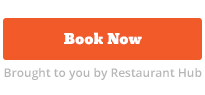 Four decades of civil and regional strife have soured the image somewhat but the name still evokes some of the sweetest images of the Levant. So it's a good name for a restaurant.
At the eastern end of newly foodie Fort St, Beirut makes the most of its room's warehouse past: matt-black paint; floor-to-ceiling gathered curtains to break up the space and absorb (almost enough of) the noise; big, bold light globes; doors that might have come from a Moorish fort.
In this dramatic space, it is seeking to do much more than rescue Middle Eastern food from the kebab-falafel box in which it has been held captive for so long. It's all but fine dining (though at better-than-bistro prices), inspired by the warm sirocco, and restricted by nothing at all.
Case in point: perhaps they love duck in Lebanon, but it's not what springs to mind when I think of Lebanese food. Yet there it was on the menu at Beirut, in a dish named ras el hanout after the distinctive sweet spice mix from Saharan Africa. Slices of breast meat were served with a jam smelling sweetly of rose petals, though the fat, purple heirloom carrot was a coarse touch that rather upset the visual balance of the plate. But the Professor, a difficult woman to impress, was much impressed.
I'm getting ahead of myself. The new venture is by a group with substantial form around that part of town - Orleans and Britomart Country Club, for example - and the head of the brains trust in the kitchen is Javier Carmona, Spanish-born and Sydney-raised. His CV includes Mexico, where the food was at best unimpressive in my experience, though I may have thought it better if the staff hadn't been so up themselves.
No problem at Beirut, where the staff know the food and talk about it enthusiastically and intelligently. If they seemed a little too anxious to please, I suspect that was only because I was sprung early on, but barely a week into the operation, it was running like clockwork.
They bring a dish of seasonings (lime and charcoal powder; mild dried chilli; dried kale and nori; and smoked salt) and make recommendations on their deployment as each dish arrives. It's a bit twee, perhaps, but it adds to the sense of occasion.
So does the tucker. I went for a dish of goat shoulder, braised so gently it seemed almost roasted. It was rich and dark and sweet with cinnamon and ginger, and puffed rice on top and radish on the side made for sharp contrasts of textures.
The house answer to hummus is a fava bean dip as smooth as cream, shaped to form a bowl in which is a sort of celery jus. You spoon it up with fennel seed crackers like tiny poppadoms and you swoon.
A lot of food went untried here, especially considering there's a "before midday" menu (flatbread with goats cheese; filo pastries with halloumi and mushroom) that demands a breakfast visit.
But you should on no account miss the pashmak, a nutty coarse candy floss you spoon up with clotted cream. The former melts in the mouth first: I will say no more.
"That may be the best thing I have ever eaten," the Professor said. And, as you know, only a fool disagrees with her.
• Entrees $14-$24; mains $24-$29; desserts $13-$15
Verdict: Arabian-inspired fine dining at bistro prices.
Cheers
By Joelle Thomson, joellethomson.com
If you want to get winemakers excited, just mention words like metamorphic rock, gneiss or calcium carbonate (aka limestone) and watch their lips twitch in anticipation of talk about the penetration of vine roots into aged mica, quartz or feldspar. It's enough to make a wine drinker weep. Soils have always been a hot topic in wine circles, but it can be easy to misinterpret the importance of their heat and moisture retention or nutritional composition with a correlation to taste. Standing at the top of Matt Dicey's Black Rabbit Vineyard and his brother James Dicey's Ceres Vineyard last month made me think how important soils are, not because we taste them in wine, but because these precipitously steep, beautiful slopes in Central Otago are a reminder of how precarious it can be to grow grapes. Which is why the Dicey brothers are focusing on whites as well as reds; a single riesling and pinot noir will soon come from these vineyards. Another exceptional wine from the region features right.
Wine of the week
2014 Mount Edward Drumlin Vineyard Riesling, $22-$25, 11.8 per cent ABV
Writer and winemaker Alan Brady planted the vines that make this riesling right next to his house and every year this wine shines as one of the best whites from Otago with its outstandingly fresh, flinty, lime zesty, mouthwateringly succulent taste. And did I mention it's dry? This drinks well now and can age for 10 years and then some.