Snippets from ESPN the Magazine's seventh annual Body Issue features carefully posed photos of professional athletes in the nude as a tribute to the power and potential of the human form.
Here are the best body-positive statements from the issue:
App users tap here to see all images.

Brittney Griner, 24, basketball:
"I'd describe myself as athletically lanky. I want to show people that. I'm comfortable in my body and I don't mind putting it on display. Honestly, I like how unique it is. My big arms, my bigger hands, these long legs - I love being different. If everybody was the same, it'd be a boring-ass world."
Ali Krieger, 30, soccer:
"Everyone makes fun of my calves. They are so big. I don't really even like them, I don't really want them as big as they are, but I have no choice. In college, girls would come up to me: 'I want your calves.' It just makes me laugh. I guess people pay a lot of money to have the types of bodies athletes have."
Amanda Bingson, 25, hammer throw:
"Generally when you look at athletes, you see their muscles and all that stuff; I don't have any of that. My arm is just my arm - it's not cut, it's not sculpted. I don't have traps bulging out to my ears; I have a neck. I don't have a six-pack. My legs are a little toned, but they aren't bulging out. I'm just dense. I think it's important to show that athletes come in all shapes and sizes ... I'll be honest, I like everything about my body."
Khatuna Lorig, 41, archery:
"My back muscles are beautiful! Archery has helped sculpt my upper body. I'm in great shape and really happy about that, very satisfied. I put up slow-motion videos that focus on my back and on my shoulders, and when I watch them I think, 'Damn, I look good!'"
Aly Raisman, 21, gymnastics:
"I think imperfection is beauty. Instead of being insecure about my muscles, I've learned to love them. I don't even think of it as a flaw anymore because it's made me into the athlete that I am."
Paige Selenski, 25, field hockey:
"It's not like I woke up one day and I had a really athletic body and ripped-up abs. I was lucky that I was naturally gifted with an athletic body, but I also put a lot of work into it. I don't stay home and do abs all day long; it just comes with running and all the things I do to stay in shape. I use my body every day for my job. We constantly put our bodies through pain. I'm not afraid to show that off."
Natalie Coughlin, 32, swimming:
"I'm self-conscious about my arms. It's really hard to find a dress that's a size 10 in the lats but a size 4 in the waist. But I want to be as successful as I can; if that means having big arms, I'll take big arms."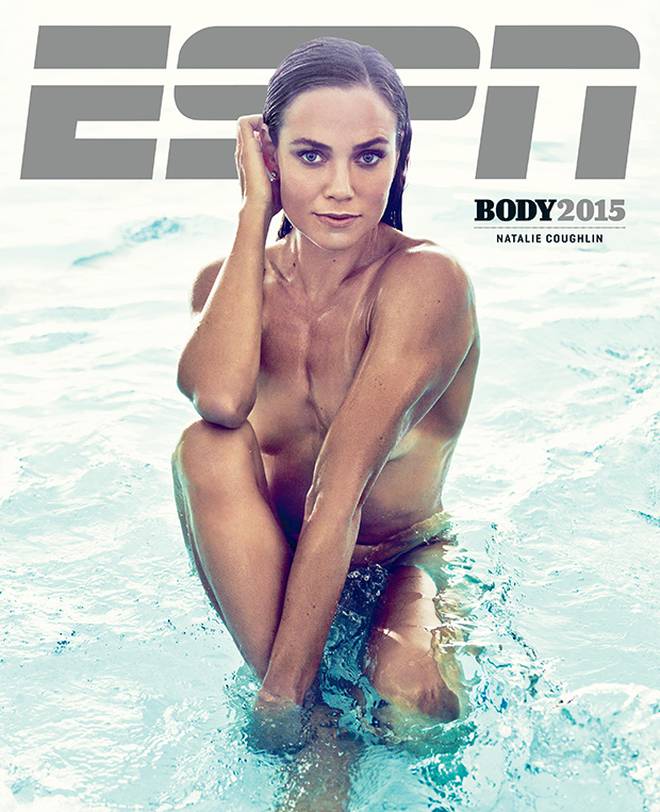 Gabrielle Reece, 45, volleyball (retired):
"In college I was modelling in New York, and I worked with the most beautiful women in the world. They were so beautiful you could barely look at them. And then I would go back to my team at Florida State, and we were all trying to get as big as we could because we wanted to be as strong as possible. And they seemed more confident and happier. I thought: 'Being perfectly beautiful - or what's defined by the standards of the world as beautiful - doesn't actually make you happier.'"
Dallas Friday, 28, wakeboarding:
"I was built like a little powerhouse. When I was transferring from gymnastics to wakeboarding, I was a little self-conscious. There's not a huge difference going from a leotard to a bathing suit, but you'd see these beautiful girls in bikinis, and I'm only 13 or 14 years old with this buff little body. I grew into being really proud of it, knowing that that's what has enabled me to do what I do."
Chantae McMillan, 27, heptathlon:
"I don't look in the mirror and think 'slim'; I look in the mirror and I'm like, 'Whoa, beast!' It's just crazy how much the body changes. Looking in the mirror I get surprised like every other week. It's like I'm Wonder Woman."
- Words and images used with permission from ESPN Magazine.