Coffee drinkers want the gruntiest, tastiest, most fashionable brew, but they increasingly also want their daily fix to be an ethical one.
It seems to be our nature to prefer our pressures complicated - as you'll have noticed if you have sampled the brave new world of multi-­platform streaming TV.
The cup of coffee, once a ­matter of opening a jar of instant and pouring boiling water in a cup, is now at the centre of a maelstrom of political, ethical and environmental concerns.
Growers in poor countries do not get fair returns for their back-breaking contribution to global hipster high life.
Non-organic coffee growing has been implicated in deforestation, the destruction of habitats and the negative effects of pesticide use.
Then there are those stubbornly non-recyclable capsules for Nespresso machines and the paper-­cup mountain created by your grabbing a coffee on the way to the bus. (I know - you are riding on the bus. Well done, you.)
More than 2.25 billion cups of coffee are drunk a day - globally, not just in Auckland - and coffee is said to be the second-most ­traded commodity after oil. Its consumers increasingly don't want to be ­implicated in exploiting the Third World and the planet.
And many businesses and organisations are working to help them enjoy a cup of coffee with a clear conscience.
Like his ­father before him, Daniel Kinne is a Papua New Guinea coffee farmer and is part of the Fair Trade supply chain. Recently in Auckland, he is chairman and co-founder of the Highland Organic Agriculture Co-Operative (Hoac), which farms in the Okapa district on land owned by tribes and divided into clan groups.
Kinne's father laid the foundations and now, Kinne says: "We are taking it to the next level by having all the farmers working together. We are bringing all farmers who own half a hectare or so ­together. Then every one of us works as a group and gets organised to sell our coffee as organic fair trade."
There have been major infrastructure and logistics problems getting to this point. "We didn't have phones or email to contact the outside world but the exporter we supply our coffee to helped us and let us use their phone and email.
"They got us hooked up with Fair Trade certification then helped us with logistics like transport.
"They said if we got all our coffee to one location they would send in a truck, take it to town and pay us."
Now, Fair Trade-certified coffee beans from Okapa are roasted, ground and imbibed in not just New Zealand but also in the US, UK, Australia and parts of Europe.
The premium the coffee earns through Fair Trade has been used for such projects as road repairs, fresh water and schools.
Certification is a demanding process, especially for communities that recently had no phone, email or roads.
The Fair Trade system has plenty of critics but they tend to be straw-graspers with arguments such as "Fair Trade doesn't help people in the poorest countries" - as though, therefore, it shouldn't be allowed to help people in the slightly less-poor locales.
"Fair Trade is all about supporting smallholder famers, which is particularly relevant in PNG, where 90 per cent of coffee is farmed in that way," says Pravin Sawmy, business development manager for Fair Trade New Zealand.
"By themselves, it's difficult if not impossible to reach international markets, but working as a co-op they get clout."
To get certification, a group such as Hoac must meet standards around "good governance, the environment and building good resilient businesses".
Once they're in the system they can charge a premium, which is returned to them for local projects such as Kinne's schools and roads, and put money back into their business.
"Hoac has invested in pulpers for coffee mills," says Sawmy. "They get the benefits of collecting the pulp, which is an organic ­fertiliser.
"Also, before they had the ­pulper, they needed to collect a huge amount to do their processing and sometimes the coffee cherries, which contain the beans, would ferment too early."
Fair Trade monitors the supply chain to ensure standards continue to be met. "We have independent auditors who interview the farmers," says Sawmy.
"They also audit traders to make sure they pay the fair price and ­premium. We audit producer groups to make sure the premiums are invested properly. And we audit the products to make sure you have the ingredients."
At the other end of this chain is Kokako, a lean, green coffee machine that supplies Fair Trade organic product and has its own cafe in Grey Lynn.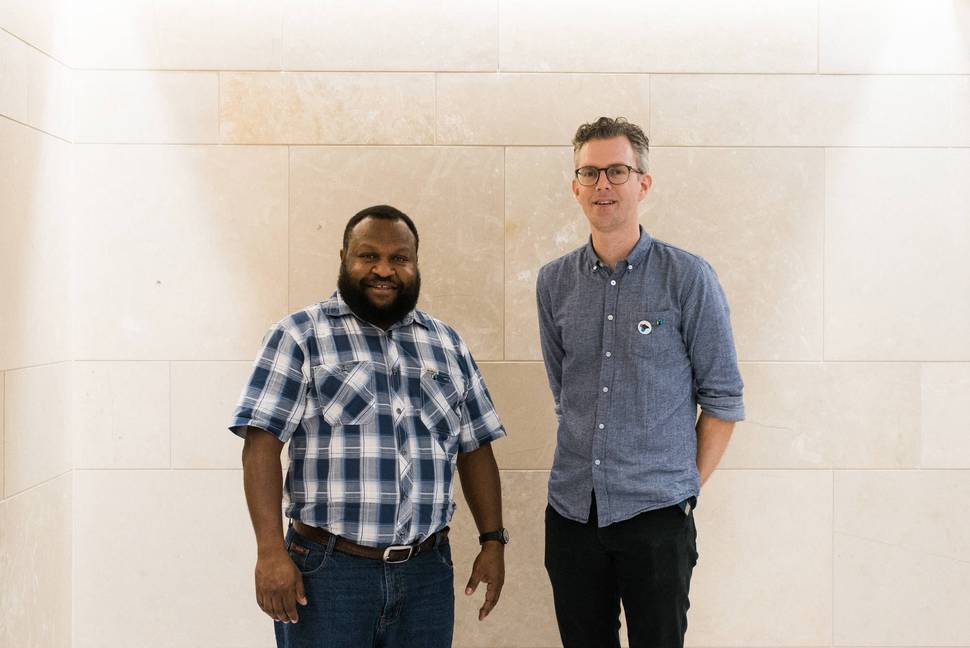 Mike Murphy, owner of the business since 2007, has always been ahead of the game.
The building used to be the post office and the locals who are often seen enjoying an espresso inside were part of the group protesting the post office's closure.
Murphy, an organics and sustain­ability-oriented consumer, saw the fair trade movement grow in strength while he was living in the UK. He knew New Zealand would develop a taste for ethical products.
"The shift has been in people," says Murphy. "They now want to look after themselves and know that what goes in their body is good. Ten years ago they were not label readers - now they are."
Kokako buys 40 per cent of the Hoac coffee that comes into New Zealand.
"We buy from a lot of co-ops around the world then get the flavour profile with blends. But you can't work with all of them and I ­personally got a lot out of a trip to PNG [to see the Hoac set-up]. "It's about the greater good for them and us."
At the coalface Murphy has more to think about than clean beans. He has customers.
"Because of competition we have to continue to be on our game and offer innovative ways to consume coffee, such as filter or cold brew."
Kokako's customers are probably greener than most. They won't be fans of non-recyclable takeaway cups, for instance.
"We moved to compostable cups last year," says Murphy. Kokako had held off because there was a possibility Auckland Council would introduce kerbside compostable recycling.
Just as there was a possibility it would rein in Ports of Auckland or take leadership of housing policy.
So when that didn't work out, Murphy did it anyway, having decided "we have to be part of the change, even if the infrastructure is not there yet".
A new generation of coffee entre­preneurs has grown up ­taking a lot of these things for granted.
Josh Cole and Jayden Klinac are a twenty-something pair of bearded post-digital prodigies who started their Honest Coffee ­Company a little over a year ago.
Their specialty is the world's only biodegradable capsules for Nespresso machines, produced in France by the Ethical Coffee Company.
That company was founded by ex-Nespresso boss Jean-Paul ­Gallard, who saw the light at the end of the funnel.
Reaction against the environmental impact of such ­coffee makers has seen sales recently plummet worldwide. Klinac and Cole are on to that. "We also have a Swedish-designed ­machine made from recyclable material," says Klinac.
"It's a bit friendlier and more contemporary in style."
The pair, who took their product to Auckland's recent GoGreen Expo, are the perfect post-millennial marketers. "We just did a big road trip where we camped our way around and did pop-up tastings.
"Social media is good. With a feel-good product and the sustainability trend it makes a good magazine article as well. And we just did a big giveaway with Lewis Road Creamery."
Not everyone cares enough to mess with their coffee. Klinac and Cole's target market probably doesn't include coffee obsessive ­Kieran Deane-Alder, who has just finished a BSc in biomedical science and takes the beverage very, very seriously.
His approach is scientific on all fronts. He recently halved his ­daily consumption to one or two cups, after studying coffee as a drug at university.
"I have a fluid air bed roaster. I buy green beans and roast them at home to different levels," says Deane-­Alder.
"I drink different coffees every month, usually single origin rather than blends, to broaden the palate."
He makes his coffee using "a ­Vibiemme Domobar super espresso machine in the E61 series. Along with that you need a large grinder because there's quite low tolerances for grind consistency as you get more expensive machines."
It's all about the taste and experimenting for Dean-Alder. Organic and Fair Trade considerations are "not hugely important" for him, but he drinks "filter and plunger as well because different methods have different flavours".
Meanwhile, back in Papua New Guinea, when Daniel Kinne gets home from his visit to New Zealand, the locals will be able to see what all the fuss is about. Until now the people who grow the beans that titillate the palates of New Zealand's coffee connoisseurs have only been able to drink instant coffee.
"Mike Murphy has given us a small roaster and grinder," says Kinne. "I'll take it back and everyone will be excited because now we will be able to drink our own coffee."