She started out selling croissants to fund her OE and has gone on to build an empire. Now Annabel Langbein is taking on her toughest challenge yet as she tries to crack the American market
Whether you can name one of her recipes or not, you know who Annabel Langbein is.
She's the wholesome TV cook living the almost-too-good-to-be-true dream of a self-sufficient home on the shores of Lake Wanaka.
She's the woman who made you feel - for half an hour every Saturday evening at least - that it was quite within your means to grow a vegetable garden and use it to furnish the table at a gloriously impromptu dinner party of the kind you imagine she might throw every sunny weekend.
Langbein has been on TV screens in this country since 2010 and has published 21 cookbooks over more than 20 years, as well as writing regularly for magazines such as the Listener, NZ Life & Leisure and Cuisine.
But although her television programmes screen in 93 countries, this year is the first time American audiences have had the chance to tune in. PBS has picked up The Free Range Cook - Simple Pleasures and will start screening it in September.
"You couldn't have a better place to be," Langbein says of the cable channel. "It's a trusted and authoritative platform. They have Downton Abbey and only take about four food shows from around the world every year. That in itself has made me feel very proud."
Becoming a household name in a country chocka with celebrity chefs won't be easy. Simply getting the show to screen is a mammoth success that meant a year of negotiations and country-hopping.
Production company Fremantle, which holds international rights to Langbein's programme, approached PBS executives with the proposal. The executives sift through 24,000 food shows every year but selected Langbein, who then had to travel to San Diego and give a presentation.
From there the show went out to test audiences who gave it their backing and PBS signed up to screen the second season of the show.
"It's such a different market, so big with so many different segments and demographics. Working in America is never easy but the fact they put their hands up and said, 'We really want this show' is like, wow."
Growing up in Wellington, Langbein never imagined she would end up with a life in food. When she left school, cooking was not the sort of glamorous career food TV devotees might think it is today. If she wanted a kitchen job, the only options were a stint in trade school or to join the army.
Instead, she left home at 16 "headed for the wilderness" - a meeting house on the banks of the Whanganui River where she and a boyfriend grew vegetables, cooked over a fire and generally lived off the land, a Julia Child cookbook in hand.
She branched out into possum trapping and live deer recovery - including jumping out of helicopters - and earned enough money to buy her first house by the time she was20.
Langbein jokes that she met her husband, Ted Hewetson, "up a tree" while poaching possums on his farm.
"[Ted] came along and was going 'bloody possum trappers'. He stopped right under my tree and I thought my heart was going to fall out of my chest. Then I looked down and he was so good looking I almost fell out of the tree."
Eight months later she answered a flatmates ad with the woman who would become her sister-in-law and met him face to face. "It took me about two years to tell him."
They now have two children, Rose and Sean.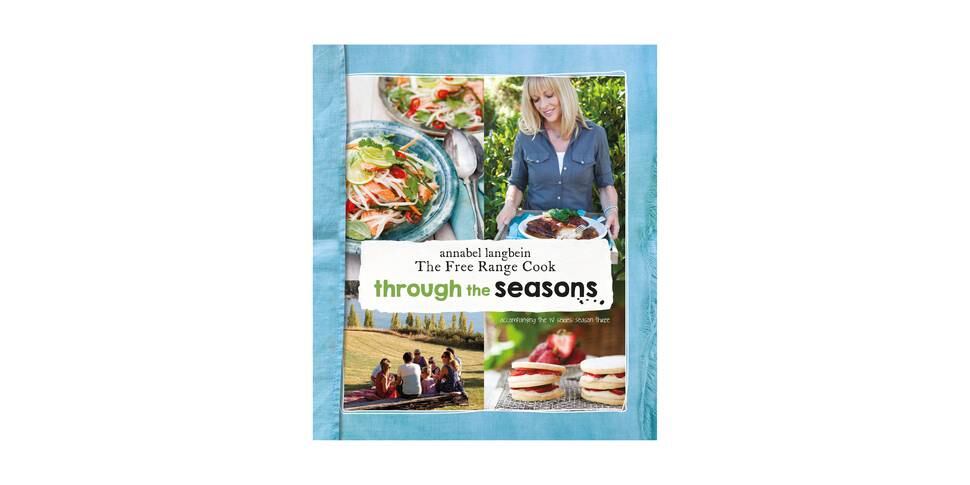 It wasn't until she was in Gisborne after finishing a horticulture degree at Lincoln University that the opportunity to start cooking seriously presented itself.
A neighbour had built a restaurant, Morelli's, and wanted her to take the lead as its chef. "I said, 'I'm actually saving up to go to South America but I'll come and do it for six months'," Langbein remembers.
Armed with a blackboard menu and Elizabeth David's Italian Food, Langbein started cooking.
But she quickly realised it was not the life for her; she didn't like working nights and once she perfected a recipe, the enjoyment of cooking it was gone.
She packed her bags for South America, assuming that cooking would remain a hobby.
But as she was backpacking through Peru, a serious bout of food poisoning hit. Langbein decided to bunk down in the town of Buzios to recover.
"I rented a room in a flat with some people from Argentina. All I wanted to do was cook so I cooked and cooked. Then one day they said, 'Can you make croissants?"
A quick phone call to her mother in New Zealand and Langbein had croissant-making instructions.
"There wasn't any butter so I had to render my own lard and I started making croissants."
Soon, locals were knocking on the door, wanting to buy Langbein's croissants. She did a deal with a hotel - free rent and use of the kitchen in exchange for managing the hotel in the afternoon. "I'd make little wee ones and put anchovies in them ... My friends would all come around and play backgammon and I'd make caipirinhas (a Brazilian cocktail) at the bar and I got really fat.
"But I realised I could do something I liked and it could be a way of making a living and that was the beginning in a way."
Back in New Zealand, Langbein had an ill-fated stint as a microwave consultant before landing a gig catering film sets for four years.
"Then I decided I had to do something else so I wrote to Julia Child and she was nice enough to write back to me.
"I said 'Look I'm mad about food but I don't really know where I can go, what I can do or where I can take this'. She said, 'I think you should come to America'."
Langbein attended classes at what is now the International Association of Culinary Professionals, where she realised the extent of the possibilities on offer in the food business.
"There were people starting business around fresh food in supermarkets, people working at big events caterering companies, people working as food stylists, people working in areas of consultancy and market development and I thought, 'Oh my God this is fun'."
While in New York, she flatted with Daniele Delpeuch, the former private cook for French president Francois Mitterrand - the only woman in history to cook for a French president.
"She'd gone through a messy divorce and I was a poor student so we didn't have any money and I lived in Brooklyn in a part of town that still hadn't been gentrified and the prostitutes used to try to solicit me.
"But she was this most inspiring, brilliant woman who taught me what it was to be a cook rather than a chef. Being a cook is about home and heart and resourcefulness and care, and ultimately it's about love, which might sound naff, but it is a simple way to express all those things."
A serious horse-riding accident in Te Anau after she returned to New Zealand in 1987 left Langbein with a 5 per cent chance of walking again and prompted serious re-evaluation of where her life was heading. A year later, her first book was published.
Although she has become a household face and name, Langbein has kept a firm hold on the business side of her career.
The year after her accident, she flew in the face of approaches from publishers to go it alone to produce her first book, Annabel Langbein's Cookbook, a collection of her recipes written for the Listener.
Langbein and Hewetson are directors of Annabel Langbein Media, the company founded in 1989 that publishes her cookbooks, produces her television series and handles her marketing.
By 1995, she was ready to expose her books to the world via the Frankfurt Book Fair.
Langbein says it was another occasion where she lived up to her reputation for sailing pretty close to the wind.
Great Food for Busy Lives had not even been properly printed when she arrived at the book industry's premiere event.
It was so daunting that Langbein locked herself in a bathroom with an anxiety attack for about three hours.
"I lost my credit cards; everything that could have gone wrong went wrong. But I gave myself a really good talking to and said 'You haven't come all this way to lock yourself in the toilet and be pathetic. Get out there, girl'."
She called a number of young women who had worked as au pairs for her family and asked them to go to their local bookshops and report back on the names of the publishers printing the most beautiful books.
"One name kept coming back, a German publisher. So I marched myself off to his stand and they said did I have an appointment and I said, 'No, but I have a really brilliant idea that I know is going to make him lots of money'."
Langbein had captured the attention of Ludwig Koenemann. "It would have taken about 40 seconds, then he looked at me and he said, 'I'll take half a million copies worldwide.'
"I said, 'I don't really want to sell world rights'. He handed it all back to me and said 'That's the deal'."
A couple of days later, she was back at his stand, asking whether she could sell him all but the Australian and New Zealand rights.
"He said 'Oh, you have the English language then and I'll take 300,000 copies.' I had to go back to my stand and be intravenously fed vodka."
She was published in nine languages globally, but the deal did not last. That was the only time Langbein has ever had a traditional-style publishing arrangement.
Langbein was in print for 20 years before she appeared on TV screens but says she deliberately put it off until her children were old enough for the family to cope.
She had just produced Eat Fresh and stumbled across a cooking clip on the then-fledgling YouTube.
"I thought, 'I think I could do this, I could do this really well'."
Ten two-minute clips were made to make Eat Fresh interactive and soon executives from Fremantle Media were on the phone.
"I thought they must be excited about the internet idea but they said, 'Can you come to Cannes? We think you've got something and we'd like to support you to make some TV'."
Langbein says retaining control means she can make sure she's completely happy with every product put out, even if that means driving the odd editor mad.
"It's a difficult business but it's incredibly satisfying and rewarding to make books you look at and think, 'I feel really proud of that.'
When it comes out in Polish or some other language you think, 'Oh, wow'."
The next production from Annabel Langbein Media is Annabel Langbein: A Free Range Life - Winter Goodness.
She hopes it encourages new converts to think of food and cooking as a relationship-builder, sanity-saver and everyday luxury.
"I do have a big vision and a big dream and I think if I can help people to cook, to use cooking as a way to feel connected and to live more resourcefully and sustainably and more healthily, that's a fantastic opportunity."
Battle among the rich list chefs
Breaking into the US market will see Langbein go head-to-head with some of the richest and most popular chefs in the food-mad nation.
But even if she doesn't climb to the prime-time heights of the likes of Gordon Ramsay, she will gain invaluable exposure.
PBS, which will show the series, is the fifth most popular of all the US broadcast and cable networks.
It screens programmes such as Downton Abbey, which has an average audience of 13.2 million viewers.
South Pacific Pictures chairman John Barnett said it was a coup for Langbein.
"It puts [the series] in front of an awful lot of people across a very big country.
"It's a big deal to get on to PBS because you have a different accent to what they're used to, it makes it very hard. They don't buy everything that comes along; they have to look at, is this going to reach any audience, will they understand it?
"We haven't had too many other shows turn up on PBS."
He said even if she didn't start hauling in tens of millions of dollars a year the deal would pay off for Langbein.
"In many ways where the big deal comes is that she'll sell a shedload of cookbooks."
It was also good for New Zealand, he said.
Fans of Ramsay might seek out his restaurant, but fans of Langbein might travel to New Zealand.
"One of the key elements is that it takes place in New Zealand, in the outdoors on location in Wanaka.
"She's marketing the whole environment of New Zealand, which is to be applauded."
Top earners last year
• Jamie Oliver — $67.8 million
• Gordon Ramsey — $51.8 million
• Rachael Ray — $34.1 million
• Wolfgang Puck — $27.3 million
• Mario Batali — $17.7 million
• Alain Ducasse — $16.4 million
• Nobu Matsuhisa — $13.7 million