It's only four sleeps until Santa arrives, but even if you've left this year's preparations to the last minute, there's still time to get ready for the big day. Here's the Herald on Sunday guide to surviving Christmas 2014
Presents
At the mall ...
If the space under your Christmas tree is looking a little bare, there is still time to buy presents.
Westfield outlets around the country are open until 10pm on Monday and Tuesday and until 6pm on Christmas Eve.
Online ...
For those not up to braving the madness of a mall, it's not too late to order online - as long as you do it carefully.
Mighty Ape, which says it has 450,000 gifts ready to ship at its Auckland distribution centre, can deliver in-stock items overnight anywhere in New Zealand for a delivery fee of $3.50.
That means an order placed on December 23 will still arrive in time for Christmas.
The site is also offering same-day delivery in Auckland for an extra $5 and to Wellington and Christchurch customers for $8.
Parcels can be ­delivered up until Christmas Eve and will arrive ­between 6pm and 8pm.
Ezibuy will deliver priority ­orders placed up to 3pm on ­December 23.
If you're buying things on Trade Me, at this stage the seller would have to be willing to courier or ­FastPost them to you to get them before Christmas.
Another option is a bunch of ­flowers. Wild Poppies offers ­bouquets and Christmas gift hampers, such as the Joyful and Triumphant Hamper for $59.
If you order before 10am on December 24 they do same-day delivery.
DIY ...
If you're feeling creative, you could whip up your own presents.
Try this recipe for easy and ­delicious *Candy cane Oreo pops from the Destitute Gourmet.
Wrapped in cellophane, they are perfect presents.
Or seek inspiration from Pinterest or using the Christmas Food Gifts app on the App Store.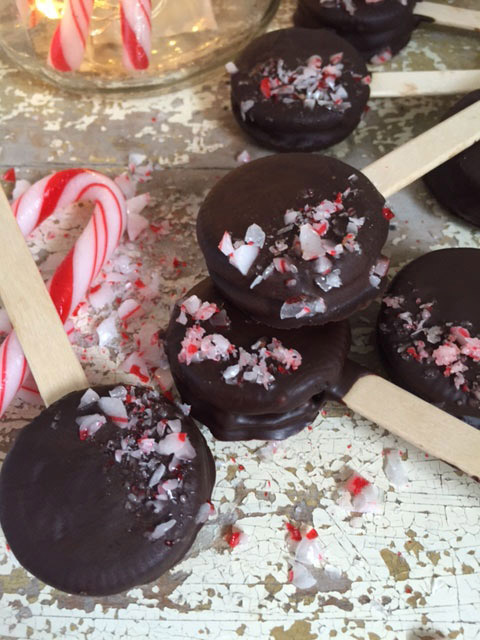 Photo / Supplied
*Candy cane Oreo pops
Ingredients:
1 pack of mini Oreos or Wheelies
250g dark chocolate
1 tbsp vegetable oil or Kremelta
40g candy canes
Lollipop sticks
Aluminium foil
Cookie sheet
Method:
Place the chocolate in a heat-proof bowl over a pan of gently simmering water until the chocolate has melted. Stir in the vegetable fat or oil until completely combined.
While the chocolate is melting twist the cookies to separate them into two halves and place them icing side up on a foil covered cookie sheet.
Place the candy canes into a small snap-lock bag and pound with a rolling pin until crushed.
Place a blob of chocolate on half the cookies, sprinkle the chocolate with crushed candy and place a stick into the chocolate blob. Place one of the remaining cookie halves on top and gently press. When all the cookies have a stick inserted, place the tray in the fridge for 10 minutes or until the chocolate has set.
Gently rewarm the remaining melted chocolate and dip each cookie pop into the liquid chocolate then gently tap the stick on the side of the bowl to shake off excess chocolate. Place on the foil covered tray and add a sprinkle of crushed candy. Continue until all the cookie pops are dipped then store in the fridge until needed.
Food
Stocking up ...
If you're dreading the supermarket over the next few days, the good news is you don't have to wait until the 24th to buy your Christmas essentials. You can buy straw­berries, pavlova and panettone today and they'll still be perfectly fine on Christmas day. Keep the pavlova dry in an airtight container until you're ready to decorate it. A cured ham will last three to four days, so it's best to buy that closer to the time.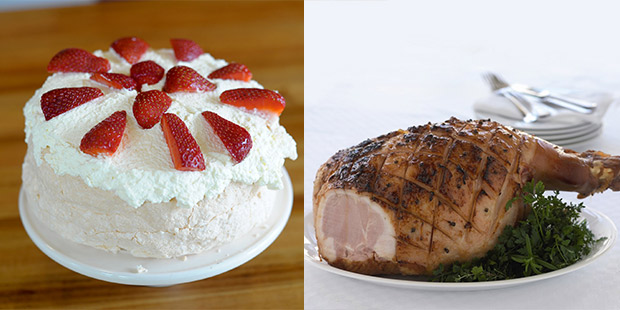 Photo / Supplied
Watch out for seafood, though, as it is not so hardy. Fresh shrimps and scallops will only keep a couple of days in the fridge so you have to buy them late on the 23rd to get away with serving them on Christmas Day.
Splashing out ...
You could decide it's all a bit too much trouble, and have someone else take care of it for you.
There are a number of restaurants offering Christmas Day deals. At DeBretts Kitchen you can dine on salmon, crab, glazed pig cheek and strawberries and cream, at $150 a head or $75 for children.
Fortuna, at Sky City, offers a Christmas Day buffet dinner for $75 per person. The Langham offers dinner at its restaurant Eight for $249 per adult and $165 per child, including crayfish maki, whitebait fritters, lobster ­medallion with rosemary butter, smoked whole suckling pig, Christmas pudding, lollypops and cookies, caramel and pear cheesecake trifle. There'll also be festive music, crackers and decorations, a visit from Santa, gifts for the children, Christmas chocolates and drinks including premium New Zealand and inter­national wines.
Annabelles on Tamaki Drive has a Christmas set menu of $85 per person. Hectors at the Heritage has a Christmas buffet for $120 per adult, $59.50 per child and Sugar Club has a four-course dinner for $150 .
Ordering in ...
If you don't want to leave the house, there are limited catering options available. Most caterers don't work on Christmas Day, but Gobble Catering offers platters to be collected from its Eden Terrace premises. There is a good selection, including a Chimney Sizzler Christmas Lunch platter for $135, a roast buffet for $550 to serve 20, and Santa's Sarnies for $135. The key is booking early enough to not miss out.
A spokesman said it was a popular option and bookings were essential.

"It's one of our biggest revenue days of the year."
Martin Smith, of Collective Hospitality, said his team had been catering a lot of private Christmas functions. Last year, they were booked for an event in the Bay of Islands right through the festive period. A three-course meal would cost about $65 per person, plus $140 for the private chef. Smith said it often ended up ­being cheaper than dining out ­because people could supply their own wine.
TV Highlights
Christmas Day
•
Queen's Christmas message
: TV One, 6.50pm
•
The Muppets Film
: TV2, 7pm
•
Les Miserable
s: TV3, 8.55pm
•
Jesus Christ Superstar
: Maori TV, 8pm
Boxing Day
• Dr Who Christmas Special: Prime, 9am; 7.35pm
• Black Caps v Sri Lanka: Sky Sports 1 from 10.30am
• The Princess and the Frog: TV2, 5pm
• Pacific Rim: Sky Movies, 8.30pm
Posting
Christmas cards waiting on the kitchen bench to be ­posted? A present that should have been sent weeks ago? As long as you're posting within New ­Zealand and you opt for FastPost, Courier Parcel or Courier and Signature Parcel, you have until Tuesday to get them in the mail.
Christmas Apps
(free unless stated)
Sing Along Christmas Carols
A free app to give you a dose of karaoke-style Christmas cheer. You'll never ­forget the words to a Christmas carol again. Whether this is a good thing is debatable.
Pho.to Lab
This free photo editor allows you to apply almost 500 effects to your photos - ­providing hours of Christmas Day entertainment as you manipulate images of your loved ones. A small number of the effects are in-app purchases you have to pay for.
All Christmas Recipes
If you're looking for some culinary inspiration, this is a great app to have at your fingertips. The free version includes recipes for Christmas breakfast, stuffing, ham and turkey as well as a handy unit ­converter from imperial measurements to metric.
Christmas Decoration Ideas
More photos of trees than you probably ever wanted. This app will inspire you if you want to dress up your home. Photos are divided into topics - everything from decorations by colour to flowers, fruit and Halloween-themed Christmas decorations. Watch out for sneaky pop-up ads.
Wrapping abc
If you're all thumbs at wrapping presents, this app may be the solution. It guides you through different bows and wrapping styles to get presents that look perfect.
Inkly cards
Forgot Christmas cards? No drama. Inkly lets you create and send your own handwritten cards from your iPad or iPhone.
Weather
You won't need the brollie but there's little chance of sunshine - most areas will be blanketed in cloud on December 25.
WeatherWatch forecaster Philip Duncan is picking a dry Christmas Day for 80 per cent of the country.
Only the North Island ranges, South Island west coast and patches of Northland will be at risk of rain. Auckland and Tauranga might cop a drop or two, but are more likely to be dry and warm. The warmest spots are expected to be Wairarapa, Marlborough and Canterbury, where temperatures could reach the late 20s. Most places should range from the early- to mid-20s.
The Metservice's best guess for most of the North Island is hot, sticky and possibly a bit wet.
Afterwards
The last thing you feel like doing on Boxing Day is tidying up. Christmas ham can feed the family for the next few days. Although leftover ham doesn't last long in the fridge, it will last up to four months in the freezer. Divide it up into snaplock bags so you can thaw out portions as you need them. Cooked turkey will last three or four days in the fridge.
If you have a live tree to get rid of, the Auckland Council has some tips. A spokesman said people should start by asking a tree-seller if they would take the tree after the festive season. "Some Christmas tree farms accept trees purchased from anywhere, for free, to use for mulch or compost." Some rubbish transfer stations accept Christmas trees for a fee. Check the council website for more information.
If you are left with a few presents that you're less than impressed with, you could put them aside to be re-gifted next year (just make sure the person who originally gave you the present isn't around to see it), or sold online. Trade Me spokesman Paul Ford said there were 400,000 searches for unwanted gifts on Boxing Day last year. The gifts most likely to be sold were perfumes, socks, household gadgets, power tools, fitness equipment, jewellery and house plants.
"If you're selling an unwanted gift, include the words 'unwanted gift' in your listing to make it easy for buyers. Don't sell handmade items, ­especially if your name is carved, etched or embroidered on the side. Only sell brand new items and keep the packaging as intact as ­possible."
He said it was estimated two-thirds of people received at least one gift they did not want to keep.
Bad Habits
What's the most ­annoying Christmas dinner table habit?
Pictured: Robert Rakete, Joe Cotton, Jeremy Corbett, Shavaughn Ruakere.
Jeremy Corbett:
People who wake you up. I like to rest my head in eggnog trifle.
Joe Cotton: I don't like it if someone at the table refuses to wear their paper hat after the Christmas crackers are pulled. It's tradition to put on your hat, show your prize and read your joke. But sometimes there's that one person who thinks they're too cool for school. Saddos.
Robert Rakete: Many years ago I had a Christmas dinner at a friend's house and they left the TV on in the corner. I think they were waiting for the Queen's speech - as you do - but it's hard to feel the yuletide love and merry togetherness when the drama-filled Coronation St Christmas special kept ­interrupting the cracker pulling and funny-hat wearing. "Oh'er pop down't Rover for a pint." Li'l festive tip for ya: Leave the telly off. Ho ho ho!
Simon Barnett: Simply over-eating! Every year I give myself a stern talking to, and say: "Simon, don't eat chocolate and nibbles and chips and peanuts and blue cheese before the main meal because you will end up feeling like a dugong (sea elephant) before lunch is even served. BUT every year I completely ignore myself and gorge on the Christmas fare. This year I will absolutely, unequivocally, categorically probably do the same!
Robert Scott: Taking photos of their Christmas dinner and posting them on Facebook. Why do we do this? It's like saying: "I have a bigger turkey than you, look how many brussel sprouts are on my plate." Just eat your food, festive folk. While you are taking the shot and uploading it, waiting for comments and likes, it's getting cold. This is not what the internet was ­invented for. Everyone knows it was invented for watching funny videos of cats and sneezing pandas.
Shavaughn Ruakere: That we still spend money on those outrageously disappointing crackers. Sure you look awesome in that hat but that plastic compass ain't cutting it.