Flying a kite is an all-ages pastime. Make your own or buy one, find a windy spot and, advises Sarah Ell, keep hold of the string
Rain, hail or shine - and sometimes all three on the one day - there is one thing you can expect from an Auckland spring: wind. So why not make the most of it and go fly a kite?
Kite flying is many things to many people, says Perrin Melchior, of Auckland's Kiteworks. "It can be as simple as just lying on your back watching the kite flying, which is a very relaxing and meditative process. And then there's being dragged around by a kite, so it's a form of exercise.
"Building kites is also a design challenge for those who are interested in construction techniques, and trying to make kites lighter and stronger."
Melchior says kites can also be used for exploring - tourists can kite-buggy across Mongolia's Gobi Desert, for example, and kiters have visited the North and South Poles - aerial photography, meteorology, power generation and propelling boats, as well as for the growing sport of kiteboarding or kitesurfing.
"There are just so many different aspects that can be explored," he says. Melchior is a member of the New Zealand Kitefliers Association, a group of enthusiasts around the country committed to exploring their passion and sharing it with the public. The spectacular kites of NZKA members are often on display at events such as Matariki celebrations, and at kite festivals, fairs, open days, such as at Ambury Farm, and other public events where organisers want to add colour and interest.
As kite-flying is weather-dependent, the group steers away from having regular organised events, but members have their own favourite spots. For Melchior, it's Bastion Point. On suitable Saturdays he heads up there around 4pm and flies until the sun sets, trying out new kite designs. His current project is a prototype of a Maori "birdman" kite, such as the one in Auckland Museum, with a 1.5m wingspan.
"I'm trying to work out how they actually flew. It was a complete dismal failure the first five outings but I have finally got it flying. Even after 25 years, making kites is still a challenge."
Melchior says for beginners wanting to get into kite flying, as well as joining the association for information and support, he recommends doing "what I did and go to the library and get out books on how to make kites. Then collect fabric, glue, string and other parts and have a go at making one yourself.
"I made 10 kites before one flew. You can't expect to succeed with the first one unless you are a complete genius. You have to be prepared to have a few failures."
Melchior says he is happy to talk to novice kite designers about their construction techniques and flying attempts.
"We often have people coming in here bringing their kites and asking, 'Why doesn't it fly? What can I do?' and we'll have a look. The tail not being big enough is the most common complaint."
For people who want the thrill of kite flying without the construction aspect, Kiteworks sells a range of ready-made kites, starting at $15 for a Peter Lynn octopus kite or basic diamond kite up to large, more complex stunt kites.
Sharing Melchior's passion for kites is Julie Adam, known as "the kite lady". Based in Christchurch, Adam runs a mail-order kite business, which spans the country, and produces about 12,000 kite kits a year for schools to run kite-making workshops. She also sells the kits direct to the public, as well as a wide range of manufactured kites, through her website.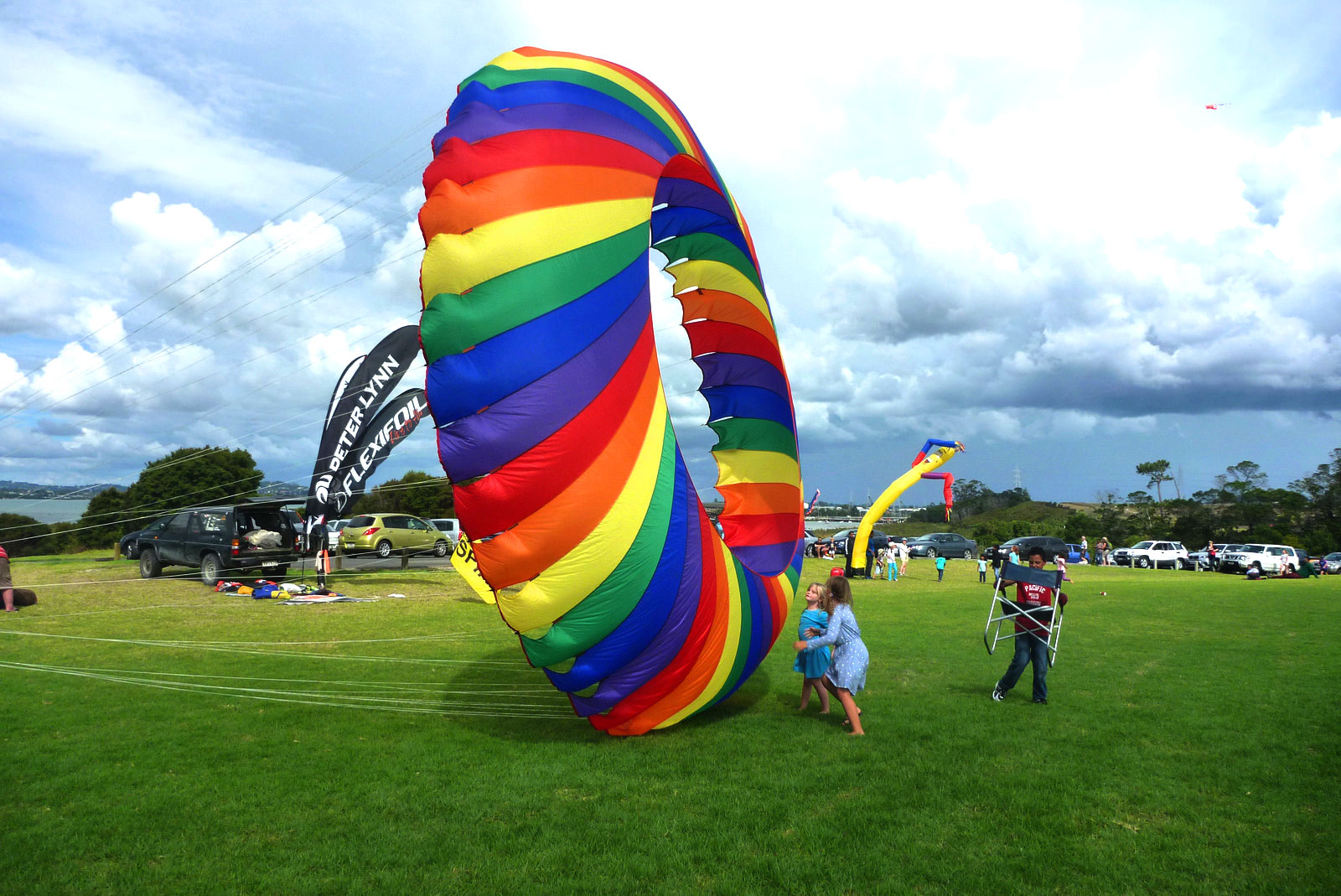 Photo / Perrin Melchior
"People now tend to buy made-up kites rather than sitting down with their kids and making one. Kite-making can be a lengthy process. It can be 10 minutes or up to an hour to decorate it, then you have to go and fly it, which is another couple of hours, so it becomes a half a day thing, and not many parents have that much time nowadays."
However, Adam says children get a lot out of the creative process of making their own kites.
"I get lots of kids coming back again and again to the workshops I do, because they want to make a different kite. They put messages or pictures on their kites that they want to see flying - kind of like sending up something that's in their heart."
Adam also enjoys the community aspect of kite-flying.
"It's also about sharing joy," she says. "You go to a park and put a kite up and people come to talk to you, and tell stories about when they were young, or kids come along and ask if they can have a turn, and you get to see the big smiles on their faces. It's one of my favourite things to do."
Tips from the Kite Lady
• Find a clear, open flying area. Parks, school fields and beaches are great for flying kites.
• Don't fly your kite near trees, buildings, powerlines and roads, or during electrical storms.
• Make sure your kite is assembled properly. Check that all knots and fittings are secure and that the line is firmly attached.
• To launch, stand with your back to the wind. Hold your kite up by the towing point and let the wind catch the kite sail. Let the line out and let the kite lift a little, then pull on the line to make the kite climb.
• If your kite sinks tail first, there might not be enough wind. If it comes down head first, there might be too much wind or you may need to make the tail longer.
• Kites are built for flying - not for crashing. When a kite hits the ground the laws of physics are operating: when a fast-moving object hits a stationery object, something will break. Usually, it's the kite.
- The Kite Lady, Julie Adam, kites.co.nz
Great kite sites around Auckland
• Bastion Point. "It is an open field without people playing cricket or rugby or soccer on it. Its central, and it doesn't have any trees and is nice and exposed, so there is nothing for kites to get stuck on. And it has parking and a beautiful view," says Perrin Melchior of Kiteworks.
• Any of the large beaches around Auckland, such as Orewa or Muriwai. Plenty of wind off the sea and hard, flat sand to run on.
• Auckland's volcanic cones, such as One Tree Hill, Mt Roskill or Mt Eden. Just be careful where you put your feet: "There's nothing worse than running backwards off the side of Mt Eden," says Melchior, from experience.
Other good open suburban parks: Manutewhau/Moire Park, Massey; Grey Lynn Park; Milford Reserve; Barry Curtis Park, Flat Bush.
Details of events and local contacts are on the New Zealand Kitefliers Association website or Facebook page: nzka.org.nz, or search NZ Kite Making & Flying on Facebook.
kiteworks.co.nz
Taupo Home-Built Kite Weekend
The next major NZKA event is Taupo Home-Built Kite Weekend, November 22-23, at Taharepa Reserve (on the lakefront just north of the Napier-Taupo Rd turn-off). Local kiter Warren Ellery says the "fly" will feature kites of all sizes, "from the size of a hankie to bigger than your average small truck.
"It's a patch of grass well trodden by string-pulling, gravity-defying - and not - pieces of colourful art, sporting and just plain fun kites, paragliders, models and many, many more items. The field is just above the lake so it gets the breeze. It's right beside the old State Highway 1 so it's easy to find, and the best bit is the view past your kites to the mountains at the southern end of the lake."
For more information, text Ellery on 022 354 7147.
• Details of events and local contacts are on the New Zealand Kitefliers Association website or Facebook page: www.nzka.org.nz, or search NZ Kite Making & Flying on Facebook.