A professional women's advocacy organisation is seeking an introduction of a code of practice in the fashion industry to stop the use of skinny models and mannequins.
The New Zealand Federation of Business and Professional Women (BPW NZ) wanted to eliminate the use of thin models and rib-showing mannequins as they directly affected the self-esteem and health of young people, president Vicky Mee said.
Her comments followed the use of a Glassons mannequin with its ribs showing and comments from fashion designer Denise L'Estrange-Corbet that clothes looked better on skinny people.
Read more:
• Denise L'Estrange-Corbet: 'Clothes look better on skinny people'
• Worried about skinny mannequin? 'Get a life' says fashion maven
• Glassons taken to task over skinny mannequin
• 'Skinny people' comments harmful - psychologist
"BPW NZ calls upon the fashion industry and the media to act responsibly and introduce a voluntary code of practice on body image," Ms Mee said.
"BPW NZ advocates for a code providing accountability and guidelines that the industry must follow.
A code of practice on body image would provide the minimum standards to ensure young girls and women were not being shown an impossible ideal, Ms Mee said.
The organisation was prompted to take action following comments by L'Estrange-Corbet, co-founder of fashion label WORLD, who said this week that people worrying about the influence skinny mannequins had on teenagers and children should "get a life", and that "clothes look better on skinny people".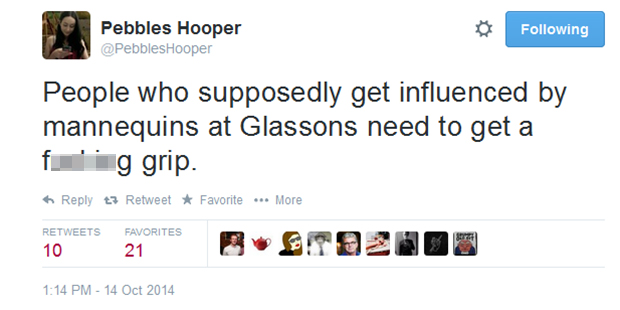 L'Estrange-Corbet's daughter, Pebbles Hooper, has backed up her mother's thoughts with a public vent on Twitter.
Ms Mee said research showed a direct correlation between a published and modelled "perfect" body image and the body dissatisfaction of young girls which resulted in health problems such as low self-esteem and greater risk of self-harm and suicide.
A code was an important and vital part of protecting young women and allowing their talents to flourish, not having them worrying about reducing their body size.
"It is time for action."
Actress and singer Emily Robins first posted an image of the Glassons skinny mannequin on Twitter, sparking a social media outcry.
She was prompted to take the photograph while shopping with her 17-year-old cousin, she told the show.
"I didn't want her to feel like she had to be that size to feel good in the clothes."
Glassons had previously defended its use of the mannequins, with chief executive Graeme Popplewell saying the mannequin's BMI of 18.8 put it within the healthy weight range of 18.5-24.9.