A new TV series proves you really can teach old dogs new tricks says Dionne Christian.
Ralphie, Billie, Dallas, Pippy, Peanut, Jewel, Rikki, Kaiser, Chopper and Moss: they were dogs on Death Row, condemned because of their bad behaviour or rough looks.
But every dog has its day, so it was their lucky one when animal behaviourist Mark Vette and his team of animal trainers walked into the pounds and shelters where these pups were held.
Vette, who taught rescue dogs to drive for the SPCA's adopt-a-dog campaign, was looking for problem pups to turn into small-screen stars for TVNZ's new series Purina Pound Pups to Dog Stars.
Filmed over eight months at his West Auckland animal behaviour clinic and talent agency, Animals on Q, each of the series' 10 episodes follows a rescue dog starting with the story of how it was mistreated, abandoned or surrounded.
Vette meets each of the dogs and works through some basic tests to determine their personalities and problem behaviours. More importantly, he's looking to see whether he and his team can turn the dogs' lives around and prove to a sceptical public that you can teach old - and not-so-old - dogs new tricks.
Vette and trainers Jazmin Vette-Dal Bello, Rosie Miles and Marie Manderson devise action plans to get each dog on back on track. For the dogs, it marks the start of four weeks of basic training in which their individual problems and quirks are worked through before they learn the foundation of good doggie manners.
After basic training, the next step is to find the right role for each particular dog, based on their individual talents. Specialist training follows and, several weeks later, they're put to the test at a specialist event aimed at finding out if they're cut out for their new career.
All the while Vette and his team look for new homes for the once unloved animals. But do they find them?
It's testament to Vette's empathy for his canine co-stars, patience and 35 years of experience that he managed to succeed with any of the dogs because they came to him in shocking and sad states.
Ralphie, a beardie, was anorexic so before the start of training, which usually involves offering food as a reward, this eating disorder had to be treated; Dallas, a lab-huntaway cross, had been chained up for months and abandoned and came with two equally starving puppies in tow; Peanut was an aggressive chihuahua and Rikki was so badly abused, he'd had an eye removed.
"For sure there were challenges but that's what we do here," says Vette, New Zealand's only professionally qualified Animal Behaviour Consultant. "It would be a very rare occasion when I'd recommend euthanising a dog because, in all but the most extreme cases of aggression, there is hope and ways in which we can find to help dogs fulfil their potential."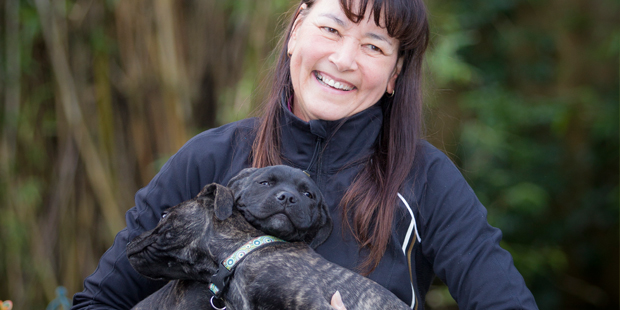 Barbara McDonald with her bitzer pups. Photo / Michael Craig
A trained zoologist with a Master's degree on sheep dog genetics and behaviours, Vette spent a number of years in the United States, including working at Battleguard Indiana, a wolf park.
At his West Auckland clinic, he and his staff deal with pets with aggressive and anti-social behaviour, phobias, neurological and eating disorders. The aim is to teach them how to socialise with humans and other animals and to live full and happy lives as curious, lively and intelligent creatures.
Local government and animal organisations such as the SPCA call on Vette for advice but he's probably best known to the public for his work training animals for film and television, including his own show The Funny Farm.
He keeps a watchful eye on the standards, rules and regulations for the use of animals in entertainment.
"If we are getting our mates to do these types of jobs, then we need to be looking after them and, at all times, being conscious of their safety and wellbeing."
Vette says the best thing about working on the series has been seeing these underdogs defy the odds and come out on top.
"The joy which comes when you see a dog leaving with its new owner for its new home is fantastic and it's wonderful to think they have learned lifelong skills and realised their potential. It's a joy to do this kind of work and it really does bring a tear to your eye. "
It's a feeling Barbara and Terry McDonald relate to. The West Auckland couple, who appear on the TV show and help to bring Dallas back to health, have fostered around 100 dogs in the past five years.
Like Vette and his team, they've taken on dogs others would have given up on and have even moved to a fully fenced and larger property more suitable for dogs.
When I met the McDonalds, they were providing a safe and warm home to two adorable "bitzer" puppies (possibly Staffy/labrador crosses) who had been dumped in public toilets. The pups were cuddled up in a basket underneath a sign on the sheltered porch which outlined the "dog rules" of the house.
The McDonalds' work as canine carers started around 10 years ago. Barbara reckons they were suffering from "empty-nest syndrome" when their only son left home, so they got themselves a loveable Staffordshire terrier they christened Chopper (sadly, he died of cancer just one month ago).
She and Chopper went to puppy pre-school followed by classes at the North Shore Training School and started entering canine obedience competitions. McDonald became a judge and instructor so she's well versed in working with sometimes difficult dogs.
Their second dog, Twiggy, was adopted around five years ago from the Henderson Animal Shelter in West Auckland. Because Twiggy spent some time there being treated for illness, the McDonalds got to know animal management staff and the type of issues they face.
Then they heard of a dog that needed a foster home for three weeks, because the family who wished to adopt him was moving house. They put their hands up to be the dog's temporary carers and that was the start of their work.
The McDonalds don't get paid but in addition to their day jobs they have a small business, Chopper's Designer Dogwear, with profits going into their fostering. They're particularly attracted to the less cute dogs whose looks can be a deterrent because people assume they're aggressive.
"The pound environment can take its toll on dogs that are enclosed in a run for most of the day with little time in the exercise yard," says McDonald. "To get them into a foster home, where they can experience family life and be socialised, is extremely important."
But fostering isn't for those who don't have the time and energy to commit to socialising, training, exercising and generally giving a load of TLC to a canine that's gone - or is fast on the way - to the dogs.
"One of the most shocking things we have learned since we've been fostering is how cruel people can be to animals and how they treat dogs as disposable," says McDonald.
"A lot of it is because owners are uneducated or because they get a dog and aren't willing to put in the time it takes to train them." And it's all about training.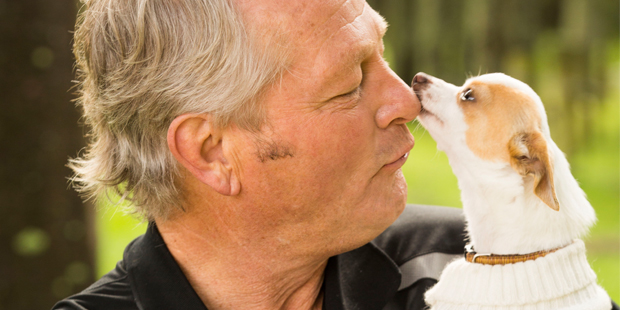 Animal trainer Mark Vette gets some love and affection from Peanut. Photo / Michael Craig
Vette says it's crucial puppies begin socialising and learning between six to eight weeks of age as this is the start of the formative period when a dog will bond with its new human family. He reckons 80 per cent of all issues start in the first four months of a dog's life (the formative period) and result from not doing the right thing at the right time.
But he acknowledges there's a tricky line to walk between isolating an unvaccinated puppy because of diseases and the need to socialise a pup with humans and other dogs.
"Take them in the car, take them out to meet dogs who are fully vaccinated, have friends come over because they need contact with their own family, contact with kids and contact with other animals in order to get used to the rhythm of family life, their place within the family.
"If the pup doesn't socialise or generalise they're going to be attached to just the family. They need to be socialised with lots of different kinds of people. The absolute worst thing you can do is to chain a dog up, leave it on the chain and have just one person who feeds it. That is the recipe for creating a dangerous dog, particularly if it's a breed with a genetic inclination to aggression."
Viewers will get plenty of tips and hints from watching Purina Pound Pups to Dog Stars. A segment breaks out from the main rescue story to show Vette's work in his behavioural clinic, giving owners tips and advice as well as training animals with a wide range of issues from aggression and biting to phobias.
Each episode includes an Animal Extras side story following the work of Vette and his team in the world of film and commercials. This segment shows the training and unique challenges involved in a job that can range from cows singing to rats powering a bicycle.
• tvnz.co.nz will have links to organisations working with dogs, information on training, play tips and hints and advice on adopting a dog. Mark Vette can be contacted through markvette.com.