That old sports luxe trope gets an extreme makeover this season, taking inspiration from technical details and fabrics from high-impact sports. A foolhardy approach and a brazen streak are all that's required to take on spring's hardest working pieces, not without the help of some daring daredevils.
Brook Macdonald
Downhill mountain bike rider.
Age: 22
Photo / Greg Bowker
• Val d'Isere World Cup Winner (2012)
• UCI World Cup Winner, France (2012)
• Junior UCI World Champion (2009)
Being prepared both mentally and physically is key for downhill mountain bike rider Brook Macdonald, whose impressive accolades include winning the prestigious UCI Junior World Champs in Australia in 2009 at the age of 17.
Finishing fourth in the last leg of the UCI World Cup this year, Macdonald is looking forward to the next three stops in the series in Canada, America and France before aiming for a top five spot at the UCI World Champs in Norway next month. Hailing from Napier, Macdonald's rise hasn't come without the help of some advanced riding gear, ensuring his ability to take the fastest path with the least risk of injury. "My riding shoes affect the grip on my feet and movement while riding and my goggles affect my vision in terms of how far I can see and the clarity of the track," says Macdonald.
"My Oakley goggles have improved substantially over the last three years. It is amazing how much time Oakley puts into making these better for performance for both their athletes and customers. The change in shape means the goggles now have wider vision, the lenses are have increased clarity, and they are more comfortable to wear."
• Ella wears Adidas x Jeremy Scott dress, $390. Oakley sunglasses, $300. Kathmandu cycle gloves, $80. Witchery heels, $129.
Kayne Lamont
Motocross rider
Age: 21
Photo / Greg Bowker
• NZ MX2 National Champion (2014)
• Australian 19 MX Champion (2012)
• NZ MX Junior 250 Champion
• Junior 250 Champion (2010)
For motocross rider Kayne Lamont, the future looks bright. The Mangakino rider was awarded New Zealand MX2 champion for 2014 and is looking forward to a podium finish in Australia later this year that will progress to racing in Europe in 2015.
Wearing top, pants and gloves by international premium riding brand Shift and boots by the iconic Fox, both brands offer distinctively styled motorcycle apparel for the MX and sportbike crowds. "In the heat you need light, vented gear to stay cooler and then on cold days you need something a little thicker and less vented to stay warm," explains Lamont.
"The different fabrics used in a pair of riding pants and the stretchy fabric used on the back of the gloves feel great."
• Ella wears Kate Sylvester dress, $595. Mi Piaci heels, $280. Swarovski earrings, $250.
Jacob Koia
Back country (big mountain) snowboarder and film-maker
Age: 29
Photo / Greg Bowker
• Winner of Best New Zealand-made Film at the New Zealand Mountain Film Festival for Mates in Alaska web series (2014)
Jacob Koia is one of the country's most prolific snowboarding film stars, with accolades from both the film world (starring in the 2012 feature film Pretty Wise was a highlight) and snowboarding world.
He's amassed a string of podium finishes along the way and his vast experience within his field has also allowed him to work with several brands in developing gear that works overtime for the best possible performance. "I think right now the best outerwear brands are making outerwear look a little more like something you'd see people wearing in the streets but with the functionality for a good ride," says Koia.
"The companies I've worked with love any type of feedback from their athletes and that's really important. I've helped with designing Oakley outerwear in the past and when I used to ride for Endeavor Snowboards we always had a lot of input on the boards we rode. I've designed a couple new era hats and helped with a few other things.
I've been testing some INI outerwear this season. It's a relatively new brand making noise in the US, and has some really technical pieces coming out using recycled materials that I find exciting."
• Ella wears Adidas top, $60. Caroline Sills skirt, $204. Diane von Furstenberg heels, $550, from Runway.
Timothy O'Connor
Surfer
Age: 24
Photo / Greg Bowker
• New Zealand Surfing Team Captain for ISA World Junior Champs in Portugal (2007)
• 7th ISA World Junior Championship, Portugal (2007)
• First Place Winner Under-16 Boys National Championship (2005)
Representing New Zealand as captain of the surfing team that headed to Portugal in 2007 was a proud moment for Tim O'Connor. "Representing your country in your chosen sport is the result of many years working hard to reach that goal, but to have the honour of being appointed the captain was very humbling.
I felt so proud to be able to lead my country at a sporting event on the world stage." The Mt Maunganui native has competed in several competitions over the years but the most memorable win is the Open Men's Maori National Championship in Raglan. "I just remember my whole family being there and all my friends. I surfed the final with some surfers I looked up to as a kid and still do to this day, and to come away with the win was great. I remember Mum crying and my old boy being really stoked when I got out of the water. To see my two biggest supporters over the years so happy for me really meant a lot."
O'Connor is also fortunate enough to work with O'Neill, a brand that has been at the forefront of wetsuit design since 1952. "The technical innovations seem to be limitless with todays materials and technology. Technobutter Neoprene would have to be the most exciting feature.
It's a 20 per cent lighter material and also has 30 per cent less water absorption. These two key elements allow a lot more freedom in the cold water without compensating for warmth, which is the main goal with today's wetsuit design." With his pounamu necklace given to him by his girlfriend Tia providing a source of security while competing abroad, the 24-year-old surfer is looking forward to new challenges ahead.
• Ella wears Billabong wetsuit, $150. Skin slides, $140.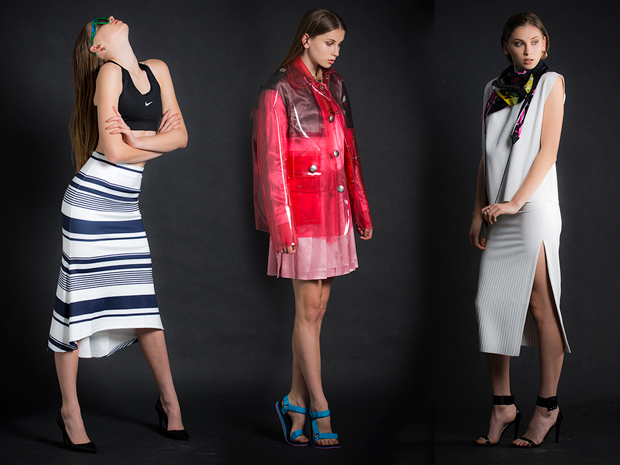 Photo / Greg Bowker
1. Nike top, $30. Maurie & Eve skirt, $209. Diane von Furstenberg heels, $550, from Runway. Prada embellished sunglasses, $705, from Sunglass Hut.
2. Miu Miu satin dress, $3960, PVC jacket, $2340. Teva sandals, $119.90.
3. Maurie & Eve top, $185 and skirt, $209. Isabella Anselmi heels, $209.90, from Overland. Louis Vuitton scarf, $1040. Witchery earrings, $29.90.
Stockists:
• Adidas
• Billabong
• Caroline Sills
• Kate Sylvester
• Kathmandu
• Louis Vuitton (09) 358 0422
• Maurie & Eve (09) 378 0072
• Meadowlark
• Mi Piaci
• Miu Miu (02) 9223 1688
• Nike
• Oakley
• Overland
• Prada +61 2 922 3168
• Runway
• Skin (09) 368 1981
• Sunglass Hut 0800 607 895
• Swarovski (09) 379 0490
• Teva
• Witchery (09) 523 1335
Stylist: Dan Ahwa
Photographer: Greg Bowker
Hair and makeup: Katie Melody Rogers using M.A.C Cosmetics.
Model: Ella Corbin from Red 11.
Stylist's assistant: Danielle Clausen. With thanks to Opal Mackinon from Red Bull NZ, Prudence Aherne from Clyne.