The best ice cream in NZ has been revealed at the 18th National Ice Cream Awards overnight. Catherine Smith finds out what it takes to be crowned king of the popular sweet treat.
A person might think that a lifetime of indulging in ice cream was all that's needed to qualify you as an expert of the sweet treat.
Think again.
Last night, a team of lab-coat cloaked pros declared New Zealand Natural's English Toffee and Rush Munro's Maple Walnut ice creams were the supreme tastes in the 18th National Ice Cream Awards.
Click here for the full list of winners.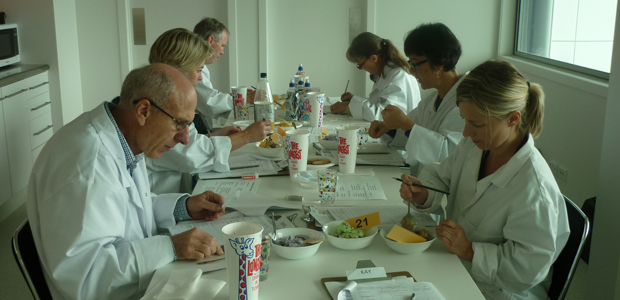 As a nation we eat some 23 litres of ice cream a year each (that's more than Australia or America), but Kay McMath - head judge of the awards for 12 years - says there's a lot to becoming a maestro than eating lots of it.
McMath has spent decades in the dairy industry honing her palate - and watching the industry mature to meet ever more finicky consumer demands.
"New Zealand manufacturers do a fantastic job. We're so fortunate here we have such a high quality dairy product to start with," she says.
"The mark of a good ice cream is that you can still taste natural cream. Our product is lighter, not as dense, so that makes it more melt-in-the mouth."
The awards are open to both the continuous batch manufacturers, who supply the supermarkets and dairies, and boutique makers. There are strict guidelines on definitions of premium ice cream as well as the newer categories of low-fat, gelato and sorbet, mostly to do with the percentage of milk fat and total fat. Overall this year, the awards attracted 302 entries in 11 categories. Scored on some 19 attributes such as sugar-acid balance, firmness, even distribution of inclusion - the sweet treats are judged by a panel of dairy and flavour experts over one intense day.
Read more: Tiny tasters take ice cream awards very seriously
Some of the combinations can get pretty inventive - try mascarpone cheese and fruits of the forest, cappuccino, lavender honey, red bean and rose flower or watermelon and cucumber sorbet - but McMath reckons that simple combos that people can recognise generally take home the awards.
"We are really good at berries - raspberry, boysenberry, all those fresh, good fruits.
"Last year we had five variations on salted caramel, which is very hard to get the right balance of savoury notes.
"This year we had the Best Of Chocolate category, and we had over 30 stunning entries.
"They were tending to dark, dense really indulgent, with a great balance of cocoa and chocolate liquor.
"A few years ago we were throwing everything at once into a flavour - chips, ripples and more - but now people are thinking about enjoying something that is not too rich."
Mulitple award winners Hip Group first launched their Takapuna Beach Café gelatos six years ago, taking home the supreme award for boutique manufacturers the third time last year, winning gold and silvers this. Head chef Jo Pearson says when they started, they were one of the few boutiques churning their gelato from scratch when most other makers used imported bases from Italy or Australia. The group have now centralised production of their own bases at their Provenance site at Waimauku to supply their retail stores churning daily. Pearson says their focus is always on where the ingredients come from, so the company works directly with dairy farms in Waihi and Ohaupo, sources their lemons from an orchard in Waihi and makes their own curds from local limes and passionfruit.
She admits that such a sustainable approach takes more work to tweak the products - milk fat content varies with the seasons and pasture conditions, boysenberries are not available year round - but this means a gelato that is truly fresh, seasonal and tasty.
Because the group has their own vegetable plots, Pearson has even experimented with vege varieties. But while celeriac gelato was a step too far, Pearson is rather pleased with her unexpected blend of bay leaf and dulce caramel finding that savoury/sweet balance in the same way she does for her dishes in the restaurants.
"We don't want to be unhealthy, but we still use cream, full fat milk. We don't garnish because we believe the pure flavours are actually enough," she says.
But a minimal approach to flavour combinations is far from the minds of Gianpaolo Grazioli and his wife Annarosa of Queens Street's beloved Giapo. The food scientist and pharmacist couple take a thoroughly scientific approach to their native dessert (Giapo hails from Naples, home of gelato).
The former pastry chef and his six chefs (one worked with Chicago's famed Arlinea) create fresh gelato every day. Giapo swears by his liquid nitrogen, as it freezes the cream faster than churning, creating a smaller, smoother ice molecule. Like Hip Group, he sources from one organic milk supplier, with fat content of up to 35 per cent for real creaminess.
"These are true artisan products - an hour after they are made they have already changed, so we make fresh every day," he says.
"Always we are looking for lightness, flavour and creaminess.
"We use cocoa butter that really lets the mouth feel the creaminess, the true experience of chocolate."
While he changes his menu daily, there are perennial favourites that New Zealand fans demand - all the chocolates, the fresh fruits, variations on nut and caramels. For his tiramisu, Giapo makes the dessert from scratch; similarly the hokey pokey, the amaretti and meringues stirred into the fancier desserts are made daily. Chef Paddy makes 250 to 300 chocolate cones a day.
But there is still one outstanding winner, always, say the experts.
"The thing that sticks with you is a really good vanilla ice cream. Good dairy, good vanilla, there's nothing to hide behind, so he texture, the flavour has to be right," says McMath.
"That's my pick for a well-made ice cream."
- www.nzherald.co.nz