Five of our most acclaimed writers tell us about the books that changed their lives.
Sarah-Kate Lynch
Slaughterhouse Five
by Kurt Vonnegut was, literally, the book that changed my life, when a would-be employer spotted it just as I knocked the final nail into the coffin of a disastrous job interview.
I'd applied to be a sub-editor at a women's magazine because it had nude male centrefolds but, under cross-examination, it was revealed that (a) I did not know what a sub-editor was and (b) the magazine no longer had nude male centrefolds.
As I stood to leave the room, my soon-to-be boss saw Slaughterhouse Five in my bag, declared himself a huge Vonnegut fan and a spirited conversation ensued.
Actually, my befuddled night-owl flatmate had given it to me on my way out the door that morning, thinking it was a piece of toast. I'd only read 20 pages of it but I didn't mention that, so the job was mine.
However, someone else's writing had touched me years before and it's thanks to her I was even in that office in the first place.
Erma Bombeck was an Ohio housewife who quickly rose to fame and fortune with her 1970s American newspaper columns about being a wife and mother.
Her book, If Life Is A Bowl Of Cherries What Am I Doing In The Pits?, was the first funny grown-up book I ever read.
What a 16-year-old St Mary's girl had in common with Erma and her suburban domestics is hard to imagine but in reading her essays it occurred to me, for the first time, that an ordinary person - an ordinary she-person - could write about ordinary things in a way that made people laugh.
And these things might one day even end up in a book.
Of course, now that a 4-year-old can trip over a skateboard lying in the hallway and accidentally blog something with their nose on Grandma's iPad that a million people will eventually see, it's hard to believe that how to get your thoughts out into the universe was once a mystery.
But it was. I loved writing as a child but never dreamed that someone like me could end up doing it for a job. Instead, I was attempting to pass U.E. physics so I could end up doing something I hated, like a normal person.
Then along came Erma.
Unlike her, I did not have a husband or kids (I wasn't that sort of a St Mary's girl) or a household - but I was ordinary.
I'm not saying I thought at that tender age if she could do it, I could do it. Show me a 16-year-old with that sort of foresight and confidence and I'll show you - oh, hang on, Lorde.
Yes, well, anyway, most of us assume the stars are beyond us so don't bother reaching for them.
But Erma opened my mind to the tiniest glimmer of possibility that if I only got 51 per cent for physics and could not get into vet school, there might be something else I could aim for.
And so I went to journalism school instead and bore in mind over the years that if I stuck with what I was doing and got on with my life, even if it wasn't that exciting, I might one day find a way to write about ordinary things in a way that would make people laugh. And these things might one day even end up in a book.
Sarah-Kate Lynch talks about her new book, Screw You Dolores: A Wicked Approach To Happiness, with Petra Bagust at the Auckland Writers Festival, tomorrow at 2.30pm, Aotea Centre.

Paul Cleave
There are a few books that changed my life, most of them fiction, but it's actually a non-fiction book that has had the biggest influence on me. Thinking back, it's this book that actually changed the kind of writer I wanted to be and, if I hadn't found it one night when Christmas shopping 15 years ago, then right now I'd be on a very different path in life.
It's funny how one random moment can change everything - if I hadn't gone to that mall, that bookshop on that day, maybe I'd never have found it. I'd still probably be unpublished, working away at pretty awful horror manuscripts while doing card tricks on the street to make rent. That book is Obsession, by John Douglas.
Douglas is the creator of the FBI's Criminal Profile Programme (and is who Jack Crawford in Silence Of The Lambs is based on). When you see Silence Of The Lambs, or shows like Criminal Minds ... well, Douglas is the guy who essentially created those profiling units. Obsession was his third book, the first two being Mindhunter and Journey Into Darkness. In these books, and the ones that follow, he talks about how he created the unit, about his interviews with serial killers as he and his colleagues travelled the country's prisons, building up a database of what makes these guys tick, and he talks about many of the cases he worked on and solved, as well as the most notorious serial killers ever. He also talks about the cases that were never solved - some of which were still open until just a couple of years ago. That was an awful truth - sometimes serial killers just get away with it.
His compassion and humanity for the victims and their families comes through with every case.The books, I have to say, are tough reads. Very tough. In fact, they are so tough I've only been able to read them once. I remember crying a couple of the times at some of the stories - but these books ... made me realise that crime fiction is far scarier than horror. It's scarier because it can be real.
Douglas taught me how serial killers can think. What they want. How they're made. He gave me the tools to create killers of my own, he taught me what scary was, and the moment I finished Obsession I started work on what would become my first published novel, The Cleaner.
You don't read a vampire novel and think Dracula is hiding behind the couch or watching you soap down in the shower, but if you read a great crime novel you may just get up to make sure the windows and doors are locked.
Paul Cleave has received a 2014 Edgar Award nomination (the crime writing equivalent of the Oscars), alongside Stephen King, for his latest novel, Joe Victim. Cleave's work has been translated into 15 languages.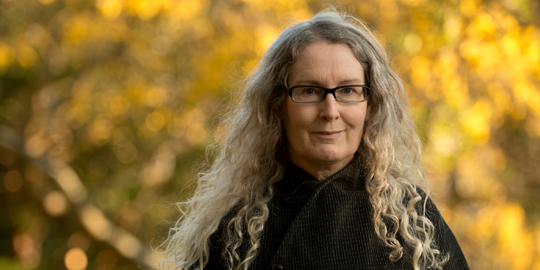 Photo / Grant Maiden

Elizabeth Knox
I first read The Master And Margarita when I came across it in the Tawa College library. It must have gone deep into me because I didn't realise until I reread it many years later how much it had influenced me.
It comes at its main story by two debonair flanking movements. The devil and his retinue appear in Moscow in the slightest of disguises and go largely unrecognised because vain members of Masslit - the writers' union - and venal theatre managers and rapacious, luxury-starved Muscovites, are all too busy being themselves, thus collaborating with the devil's obscure mission - which might simply be to host his annual slap-up party.
It is a book in which a novelist is driven mad by despair and burns the manuscript of his book, about which editors and critics have wanted only to know why he, "a Muscovite in this day and age", wrote a novel "on such a curious subject". The Master's novel concerns Pontius Pilate.
The reader encounters the novel's story of Pilate in chapter two, around 150 pages before the man writing the Pilate novel - the Master - makes his appearance. We don't know why we're being told about Pilate. We do know it's riveting. The Pilate chapters, which appear at intervals in the novel, are measured, realist, vivid. So is the ostensibly most fantastical chapter, in which the Master's lover, Margarita, turns into a witch and flies around the city causing mayhem, then flies upriver on a sense-saturating summer night.
Margarita's every witchy move is real, concrete, logical. But the novel also has scenes in a confined commonplace present: the offices of a theatre manager, where a couple of worldly men get excited trying to work out why someone would be pretending to be the theatre treasurer and claiming to have been magically transported to Yalta. They discuss a series of telegrams from someone in Yalta. And the telegrams keep arriving, carried by the same girl from the post office, giving the two guys just enough to react to each message before she walks in with the next. It plays like a stage farce.
It is this melting, shimmering quality that I most love. The novel manages to be stately and tragic - in Pilate's and the love story - while also being antic and flamboyant. It thrives on madness and mixedness, but the net result is a strong sense of mission, which I suppose could be distilled down to this idea: how easy it is for cruel and implacable individuals to create a world in which it's impossible for decent people to do good. Just that idea, with myriad proofs. It's a novel in which almost all the heroes are compromised or defeated and have given up civilisation to save their souls.
When I read The Master And Margarita at 16 I thought it was the strangest and most astonishing book. I've read it twice since. It has changed and deepened, both with my accumulated life and with history, and is still the strangest and wildest - and wisest - book I've read. And the next time someone asks me dubiously about my use of fantasy, I will wish that Woland would dispatch Behemoth to smack them in the ear.
Elizabeth Knox hosts a writing workshop today from 2pm at the Aotea Centre. She will also be one of the speakers at a session called Mad Worlds, tomorrow from 2.30pm, also at the Aotea Centre.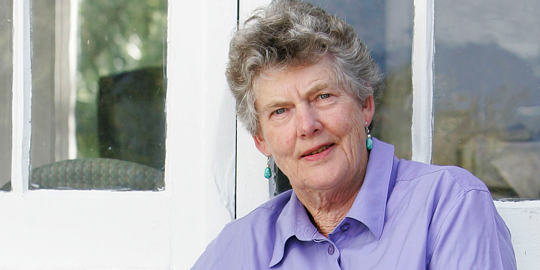 Photo / Tim Hales

Jenny Pattrick
I would be suspicious of anyone who could point to a single book that changed their life.
Unless they had read only one. Almost every book I have read will have changed my life a little. Some more than others.
As a child I devoured Kate Seredy's novels, set in old Hungary, stories peopled by princes on horseback and full of noble deeds. Did they change my life? Is that why I have written historical novels? In my 20s I struggled my way through the Jesuit philosopher Teilhard de Chardin's The Phenomenon Of Man, summarising each page into words I could understand. That book probably changed the way I thought of the concept of an afterlife.
Maurice Gee's Plumb was a revelation: that really strong novels can be by New Zealanders and deal with local issues. After that I read every one of his novels as they came out and related strongly to his themes and characters. Patrick White's whole body of Australian novels had a similar effect. To write in the Australian vernacular seemed daring and his characters much closer to home than those of respected English writers. I wonder if I would still find his writing inspiring? Riders In The Chariot was wonderful to me, dealing with the trials of the creative spirit. David Marr's biography of Patrick White was stunning, as, more recently was Claire Tomalin's of Charles Dickens.
You see, I can't stop finding books that changed my way of thinking a little.
Since I've been writing myself, I notice style in other writers and can be influenced by them. Something to be wary of, as well as in awe or grateful. Grace Paley and Alice Munroe, both brilliant short story writers, showed me how a few words can convey whole oceans of meaning and be funny, entertaining, provocative at the same time.
Irish writers Sebastian Barry and Colm Tobin can make me despair. Their writing comes off the page in such a lyrical way, I daren't read them while I'm writing myself or I find myself writing with the same lilt. Sebastian Barry uses the same characters and families over and over, putting them into the churn of Irish history in a way that is pure magic.
The Secret Scripture and The Whereabouts Of Eneas McNulty, for example. Wonderful, life-changing books I would say, without being able to quantify the change. Tim Gautreaux is another recent addition to my loves.
His place and voice is Louisiana. The short story collection, Waiting For The Evening News; the devastating novel, The Clearing. It's authors - their whole list - rather than individual books that have had the most impact on me, I think. And looking now at what I've written, I see a common theme.
The authors I've named have written about their own place, almost exclusively.
Sometimes back in time, sometimes contemporary but always rooted in the land they've grown up in. Perhaps these authors have influenced me to stick with New Zealand in my own writing.
Jenny Pattrick will read from her latest novel, Heartland, and talk about her literary addictions with fellow novelists Owen Marshall and Fiona Kidman, today from 2.30pm at The Langham Hotel.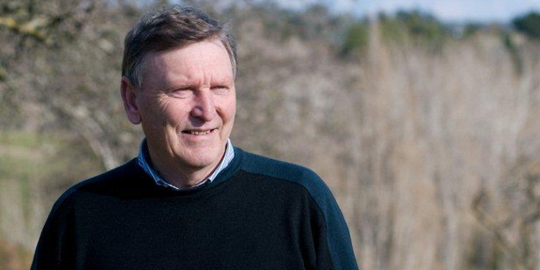 Owen Marshall
I imagine few people now read English author H.E. Bates (1905-1974). His best work is too quiet for a strident, look-at-me world, and reflects a rural England that has passed away. Yet he was popular in his day, with many fine collections of stories, and best selling novels such as Fair Stood The Wind For France. Films and television series were based on his work, including The Darling Buds Of May, starring David Jason.
As a student in the 60s, with vague aspirations to write, I enjoyed reading such British practitioners of the short story as T.F. Powys, A.E. Coppard, Elizabeth Bowen and V.S. Pritchett, but Bates spoke most strongly to me at that age. Among my books I still have collections such as Death Of A Huntsman and The Grapes Of Paradise.
Bates was a prolific writer and didn't always maintain his highest standards, but his best writing is full of wonder and affection for the natural world, along with a realistic yet compassionate understanding of character. A visual writer of the highest order, unsurpassed in capturing landscape and setting, he was capable of an unforced lyricism that bore out his stated conviction that in its finest form the short story is a prose poem.
"The engine itself stood between the cow barns and five stacks of wheat and barley, belching up clouds of black smoke into the tall poplar trees overstooping the pond. The storm was spending itself furiously, driving dark flocks of clouds low over the farm, spitting cold gusts of rain and yellowing the air with showers of poplar leaves. The stacks were ruffled like birds, and straws in thousands sailed upwards in tufts like golden feathers and were borne away into the distance with a pale mist of chaff from the drum and the black smoke writhing and sweeping over the fields." (Threshing Day For Esther.)
Bates came from humble beginnings: his parents were chapel-going shoemakers who ate their pudding before the main course, as was the way in the English Midlands. He didn't attend university and made his artistic journey by reading, talent, industry and devotion to his craft. He loved to walk the fields and village streets, often late at night, and was never part of the London literary set.
I moved on from Bates, but never completely away. Literature evolves and I came to appreciate very different modes, from Italo Calvino and Donald Barthelme to Grace Paley and Bette Pesetsky. Yet sometimes I return to Bates and, unlike is the case for much of my early reading, I'm seldom disappointed. Perhaps this re-acquaintance is enhanced by a sense of my young self and the optimistic pleasure I found then in his work.
Some years ago I was invited by Dr Gerard O'Connor to speak in Palmerston North. A colleague of his there told me that quite by accident he had come across a man who had been Bates' gardener. Small world. The old chap was in a retirement home and his memory was fading. He had spoken more glowingly of Mrs Bates than the writer, but I wish there had been sufficient time for me to talk to a man who had known H.E. Bates.
Bates entitled the first volume of his autobiography The Vanished World, but such is his gift that he has in fact, through a wonderfully personal lens, preserved it.
Owen Marshall will read from his latest novel, Carnival Sky, and talk about his literary addictions with fellow novelists Jenny Pattrick and Fiona Kidman, today from 2.30pm at The Langham Hotel. See writersfestival.co.nz
Follow Life & Style on Twitter and Facebook.