She wears the pants. And the dress. This season's layer of choice is the best of both worlds.
The boy meets girl formula resonates well with local designers who love to play on that dichotomy of masculine versus feminine and hard versus soft.
One international designer who has recently relaxed her signature body-conscious silhouette and pushed for relaxed tailoring and more tomboy separates is former Spice Girl Victoria Beckham, with her eponymous label. Respected fashion journalist Tim Blanks describes Beckham's gradual evolution from pop star to serious high-end designer as being one of "New York Fashion Week's ongoing pleasures" in a newly released Skype documentary that chronicles her business since its inception in 2008.
For her autumn 2014 collection, Beckham made a point of showing a relaxed approach to wearing dresses over pants, a nod to her newfound confidence in bringing both masculine and feminine ideas into one cohesive look.
Volume comes into play here with several oversized dresses working particularly when well worn over pants. The "Whenever Wherever dress" by Penny Sage (#1) lives up to its name as a versatile dress. With its subtle floral motif and lavender hue, it's one of this season's best dresses, paired with equally voluminous pants and heels for a new take on layering.
Dress coats and wrap dresses are a good alternative to simple dresses, belted at the waist and worn over slim pants; as well as the multitude of tunic dresses that can easily be taken out of its mumsy context and updated with a pair of tailored pants cropped at the ankle. If venturing into dress-over-pants territory is proving to be too much out of your comfort zone, take a cue from actress Emma Watson, who earlier this year made a sartorial risk that paid off when she walked the Gold Globes' red carpet wearing a vibrant red Dior haute couture gown over a pair of classic tuxedo pants. "I just thought it was really fun because it had trousers," explained Watson post-awards. "I felt very easy, very comfortable in it, and I think that's really important. It felt kind of original."
We couldn't agree more.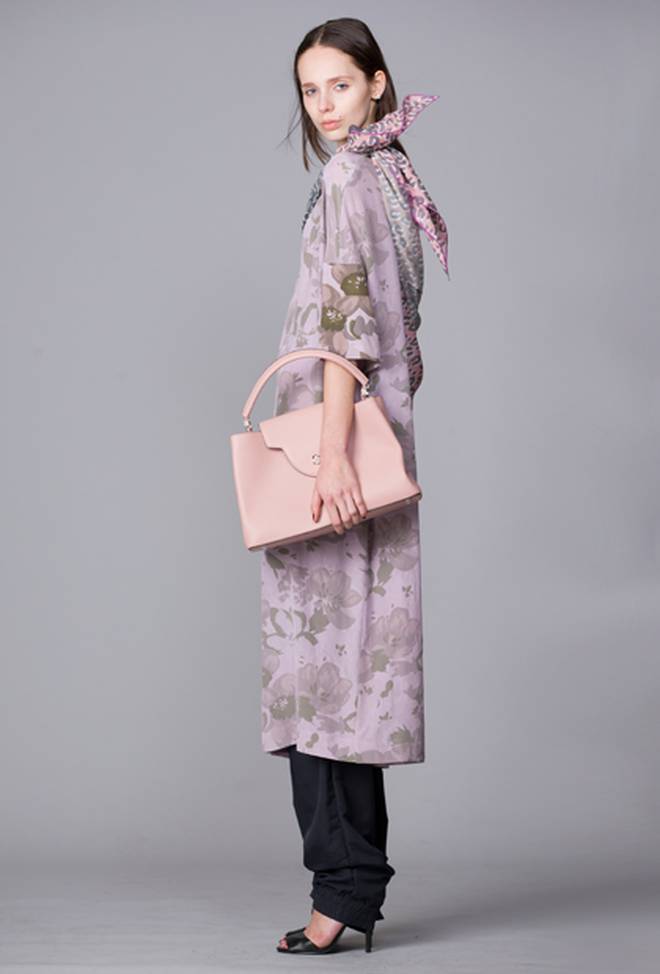 Stockists
• Andrea Biani
• Adidas Originals 0508 ADIDAS
• Deadly Ponies
• The Department Store
• Dyberg/Kern
• Georgia Alice
• Gorman (09) 529 2279
• Karen Walker
• Louis Vuitton (09) 358 0422
• Mi Piaci
• Muse (09) 520 2911
• Penny Sage
• Ruby
• Sabatini
• Skin (09) 368 1981
• Stolen Girlfriends Club
• Swarovski
• Walker & Hall
• Zambesi
Stylist: Dan Ahwa
Photographer: Greg Bowker
Model: Oliwia Lukasik from Clyne
Hair and makeup: Katie Melody Rogers using M.A.C Cosmetics
Stylist's assistant: Danielle Clausen