As the weather cools down and darkness sets in, I tend to romanticise winter, and find myself dreaming of cosy fireside chats cradling a glass of red wine, and of spending whole days in the kitchen, all while ogling cute new winter clothes and accessories like scarves and hats and coats. While some people panic about the impending cold snap, and bemoan the end of summer as if it's the End of Days, I get quite excited. Especially about cooking up a storm.
Autumn is the beginning, here to soften the blow between extreme humidity and the freezing cold. As soon as certain fruits and vegetables show up at the market, and the intense heat of summer leaves the air, I know the time has come. Here are a few of my favourite autumnal foods to get excited about as we cool down.
Brussels' Sprouts
These little green suckers have had a bad wrap for such a long time, and I'm pretty sure pop culture and American television has a lot to answer for their negative perception. The reality is, no one I know was forced to eat these as a child, boiled until grey and within an inch of their life. As a result I've always had a healthy appreciation for Brussels' sprouts.
One simple and damn delicious way to enjoy this seasonal treat is one I learnt from a Latvian chef I used to work with. Chop up some strips of bacon, fry until slightly crisp, add the Brussels' sprouts (chopped in halves or quarters), and a little butter, season generously, and sauté. Add some chopped walnuts and cook until the sprouts are cooked through and golden, but still crunchy. Delicious on its on, but also great with fish.
Let's get ready to crumble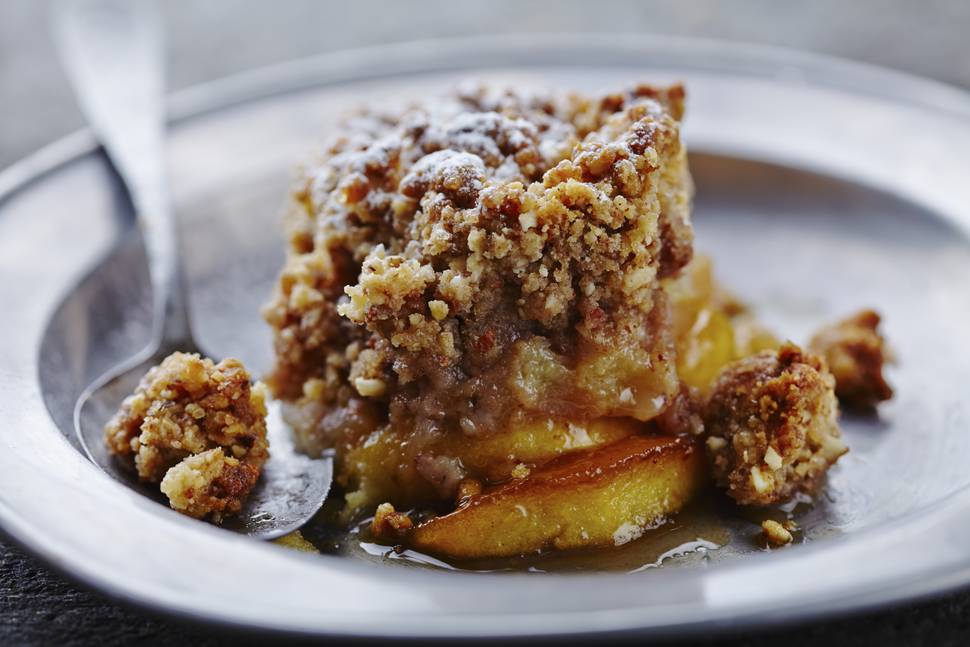 Getting friends over for Sunday night dinners is one of the best things about life, and whilst barbecues are fun, they don't lend themselves to crumble quite like the cooler months do. A large shared dessert is the best way to end an evening, especially if that dessert is hot out of the oven, contains seasonal fruit, and is slathered in cream. Or ice cream. Or custard. Or all three.
Apple is the obvious choice when it comes to crumble. They're cheap and abundant, and as a crumble, an absolute classic. There are a few ways you can modernise this classic dessert though. Adding to the apple some stewed rhubarb with orange zest is a favourite of mine, especially if you then put ground ginger and cinnamon in the crumble. Adding hazelnuts (or whatever nut takes yours fancy) to the crumble topping adds a hit of flavour and a great crunch. Add a little lemon zest for a citrus hit when making a classic apple crumble too.
Feijoas
Love them or hate them, feijoas hava a cult following, and are the shining light of the autumn produce calendar. With the year-round availability of so many things nowadays at supermarkets, it's refreshing to see an item that is truly only available for a short amount of time. For me, this means eating as many as humanly possible while they're around. They're good just raw on muesli or porridge, especially with a bit of natural yoghurt, or they're pretty much perfect as is eating just with a teaspoon. Stewing and preserving them makes feijoas completely luscious year-round, and for something savoury you could hunt out a nice, spicy chutney recipe. Baking is the best place though, especially if your neighbour has so many they're rotting on the ground. Either with coconut as gems, or in a loaf with dates, or in your favourite muffin recipe, they are glorious.
Slow cooking
Putting a cheap and tough cut of meat on to cook hours before you plan on eating it is one of autumn and winter's most satisfying activities. Lamb shanks, pork shoulder, corned beef - there's so much you can do to modernise your slow cooking, and create a truly delicious meal.
A great way to do something different with pasta is a recipe my Aunt does, which was originally a Donna Hay recipe. It's a lamb shank pasta with mozzarella and basil pesto: slow cook the lamb shanks in tinned cherry tomatoes, a bit of stock, with garlic and onion. Then, once it's meltingly tender and falling off the bone, shred it onto large pasta (for example parpadelle), and top it with torn fresh mozzarella and a homemade basil pesto. The flavours are perfect for cutting through the richness of the meat, and this dish is perfect to cook for a group or to impress someone you like.
Salad and slaw are still your friends
As tempting as it may seem to ditch salad until spring, the fact is, autumnal salads can be fun. Just like with summer ones, use your vegetables creatively and use what's in season. Cabbage becomes dirt cheap, and purple cabbage is a fabulous way to add colour and nutrients to a winter meal. As a slaw, you can add raw fennel, carrot, and thinly sliced kale. Add some almonds, some toasted sunflower seeds with spices, and a dressing made up of lemon, mustard, and a dash of mayo or some tahini and olive oil. It'll make you feel virtuous just looking at it; and it tastes good too. Remember to look after your bodies as the weather cools down, and enjoy some hours in the kitchen.
- www.nzherald.co.nz