Health insurer pays record $694.5m in claims but warns rising cost could affect premiums.
New Zealand's biggest medical and health insurer has posted a $1.1 million annual loss after a record $694.5 million in claims.
Southern Cross Medical Care Society chairman Graeme Hawkins highlighted the trend in today's annual report which saw last year's $22.1 million surplus turn into the $1.1 million deficit.
"Although the society is not concerned with generating profit, the continuing rise in claims costs is of concern because it directly impacts the premiums of our members," Hawkins said.
A $7.1 million deficit was recorded in 2010 and a $15.9 million deficit in 2009.
Chief executive Peter Tynan stressed how the society was not in the market to make money but nor did it want to continue to record a deficit.
"We are a Kiwi not-for-profit that exists solely for the benefit of our members - not to deliver profits to offshore shareholders. As a not-for-profit insurer with reserves of $394 million, and an A+ financial strength rating from Standard and Poor's, small deficits such as these can be absorbed in order to mitigate members' premiums. However, the society must continue to aim for a small annual surplus in order to maintain reserves for times of unexpected and severe claims spikes," Tynan said.
The continuing rise in claims costs was of concern because it would directly affect premiums, he predicted in a separate statement.
The society paid out $55 million more in claims in the June year, rising from $639.1 million to $694.5 million. But that was offset by a $43 million revenue rise in premiums paid, from $725.5 million last year to $768.4 million.
The society with 815,447 members released its June 2014 annual result and the annual report, saying it had maintained a strong and stable financial position, holding reserves equivalent to about seven months' worth of claims.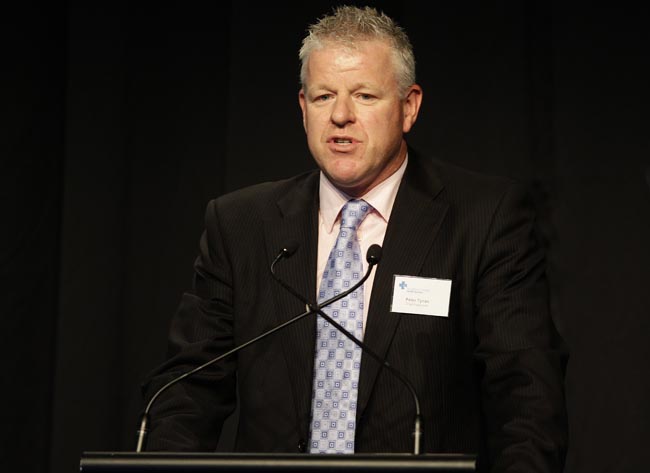 Southern Cross chief executive Peter Tynan.
"Southern Cross covers 61 per cent of New Zealanders who have health insurance and pays 72 per cent of the country's health insurance claims," it said in the annual report.
The key tool for managing claims costs is the society's affiliated provider programme where only some surgeons, specialists and facilities are contracted to provide procedures to members at set prices, leaving others complaining about being locked out of the system.
The society says the system helps mitigate the impact of rising treatment costs on member premiums.
Tynan said 1000 providers in 20 specialist fields were affiliated and 34 per cent of claims were paid to them but that would soon change.
"Our aim is to grow this to 60 per cent by 2016," he said, also telling how the society had worked with 319 members to challenge ACC, which had denied members funding for accident or injury treatment. The challenge resulted in recovering $1.7 million in the year, Tynan said.