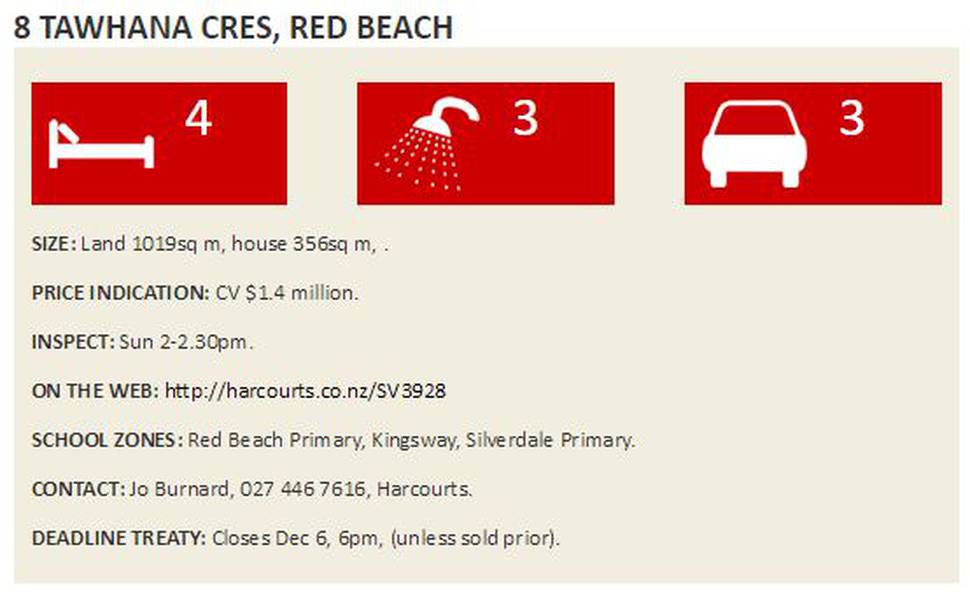 Phil and Debbie Powney downsized from lifestyle blocks into this four-bedroom, three-bathroom home, which also has a loft room and a downstairs area that is self-contained with its own kitchen, laundry and bathroom.
They love the area and have their pick of 13 beaches along the peninsula. Red Beach is down the road via the walkway at the bottom of their property, and because they are at the top of the peninsula, Orewa Beach is also not far away.
Debbie, who owns a gym, loves to take Nala the dog and head off to Orewa beach: "My favourite's Orewa. I like to just walk down there — I'm a big walker. It takes me about 35 minutes."
She says in summer when people go away, she and Phil say "why would we go away because everything is right at your doorstep".
"And the boulevard down in Orewa is fantastic. It's getting a lot more restaurants. It's really becoming like the Mount — it's got that Mount feel about it."
It's also only five minutes to the motorway and shopping at Silverdale or Orewa is very close.
The couple say they bought the home four years ago, knowing it had some issues and set about transforming it.
Phil runs a building company and the couple stripped the house back to a skeleton and started again, making sure to add many extra details and using premium products. The house has a new Code of Compliance.
Says Phil: "Today it's had 30 per cent of the exterior walls replaced. All the cladding is pine weatherboard with cedar trims, copper gutters, all-new double glazing, all-new carpets, all-new kitchen upstairs, all-new electrical fittings, all LED lighting, all-new insulation on the interior walls ... on and on and on ... all-new decks, all-new deck structures."
It is luxury living upstairs and they have also made sure to maximise the view across to Kawau and Great Barrier Islands.
Phil likes standing in the kitchen where you can look across the lounge and dining areas and out to the view.
Though some of the land in front is being developed for housing, Phil says the low- and medium-density properties which are planned won't affect the view out to the sea.
And while there is development, they have a secluded haven. The outdoors is landscaped with well-established palms and shrubs, which form a privacy barrier around the fence, and the top deck is large and partially covered.
They have the barbecue up here and have used it a lot, handing food out from a strategically placed window in the kitchen.
The house "absorbs" people and they like the degree of separation between business and home life.
"This was an opportunity to stay local, have the space for the kids and their partners and a bit of a project for us at the time," says Phil.
There are vaulted, high ceilings, double bedrooms, a large en suite in the master bedroom with windows that have shutters so you can have a bath with a view, and the room has a private deck and a walk-in wardrobe.
There are energy-efficient features, automatic skylights, a spa pool and "miles" of storage, plus a double and a single garage with parking for six.
The self-contained accommodation has its own driveway and is ideal for Airbnb, or Phil says it would suit a multi-generational family.
Though the couple have enjoyed living here, it's time to downsize again — but they will definitely be staying in the area.