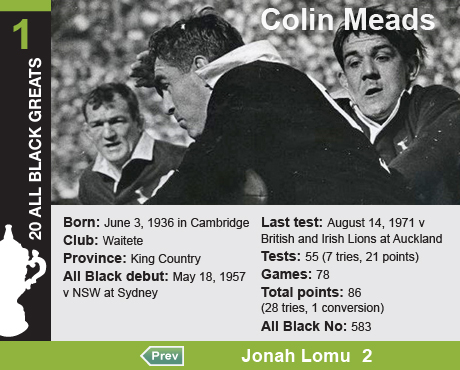 Where do you start with Colin Earl Meads who is, by performance, reputation and acclaim, the greatest All Black and Player of the Century?

You could try by listening to Meads deliver his after-dinner speeches, which are filled with earthy wisdom and tales of yesteryear that he reproduces with all the relish and timing he had as All Black 583.

Pick your top 20 greatest All Blacks of all time.

In his lengthy heyday, Meads was blessed with 105kg spread over a 1.93m frame of toughened muscle and sinew, powered by supreme fitness and guided by unrelenting mental resilience.

He was not large by today's standards but there were not many bigger forwards in his day.

"That helped me and so did my reputation," he chuckles.

Not many rivals got the better of "Pinetree" though he nominates his younger brother Stan and French lock Walter Spanghero as two locks who gave him some gyp.

"Spanghero was a loose forward or No 8 who could play lock like he did when France played King Country in 1968. He gave me a bath in the lineouts that day or at least he made it difficult.

"He was a fair player who went for the ball all the time, springheeled on the jump and tough as teak.

"Stan was a wonderful leaper and athlete. I could never beat him in the two-mile race we always had to the corner then up the hill back home. He always got me on that climb. But he had a terrible run of injuries, he crocked a knee in 1960 and needed three cartilage operations."

Meads pulled on his first black jersey in 1957 in Australia, making his debut alongside Sir Wilson Whineray, Frank McMullen and Terry Lineen against the Wallabies.

In the next test, Meads shifted out to the wing for 50 minutes where he marked Alan Morton, who had run in the Empire Games.

"It was a bit scary out there in the open spaces," Meads recalls. "Pat Walsh kept telling me to make him go round me, not let him cut inside. When I got the ball he told me just to run straight at him."

Meads would rather talk about teammates and foes than himself.

However he understands the public's curiosity.

His best All Black memories started with the 1960 tour to South Africa, when he scored a try in the second test at Newlands. Meads, who was playing No 8, backed up centre Kevin Laidlaw's break, took the in-pass and motored to the line.

"Course when I tell it now I had to beat a heap of tacklers and all that sort of stuff. It was a great game though.

"Then there was the test against Wales in 1963 at Cardiff Arms Park when we won 6-0 and the third test here against the Boks in'65 when we should have won the series 4-0. However Tiny Naude kicked a great goal out of the mud and John Gainsford scored two tries.

"That year was the end of the Whineray era. He was a great skipper and a tremendous fellow. We became great friends and I try to make sure we get together when I come to Auckland."

Touring South Africa was always a highlight for Meads. In 1960 the team loved the support from the blacks and Coloured races who were not allowed to buy tickets and congregated at one end of the ground.

Meads returned to South Africa in 1964 for their 75th jubilee. He played against a number of Springboks who toured New Zealand a year later.

In 1970 Meads and the All Blacks went back to South Africa and while the lock reckoned they had enough firepower, they were too inconsistent. Many players lost form during the four-month trek.

"One of their great men was Frik du Preez but we did not tangle too often as he jumped in the middle of the lineout and I was at three.

"France had a number of special locks, very physical men like Ali Cester, Benoit Dauga and the Spangheros and I had a great rivalry with Willie John McBride.

"But in 1959 I played a few tests against Rhys Williams, who I found very difficult to mark. I was young and he was an old-stager; he knew all the tricks and taught me some lessons."

The most brilliant player Meads ever saw was Jo Maso. He played first five-eighths in 1968 against the All Blacks and often cut them to pieces. Maso was compact, quick and great on his feet.

"Both Willie [Whineray] and BJ [Lochore] were great men and great captains. Willie could handle any occasion on and off the field, he was unflappable and quite brilliant."

When Whineray called it quits, Meads applauded coach Fred Allen's decision to give the captaincy to Lochore.

The lock did not want the job and while he ended up in the role in 1971, he thought about turning it down. Meads felt he was more valuable as a player; as captain, his attention was spread much wider.

World Cup picks
Meads has no more access to that answer than anyone else. But barring injury, he picks the All Blacks.

"We would not want to lose Daniel Carter. We have cover everywhere else but he is just streets ahead of anyone else in the world. You can't wrap players in cotton wool but Carter is very precious."