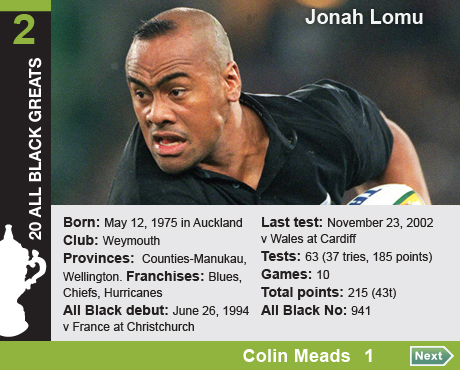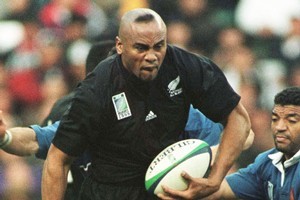 The youngest All Black quickly found his place in history, writes Wynne Gray.
As he waited to see All Black manager Colin Meads, Jonah Lomu felt as if he were back at school waiting to see his headmaster.
He had met Meads earlier that week but he was still very nervous.
Lomu had just turned 19 and was about to be the youngest All Black to play a test.
Pick your top 20 greatest All Blacks of all time.
"I didn't know whether to shake his hand or bow," Lomu recalls.
"I think I was more jittery than running out on Lancaster Park for the test against the French.
"I was just so nervous going to see Colin because he was such a legend, one of New Zealand's all-time greats.
"It made it all the more special though because I had been billeted by his son in my first rugby tournament and I remembered all the stories about how hard this big man was on the field."
Just a year later Lomu was carving out his own fame as he took centre stage at the World Cup in South Africa. He was the headline act in an extraordinary rugby festival.
Much has happened to Lomu in the intervening years but he still has goosebumps about that tournament.
He has fond memories of the whole event which had such a controversial finale for the All Blacks.
Lomu made many friends during that time and so much happened to him and around him that he found it overwhelming.
"The biggest thing for me was we just clicked on so many levels as players and as a team. The whole experience was mind-blowing.
"I played in the final of a World Cup and watched a country change through sport.
"As much as we may still have a bitter taste about not winning that epic extra-time final, the whole experience was so much more than that.
"We witnessed a renewed unity in South Africa, a country which had been so divided being brought together by this amazing sporting festival.
"We saw the power of rugby and I was, and still am, so proud to have been part of that experience."
When Lomu played the first of his 63 tests he came up against Emile N'tamack, a player he found then and subsequently very unpredictable.
"He took me to school in my first test, that game taught me more than any other game I played. I learned some pretty big lessons. I watched that game on replay, quite often.
"I studied what N'tamack did, how he moved, what styles he used.
"In rugby you are taught to watch your opponent's hips because that is supposed to tell you which way your rival is going to move.
"With Emile that didn't work. His whole body moved all the time which made it so much harder to work out where he was going."
Another player Lomu envied was flanker Michael Jones. He had been Lomu's childhood hero, such a cult figure for Lomu when he played loose forward that he strapped his knee the same way when Jones hurt his knee.
"I modelled my game on his.
"I wanted to play like him, he was my rugby hero, an amazing player and so much talent."
When Lomu changed to the wing, he made a rapid rise to the All Blacks, scoring 37 tries in the famous uniform.
The best?
It was his first of four in the semifinal against England at the 1995 World Cup, when he ran round Will Carling and over the top of Mike Catt in a staggering 45m run.
"That try and that game changed my life, suddenly I couldn't go anywhere without being mobbed.
"My whole world went a little crazy.
"Another very special try was the last minute one in Sydney in 2000.
"It was a test they labelled as the match made in heaven."
The All Blacks began fast, Lomu recalls, the Wallabies came back then he scored the winner as he tiptoed down the sideline in the last minutes.
"I wasn't really aware of the touch line and I couldn't see the touch judge, the only thing on my mind was I didn't want a George Gregan repeat."
The crowd was enormous, a sea of yellow with pockets of black in the 109,000 spectators.
It was a great battle and a mammoth occasion which Lomu will always remember.
Sean Fitzpatrick had finished as captain by then but his attitude stayed with Lomu, his unrelenting will to win, his selfless work for the All Blacks.
"When we were playing England once Fitzy reached over and grabbed the ball and held it there as several Englishmen rucked the heck out of him.
"Fitzy just refused to budge - he put everything on the line for his team and his country."
Jonah Lomu's World Cup picks
Jonah Lomu wants the All Blacks to win the World Cup this year but knows they have to earn it.
Tournament rugby was very different from one-off tests, a very different scenario, he said.
"Hard calls have to be made for the best of the team and whomever is selected has to have the support of the whole squad. The focus has to be just on the tournament, total commitment from everyone to achieve the goal.
"My old coach and friend Gordon Tietjens has proven that time and time again. He is the best tournament coach because he manages to prepare the players so well despite limited time and access to the players. Tournament rugby needs that sort of strategy."
Pick your top 20 greatest All Blacks of all time.
Next Monday nzherald.co.nz will compare our experts' list with the public's.