Jupiter police have released surveillance video showing the moment Tiger Woods struggles to blow into a breathalyser test in jail after he was arrested early Monday morning asleep at the wheel of his running car.
The video shows the 41-year-old golfer barefoot inside of the jail and he appears to be completely disoriented and slightly swaying, according to Daily Mail.
When asked what his hair and eye colour is by an officer, Woods takes a long pause before saying "I don't know".
"Mostly brown and fading and brown," he adds.
He then agrees to submit to a breathalyzer test and slowly walks over to sit in a nearby chair to take it. While sitting in the chair, he appears to fall asleep briefly - his head is slightly nodding before he leans it completely against the wall.
A few minutes later, a female officer asks the father-of-two to stand up and walk a few steps towards her to take the breathalyser test, to which he complies.
She instructs him to blow into the test several times, as it appears as though he is confused about how to do so.
"Take a deep breath in and now blow out," she tells Woods. "Blow out. Good there you go, keep going keep going."
She then instructs him to take a seat again, but he just continues to stand in front of her for a few moments before she says he can just stand there if he wants to.
He stands there for the next few minutes slightly swaying as his arms are behind his back in handcuffs, before he tries to walk towards the officers in the jail who tell him to keep standing in the same position and to not move.
Woods can be heard asking if they can "take off his two bracelets", as he turns around showing them the handcuffs. The female officer tells the golfer that he has to keep them on for the moment but they will be taken off soon.
Moments later he takes another breathalyzer test and is told again that he can sit down in the chair.
He doesn't move, so the female officer comes to turn him around and lead him back over to the chair that's only a few steps away.
The female officer can be heard telling Woods that he blew .000 on the breathalyzer tests and that it did not detect any alcohol on his breath.
A male officer can be heard asking Woods if he will submit to a urine test for controlled or chemical substances, to which he agrees.
Woods then appears as though he's trying to get up from the seat, but the officers tell him that he can remain seated for the moment.
He appears confused as to how he can carry out the task, and asks "How am I going to hold it?"
Officers then reassure him not to worry and they will get to that eventually and that they have to read him his rights before the 11 minute video ends.
On Wednesday, Jupiter police released the shocking video of Woods moments after they found him asleep in his Mercedes Benz with the engine running in the early hours of Monday morning.
In more than an hour and a half of video, Woods is seen swaying, rolling his eyes and falling asleep as police administer field sobriety tests before he was arrested for DUI and taken into police custody.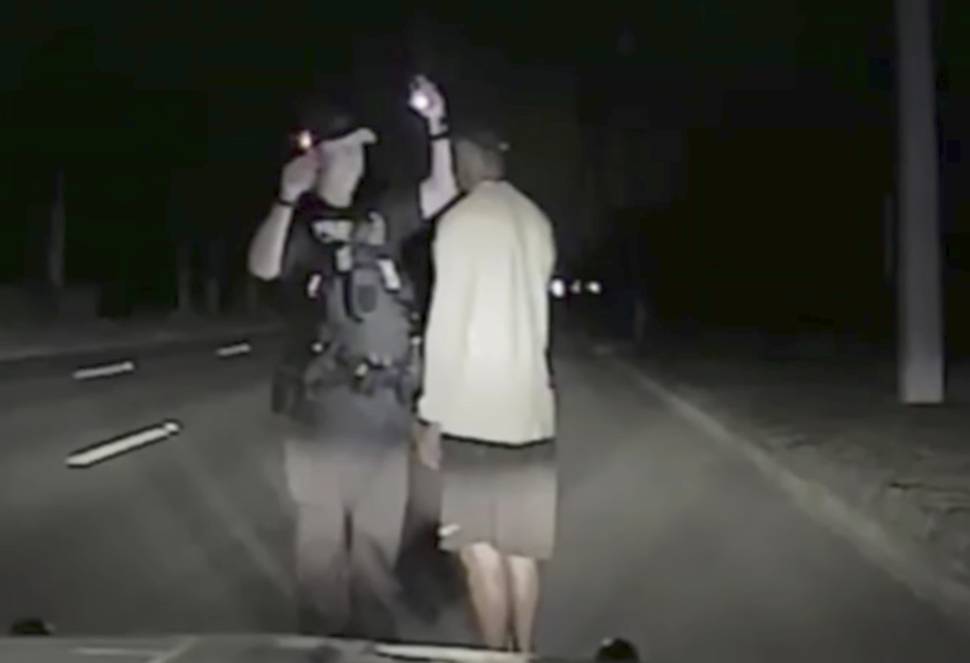 Slurring his words as he tried to answer questions from police, Tiger could barely stand up and kept weaving and bobbing, failing to walk a straight line barefoot after removing his sneakers.
Police also released photos of Woods' bashed up $220,000 Mercedes Benz.
The 41-year-old golfer had to be woken up by an officer and stated that he did not know where he was after first claiming he had driven from California.
His speech was 'extremely slow and slurred' and he failed four field sobriety tests.
Woods' Mercedes had two flat tires and "fresh damage" on the driver's side when cops found him asleep behind the wheel.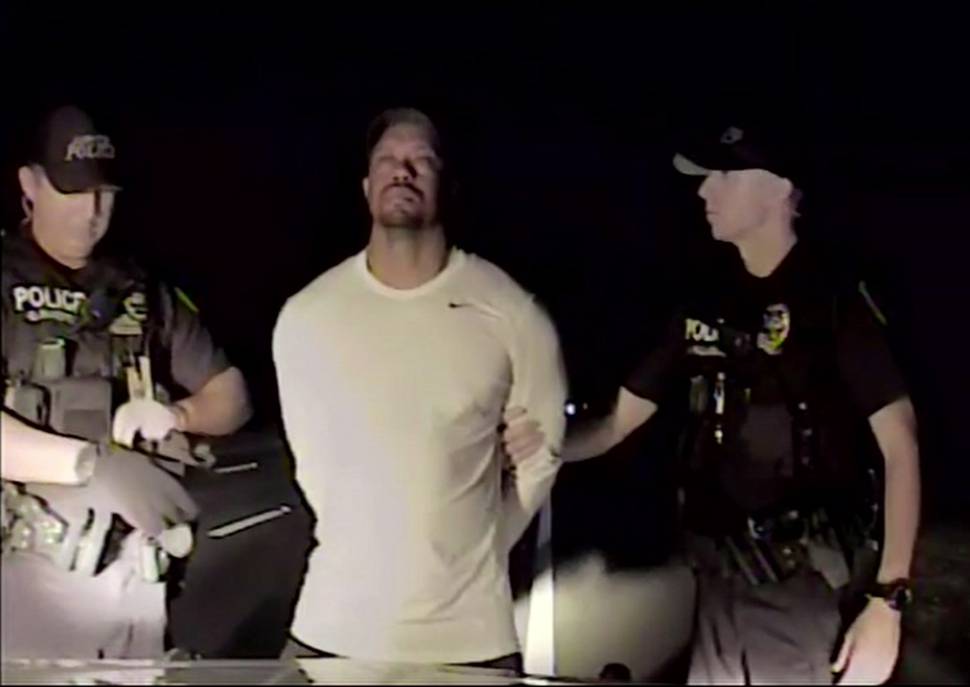 Both tire rims on the driver's side of the Mercedes had some small but visible damage, while the front and rear tires on that side were flat.
There was also some minor damage to the bumper on the driver's side, and scuffs and scratches on the rear bumper. The passenger side rear taillight was also not working, according to the documents.
Woods failed four field sobriety tests according to the Probable Cause Affidavit, which was obtained by DailyMail.com - which also revealed Woods was on four prescription drugs - although he tested negative for alcohol.
The affidavit states that at 2:03am, Eldrick T. Woods was approached by a member of the Jupiter Police Department, who found him wearing his seat belt while sound asleep at the wheel of his Mercedes.