If anyone has a reason to be optimistic about the All Whites' chances against Peru in this weekend's FIFA World Cup inter-continental play-off qualifier, it would have to be superfan Matt Fejos.
Based in the north-western English city of Liverpool, Fejos has returned to his hometown to watch Anthony Hudson's men challenge the might of the world's tenth-best team for a spot in next year's World Cup in Wellington on Saturday.
He is not alone in his first trip back to these shores in two-and-a-half years. He will lead 220 fellow die-hard All Whites supporters that go by the name of The Flying Kiwis.
The fan club is self-labelled as "the most extreme away fans in the world" on their website - a big claim to make in the most widely followed sport on the planet. However, it would require a lot of time, passion and commitment from a different set of fans to deny The Flying Kiwis of such a crown.
Since the formation of the club in 2009, Fejos and his troops have travelled far and wide to get a glimpse of their team in action as they continually fight for a spot in football's blue ribbon event.
Highlights have included the inter-continental play-off against Bahrain in Wellington eight years ago, the 2010 World Cup in South Africa, and this year's Confederations Cup campaign in Russia.
"I wanted to get my mates together for the Bahrain qualifier," Fejos said regarding the foundation of the club. "I wanted to provide a cool experience for them. Since then, it's just evolved over time."
Numerous trips around the world hasn't always come easy though, with Fejos enduring many sleepless nights organising flights, accommodation and match-day tickets for fan groups numbering in the hundreds. Additionally, the creation of customised merchandise, - including overalls, New Zealand flags, and inflatable kiwis - has taken its toll.
The hours of sleep lost has not gone unnoticed for Fejos and his crew. New Zealand Football nominated The Flying Kiwis for The Best Fan Moment at the FIFA Best Awards earlier this year after their arranged friendly against a group of Russian fans in St Petersburg at the Confederations Cup.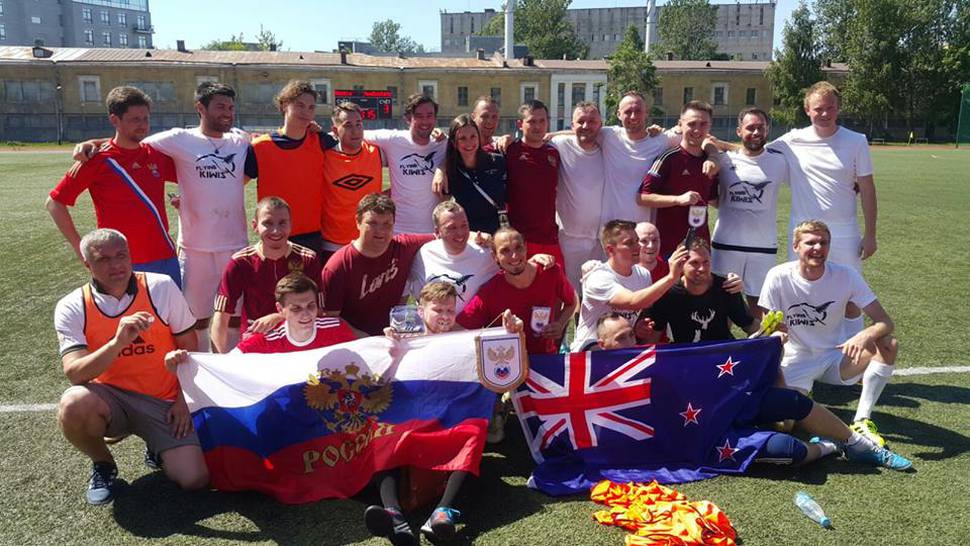 The group will partake in another organised friendly on Friday night at Wellington College, with their opposition being a group of Peruvian supporters.
Individually, Fejos was recognised by both YouTube channel Copa90 and Hyundai as the most loyal fan in New Zealand, winning himself tickets to the World Cup in Russia next year, regardless of whether the All Whites qualify or not.
This gives Fejos hope that the All Whites can redeem themselves for their 4-2 loss against Mexico at Westpac Stadium four years ago at the same stage of the qualification process, a match that he and 130 other Flying Kiwis attended.
"You have to be optimistic," he said cheerfully. "I wouldn't have come all the way over here if I wasn't."
All Whites fans v Peru fans
Friday 10th November
8pm kick-off
Wellington College