Follow NZH Lifestyle's Trial and Error series where we try out the latest in food, viral trends, and beauty hacks so you don't have to.
A new type of chocolate has landed on New Zealand shelves. Pretty in pink, it's the first new natural colour of chocolate since Nestlé discovered white chocolate more than 80 years ago.
Developed by Barry Callebaut, the world's largest cocoa processor, ruby chocolate has been 13 years in the making. Made from a special type of ruby cocoa bean, it's not just the natural pink hue that makes it different from its milk, dark and white chocolate counterparts.
Grown in the Ivory Coast, Ecuador and Brazil, the ruby cocoa beans also have a unique taste. According to Barry Callebaut, the flavour is "A tension between berry-fruitiness and luscious smoothness."
This week Kit Kat Ruby arrived in New Zealand. We decided to take one for the team and try it out. During our ruby chocolate research, we learned House of Chocolate and Devonport Chocolates also sell blocks made from the special ruby bean.
So, we enlisted two NZME. chocolate fans, Carwen and Rachel, to find out if this new type of chocolate is better than traditional varieties.
Kit Kat Ruby
Kit Kat Ruby comes in the same wafer-layered style as the original, but the outer chocolate is made using ruby cocoa beans.
Carwen's initial impression was that it really tastes like white chocolate to begin with, then the flavour changes to a "hit of strawberry".
Rachel decided the end note was closer to raspberry: "It's really subtle at first then it's like 'POW RASPBERRY!'"
Devonport Chocolates Ruby Chocolate, Plum and Buckwheat
"Decadent", "swanky" and "very, very tasty", was Rachel's initial reaction.
However, the more she tasted, the less impressed she became as she compared it to the Kit Kat. She decided it tasted more like white chocolate and lacked the lingering aftertaste.
House of Chocolate World's 4th Chocolate 'RUBY' Freeze Dried Strawberry and Hazelnut Bar
The name's a bit of a mouthful, and so is the topping. The ingredients, while delicious, made it hard to focus purely on the chocolate. But our taste testers managed to struggle on through.
Rachel noted this chocolate, which is also gluten free, was probably the creamiest of the three, describing the taste as consistent throughout. Unlike the other two brands, there was no surprising aftertaste.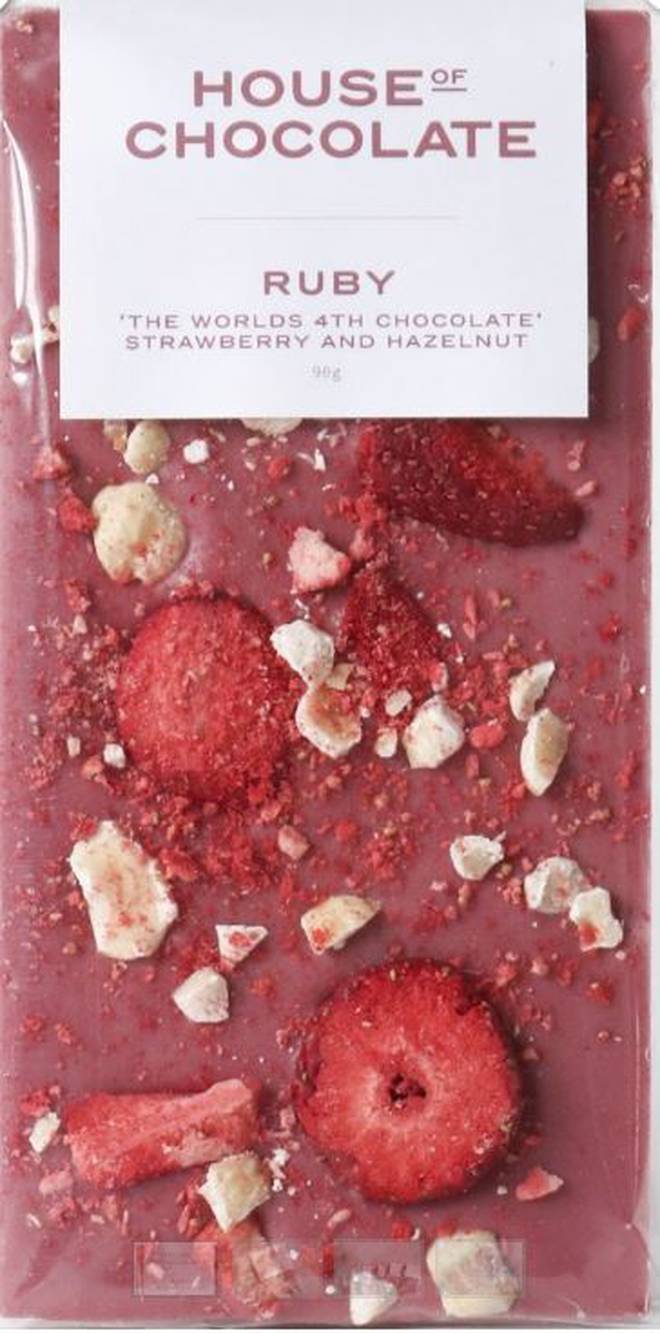 The verdict
Overall, Carwen and Rachel enjoyed the ruby chocolate but weren't sure they'd pick it over chocolate made from regular cocoa beans.
Fair to be summed up as a flavour somewhere between white chocolate and berry, it certainly doesn't leave room for those traditional milk or dark chocolate notes.
"I don't know how to feel about it," said Rachel, deciding it might not hit the spot if she was looking to satisfy a chocolate craving. "It kind of tastes like a raspberry milkshake."
Carwen wasn't sure she'd go for it either if was looking for a chocolate fix. She added that, like white chocolate, ruby doesn't have a distinct chocolate flavour.
But when it came to choosing their favourite of the three, Rachel's pick was the House of Chocolate, topping her list thanks to its creamy texture.
Carwen decided her Kit Kat was her winner, due to the strong flavour hit of the ruby cocoa bean.
We reckon while some may find ruby chocolate a bit sickly, for anyone with a sweet tooth it's almost guaranteed to go down a treat.