A literary-inspired contemporary circus production will thrill audiences in Tauranga tomorrow evening, after the performers wowed audiences in Vancouver and Montreal.
The retelling of Christina Rossetti's poem The Goblin Market by The Dust Palace tells the story of two sisters, their temptation, sacrifice, and eventual salvation.
The Dust Palace Productions, now in its 10th year, presents a breath-taking and sensual show with trapeze, acrobatics, experimental film, aerial work, music and spoken word.
Mike Edward, who you may remember as Zac in Shortland Street or from his recurring roles on Nothing Trivial and The Strip, co-owns the modern circus theatre company with his wife Eve Gordon, a celebrated circus performer, producer, and director.
"I fell in love with Eve. She had the most amazing dream and drive to change the world through circus theatre," says Edward, when asked why he decided to get involved in running a business such as this.
"Her reason for existing was so generous and inspired, I decided to help her as much as I possibly could, physically and emotionally.
"I feel proud to have been able to be a small part in her incredible achievements. Working together gives us a higher goal and bond. It allows our focus to be outward on the world and not be caught up in the petty," he says.

For Edward, presenting this show in Tauranga is a bit like coming home. His grandparents lived in Greerton.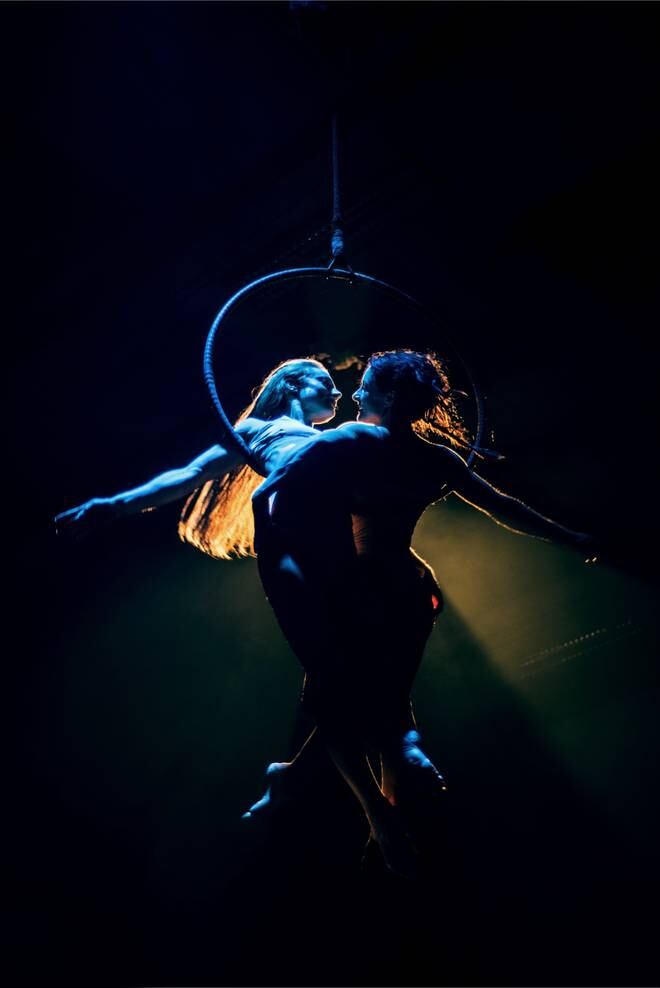 "I used to stay with them every school holiday when I was a kid. My first circus was probably climbing the pole to the hut in Yatton Park. How I wish they were around to see this work."
Running a contemporary circus theatre company and creating large-scale productions takes a lot of time and energy. Gordon gets up early each day to work on the administration, trains all afternoon, and makes costumes until the wee hours. Maintaining her performance skills levels requires a minimum of four hours training a day, five days a week.
"With her daily schedule starting at 5am, it's a gruelling commitment. She puts anyone I've ever met, in any business, to shame with her work ethic. I'm so proud to have her as a role model for my daughter, and as an inspiration for myself," Edward says.
Their high flying acts and rope work performances are as impressive as they are nerve-racking.
Edwards says when they know it is exciting for them, it's exciting for an audience.
"I like they idea that courage only exists because of fear. We are all afraid all the time. We just train the bravery daily to overcome it. We make sure we practice with lots of mats until the performance is 100 per cent," he says.
But it hasn't always been smooth sailing for Edward. A serious injury put him out for three years, and he says he had to let go of physicality defining his ego because of it.
"I tore my bicep off my arm, and was told by the surgeon that was the end for me. Watching Eve perform with others was the hardest thing. But in the years that followed, I became a good director. Eventually, I worked my way back. It was quite the mid-life journey. Now I'm so very grateful for every training. I'm aware of how fleeting this all is."
As performers, business owners, teachers and parents, there is little time for anything else. But they do what they love, and feel like they are changing the world. Their goal is to become an internationally acclaimed company.
"The cause is bigger than us, and more important than free time. One day, we'll have a vegetable garden, read books, and have naps. It will be nice to look back and say we gave it the best we could."
• What: The Goblin Market
• When: Friday, March 15, 8pm
• Where: Addison Theatre, Baycourt