With the APO featuring Rimsky-Korsakov's Scheherazade in two upcoming concerts, Richard Betts wonders about the pivotal works in musicians' lives.

There's a crackle as the needle touches down. Suddenly there's an angry fanfare, dominated by deep brass; whispering woodwinds, barely audible, are broken by a single violin note which, in turn, is interrupted by a harp strumming a plaintive A-minor chord.

The violin, alone again, traces exquisite curlicues towards E-major, at which point the orchestra becomes unable to contain itself. Finally we're unmoored, bobbing across the ocean on Sinbad's ship.

The piece is Scheherazade, composed in 1888 by Nikolai Rimsky-Korsakov, who was inspired by the Arabian tales of One Thousand and One Nights. I'm 16 years old and this dusty LP, discovered at the back of a neglected cupboard in a high school music room, has just changed my life.

Is it great music? Honestly, I have no idea. I have no critical faculties when it comes to Scheherazade but as the first major work I've discovered for myself, it triggers a life-long love of orchestral music. For most musicians, there's a piece of music like this.

Berlioz's Technicolor showpiece Symphonie Fantastique, for example, made APO bass trombonist Tim Sutton give up brass bands in favour of orchestras.

"I played in what was the Evening Post Onslow Band and is now the Wellington Brass Band," Sutton recalls. "We performed an arrangement of March to the Scaffold [the fourth movement of Symphonie Fantastique].

"I knew nothing about it but the guys in the band told me the story behind the piece, that it's about someone walking up to the guillotine to have his head chopped off and how the tension around the jeering crowd was written into the music. There's a moment where he's waiting and the music pauses, then the guillotine drops and you hear his head bouncing down the stairs. I was blown away, even in the brass arrangement we were playing."

What happened next?
"I bought a tape for my Walkman. It was the summer holidays and I was working at Kirkcaldie and Stains, so I must have been about 16. My Walkman was one of those models that flipped over once you reached the end of a side and the whole summer I'd walk through Wellington playing Symphonie Fantastique over and over again. That was the point I changed from being a brass band guy. As a kid, I'd been to see the New Zealand Symphony Orchestra and thought the trombonists didn't really do much compared with band, where you play all the time, but Symphonie Fantastique made me realise there's a lot more going on here than I'd realised."

What was it about the orchestral version that grabbed you?
"The lushness of the sound. I remember my first day playing in the brass band as a kid, sitting in the A-grade band and being overwhelmed by the sound; Symphonie Fantastique gave me that feeling too. I also enjoy the colours and the way Berlioz brings the story to life — the Witches' Sabbath and all that stuff is so vivid."

Are you still a fan?
"A huge fan. It's nothing to do with me playing trombone, either. For the first three movements there's no trombone; it's a long, long sit but I have no problem sitting through Symphonie Fantastique."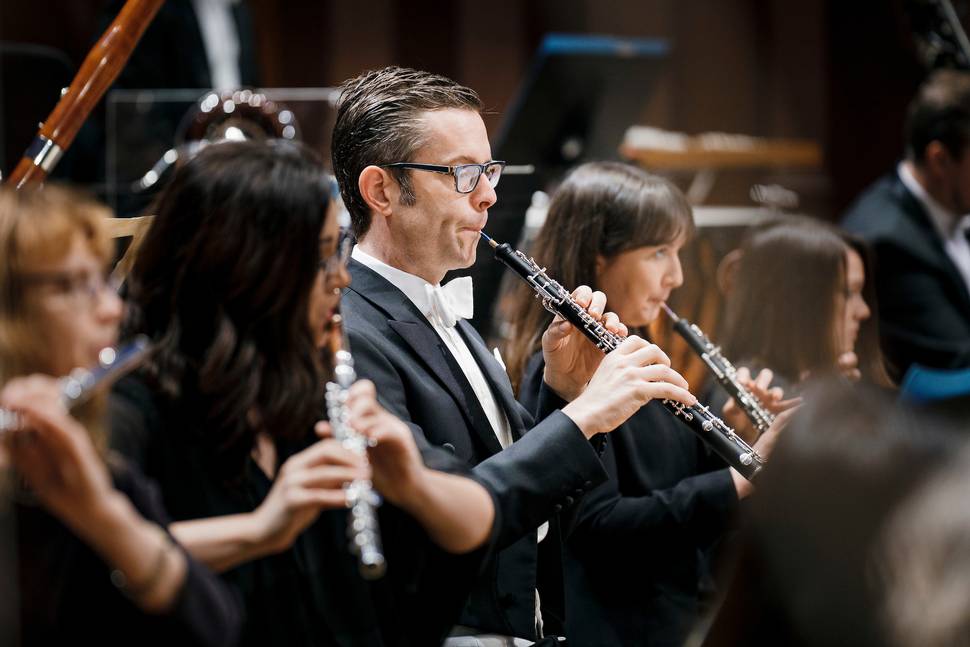 Meanwhile, Bede Hanley was most affected by a piece for his own instrument, the oboe. He names Richard Strauss's Oboe Concerto as the work that changed his life.
"When I was a little boy my focus was really specific to the oboe. I love the language of the Strauss concerto, the big, sweeping lines and Romantic colour. But it's written late enough [1945, at the very end of Strauss's life] to have a lot of 20th-century virtuosity and character in it, too. I was perhaps 12 when I first heard it, though of course I couldn't play it. I would have been about 14 when I started working hard on learning that piece.
Was it difficult for you at that age?
"Oh yeah, it's a huge challenge. It has long lines, phrases that just go on and on. When you're young and you don't have great stamina yet, it's very hard. Also, it's complex: the different motifs, the way it's layered. All of that passed me by at that age, but I was working on it, trying to absorb it all."
How has the concerto influenced you?
"The Oboe Concerto was my gateway into Strauss's music. I get asked all the time who my favourite composer is and I've always thought that's impossible to answer but as the years go by, I think maybe it's Strauss."
Lowdown
What: Unwrap Rimsky-Korsakov's Scheherazade, presented by Graham Abbott; Bayleys Great Classics: Russian Tales
Where and When: Auckland Town Hall, September 12 and September 27