His death sent shockwaves around the world. When Robin Williams took his own life in August 2014, his fans were left devastated and confused.
To them, Williams was a beloved actor with a wicked, often manic, sense of humour. They had no idea of the dark secret he was carrying or who he was when the curtain closed or the credits rolled.
That's what Emmy-winning documentary-maker Marina Zenovich set out to explore in her new film, Robin Williams: Come Inside My Mind.
"Of course he's not going to be [manic] all the time," Zenovich tells TimeOut in Los Angeles. "But you wouldn't think that he'd be kind of like the polar opposite. It was interesting to hear people saying how when they were one-on-one with him, he would just shut down. And it wasn't until a third person came into the room that he would perk up, because he had an audience."
Zenovich was also conscious that the Shakespearean-trained Williams was widely recognised for his comedy but less so, his dramatic endeavours.
"A lot of people don't appreciate him as an actor," says Zenovich. "One of the best compliments I got was someone said, 'I didn't like him as an actor until I saw this movie.' I want people to walk away from this and really appreciate who he is: the actor's actor. The comedian. The performer."
It's testament to how beloved Williams remains that Zenovich was able to secure sit-downs with talents like Steve Martin and David Letterman, who rarely grant interviews.
"The film was made in conjunction with the estate so for those two interviews, in particular David Steinberg who was Robin's manager, had reached out because they don't do those things that often. I think they wanted to do the film for Robin because they loved him so much."
Billy Crystal also features prominently as one of the people who knew Williams best. The pair were close friends and former co-stars, regularly hosting the annual Comic Relief charity concerts together, along with Whoopi Goldberg.
"With Billy I didn't know what to expect," admits Zenovich. "With a lot of these movie stars, you don't think you're going to get a lot. Billy was deeply sad, I could feel the weight, and I came away from that interview loving him, because he was willing to go there, and it was a gift."
While Williams had his fair share of personal dramas, they mostly stayed out of the press. One part of his life the tabloids paid particular attention to was his second marriage, to Marsha Garces, who had previously been employed as a nanny to Zak, Williams' son with his first wife Valerie Velardi.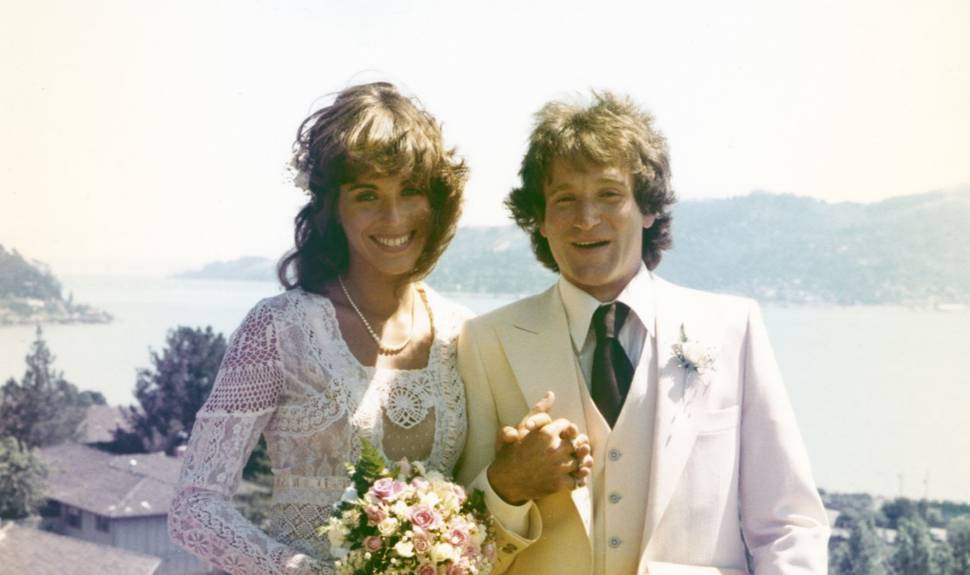 Velardi is the only one of Williams' three wives to participate in the documentary and she makes a point of explaining that her marriage to Williams was well and truly over by the time he started seeing Garces, which negates the tabloid rumours of the time.
"I think it was too soon for the second and third wife," says Zenovich. "I tried, but it didn't happen. And I don't think the younger children wanted to speak. I thought that Zak could kind of speak for all of them, he was the oldest."
Another notable revelation in the documentary is the fact that Williams spent much of his childhood believing he was an only child, only to later learn he had two older half-brothers: one on his mother's side and one on his father's.
"What does that do to a person? That was really fascinating to me because I felt like I was making a movie about an only child. That was really telling about what was going on inside and did that neediness kind of come from that?"
Given it's only been four years since Williams died, the question has to be asked: Why now?
"You never really know when it's the right time," says Zenovich. "But it seemed like a couple of years had passed and so why not? He really was one-of-a-kind. People were in awe of what he could do with his mind. The sad thing is that he's not here to talk about what's going on in the world today."
LOWDOWN:
Who: Documentary director Marina Zenovich
What: Robin Williams: Come Inside My Mind
When: Premieres Sunday, 8.30pm
Where: Sky SoHo
Where to get help:
• Lifeline: 0800 543 354 (available 24/7)
• Suicide Crisis Helpline: 0508 828 865 (0508 TAUTOKO) (available 24/7)
• Youthline: 0800 376 633
• Kidsline: 0800 543 754 (available 24/7)
• Whatsup: 0800 942 8787 (1pm to 11pm)
• Depression helpline: 0800 111 757 (available 24/7)
If it is an emergency and you feel like you or someone else is at risk, call 111.