Glee star Cory Monteith's mother says her former drug addict son had been on pain medication following dental work to cap his teeth in the weeks before his overdose.
Monteith was found dead of a drugs overdose aged 31 in his Vancouver hotel room on July 13, 2013.
Five years on, and his mom Ann McGregor insists her son never meant to die.
She said her son had battled his fair share of demons from a young age, drinking and smoking marijuana from 13, and with two stints in rehab by the time he was 19. While he managed to get clean for a time, he fell back into bad habits when he went to Hollywood.
"He wasn't ready for the Hollywood world," said McGregor, who admitted her son began using drugs again in December 2012, seven months before his death. "Drugs were his way of checking out."
But the 67-year-old told People he'd gone back to rehab for a month-long stint in April 2013. The program appeared to have been a success but McGregor says that just one month later, her son was faced with a challenge for any addict.
"He had little teeth and they were all capped," says McGregor. "He had a lot of medication in his system, which was not good for his body coming out of rehab."
The "massive" dental work between May and July that year, and pain medication, may have led Monteith back down the path to narcotics.
After his stint in rehab, his drug tolerance level would have been much lower, meaning he would not be able to take as many drugs as he was previously without risk of overdose.
"He didn't have enough drugs in his system to kill him, but for some reason it did because of his intolerance [built up by periods of intermittent sobriety]," McGregor said.
She believes that her son, who played Finn in the hit show Glee, didn't realise he was taking a fatal dose when he overdosed. An autopsy, which found he died of a drugs overdose, found traces of morphine, codeine and heroin in his system.
Sources told TMZ at the time of his death, that Montieth always managed to stay clean while on the Glee set, and never showed up for work under the influence of drugs or alcohol, but his resolve to stay sober weakened whenever he visited Vancouver.
Monteith was said to return to his hometown often, and surrounded himself with friends who fueled his addiction. Drugs and alcohol were reportedly "always involved."
However, another source claimed that Monteith attended a number of Alcoholic Anonymous meetings shortly before he died.
One source of strength for the actor was his girlfriend and costar Lea Michele. The couple, who were dating for almost two years, had reportedly even discussed marriage although there was never a formal engagement before Monteith's death.
After news broke of his overdose, she rang McGregor, hysterical and screaming: "Is it true?"
She was devastated by his death Lea and later got a tattoo of the number five, made in reference to the jersey number of quarterback Finn Hudson, the character Cory portrayed in their show Glee.
McGregor says that to this day, she is still "shattered" by the loss.
"I still can't pick up the pieces," she said. "My world totally stopped. And I'm a different person than I was before."
Every year, she travels to a beautiful area along the British Columbia coastline to visit the spot where she scattered his ashes.
"I try to visit as much as I can, but sometimes I'm not strong enough to deal with the reality," she said.
McGregor raised Monteith and her other son Shaun, 38, as a single mom in Victoria, British Columbia.
She said they were all very close growing up.
"We used to go everywhere together,"she explained.
The 67-year-old said that Monteith always seemed advanced for his age, reading from age three, and confidently chatting to adults from a young age.
He skipped two grades in school but that was the beginning of the "disconnect", according to his mom, as he hung out with older kids but emotionally, was still just a child.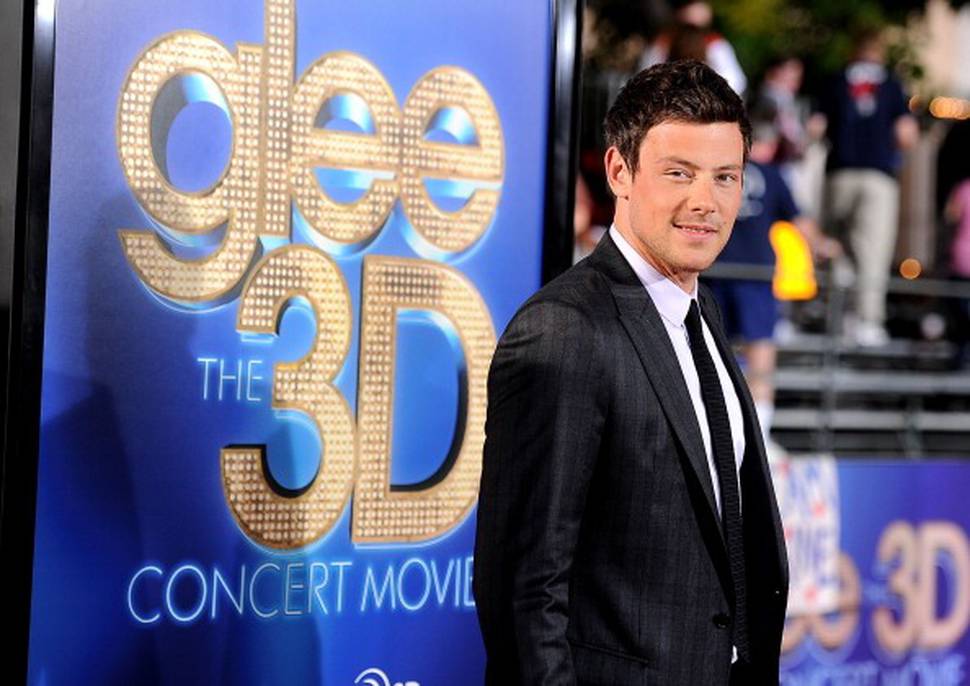 "He was very vulnerable," she said.
By his early teens he was drinking and smoking marijuana.
McGregor, an interior designer, said that Monteith attempted to hide his addictions from her, wanting to protect her, but said the "darker world just drew him in."
The mom-of-two said she confronted Monteith about his behavior, and even cut him off financially to try and stop him buying drugs. She also took him two his first two rehab stints, aged 15 then 19.
Sadly, she said rehab didn't work for her son and by his late teens he'd dropped out of school and was spend periods of time of the streets.
Following his second rehab stay, Monteith met an acting teacher who helped change his life, moving away from drugs and focusing on bit roles on TV until he landed his big part on Glee.
McGregor said it was just what her son needed.
"Cory needed a challenge and that;s what acting and dancing was," she said, adding that he didn't care about fame or money.
But after just two years on Glee, the reality of living in Hollywood began to hit home.
McGregor said he wanted out of the "plastic" world but didn't want to go back on his word. Instead, drugs became his escape.
She said that both she and her son were hopeful for the future, that the best of his life was to come.
Now she's focused on creating a legacy for her son, through Project Limelight, a free performing arts program for youths, and Amber Academy, a non-profit that empowers youth through fine arts.
"Cory believed in prevention, rather than trying to fix people," said McGregor. "He wanted to give children opportunities to shine and feel good about themselves so they wouldn't turn to drugs."
McGregor inherited the bulk of her son's $810k estate after he died without a will in 2013. His father Joe Monteith, admitted to abandoning his son at a young age and failing to make child support payments.
In an emotional interview in 2014, McGregor disclosed her belief that it was not having Joe around - whom she divorced when Cory was seven - that led the star to act out at young age.
"He had a lot of emotional things he was trying to figure out - a lot of it was he really wanted a relationship with his father," the bereaving mother told Good Morning America.
Although he may have had a strained relationship with his son and wasn't invited to the funeral, Joe discussed how he was adjusting with the loss.
"I still miss him very much and I still have the empty feeling inside," he said to Entertainment Tonight Canada in July 2014.
"Cory was a likeable young man and if he was in the room, you'd be smiling. He enjoyed life. That's why I was so shocked about the outcome of everything."