Grease has just turned 40. Paul Little looks back, in humour.
The makers of the film musical Grease got just about everything they could wrong.
Firstly, producers Allan Carr and Robert Stigwood miscast everyone by several years. Characters who should have been 18 or under were played by people aged 23 (John Travolta as Danny), 28 (Olivia Newton-John as Sandy), 33 (Stockard Channing as Rizzo) and 26 (Jeff Conaway as Kenickie).
They took a gritty, grungy rock nostalgia musical with an industrial town setting and sanitised it into a California beachside dreamland in which Newton-John didn't look out of place. They employed as director, at the urging of Travolta, 30-year-old Randall Kleiser, whose previous feature-length credit had been Travolta's soppy, no-singing, no-dancing TV vehicle, The Boy in the Plastic Bubble.
They dropped, or relegated to background noise, several excellent songs from the stage version to make room for purpose-written and anomalous tunes. There was the incongruous disco-inflected title song by the Bee Gees' Barry Gibb, because the Bee Gees were big at the time and Stigwood was also the group's manager. Not content with stealing show-stopper Greased Lightning from Kenickie, whose song it was on stage, Travolta had the syrupy Sandy written for him. And Newton-John's personal songwriter John Farrar turned out Hopelessly Devoted to You and You're the One That I Want for his star. And audiences loved it. Its $6 million budget has returned $395m - and counting.
IT COULD HAVE BEEN WORSE
Some of Alan Carr's original ideas for the movie included re-inventing Danny's character as a gas-station attendant — complete with a number called called Gas Pump Jockey. He also planned to cast 60s sitcom irritant Paul Lynde as Rydell High's principal. Instead of genuine 50s idol Frankie Avalon performing Teen Angel, we nearly had Donny Osmond. And Carr thought it would be swell to have the Beach Boys performing Greased Lightning. Sid Caesar is a stand-out as Coach Calhoun, but Carr had originally given that part to Deep Throat porn star Harry Reems.
CLEAN UP YOUR ACT
Although Grease did its best, just how much high school life could be sanitised in a musical wasn't on full display until 2006's generically named Disney confection High School Musical, starring Zac Efron and Vanessa Hudgens as two apparently hormone-free teens who made Danny and Sandy look like Bonnie and Clyde.
LET'S NOT WAIT 'TIL THE REVIEWS COME IN
Although it received some good notices on its release, more thoughtful critics gave Grease a less-than-enthusiastic reception.
"After seeing [Travolta] in three movies, I am convinced that he has exhausted his slender bag of tricks," wrote John Simon in the National Review. "Even that smiling, blue-eyed colt face of his, like that of an anthromorphised Walt Disney horse, has become a mere whinnying platitude."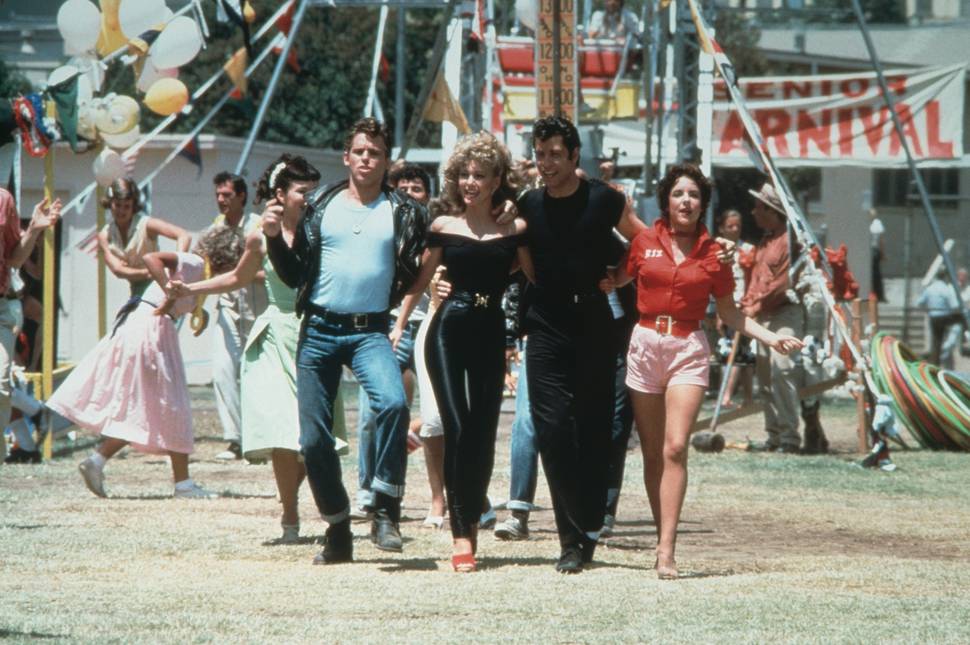 "It has no book to speak of," complained Stanley Kauffmann in the New Republic. "To put it another way, the book is unspeakable. The music goes in one ear and out the same ear. It has no kind of focus in atmosphere or tone. It doesn't even have a look. It's just a sort of floating insult, shopping for a subject to light on."
"A bogus, clumsily jointed pastiche of late-50s high school musicals, studded with leftovers from West Side Story and Rebel Without a Cause," said Pauline Kael in The New Yorker. At least she recognised it was going after the nostalgia dollar.
ALWAYS LOOK BACK
Grease capitalised on the peak of a wave of nostalgia for all things 1950s. For a post-Vietnam, disillusioned America, the Eisenhower years of conformity and relative innocence seemed like a golden age, especially if you weren't there for it. Around the same time as Grease, the 50s were also celebrated in the likes of TV's Happy Days and Laverne and Shirley, movies such as The Lords of Flatbush and rock 'n' roll revival acts such as Sha Na Na (who appear in Grease's climactic dance scene, singing a jukebox-load of 50s hits that were not in the stage show).
As Scott Miller wrote in Sex, Drugs, Rock and Roll, and Musicals, "Grease, generally considered a trivial little musical about the Fabulous 50s, is really the story of America's tumultuous crossing over from the 50s to the 60s, throwing over repression and tradition for freedom and adventure (and a generous helping of cultural chaos), a time when the styles and culture of the disengaged and disenfranchised became overpowering symbols of teenage power and autonomy."
Quite right. Also, you can hum the tunes.
VASELINA IS THE WORD
The film was released under the name Vaselina in some Spanish-speaking countries.
YOU TWO AGAIN?
Travolta and Newton-John may hold some sort of record for movie couple most willing to be reunited for your talk show. They met up again on the Merv Griffin Show in 1981, just three years after the movie came out. They were on the Dick Cavett Show in 1983, promoting their second movie together, Two of a Kind. This now all-but-forgotten flop on every front was one of those God's-fed-up-with-mankind-but-angels-convince-him-not-to-destroy-the-Earth-if-they-can-find-two-decent-people, feel-good rom-coms. And in 2012 they fronted up to the Australian Today show and Ellen to promote This Christmas, an album of seasonal songs.
SEQUEL? WHAT SEQUEL?
Sequels are notoriously prone to failing to measure up to the originals they attempt to honour, but the little-seen Grease 2 in 1982 was one of the all-time lows in sequel-making. There was, of course, no successful, long-running stage show on which to base it. None of the original leads was interested in returning. And it seemed no one even wanted to make it - the director's job went to the original movie's choreographer, Patricia Birch, with the result that although much of the dancing is very good, even that is not as good as it might have been if Birch hadn't been in constant crisis mode. Grease 2 flips the original's conceit — the boy is the goody two shoes and the girl is the raunchy player. The former is played by Maxwell Caulfield, who went on to not much more, and the latter by Michelle Pfeiffer in a screen debut she would probably rather forget.
WHAT CENTURY?
Grease is described as the highest-earning musical of the 20th century. It was the highest-earning musical ever until 2008, when it was overtaken by a movie that, if anything, outdid it in terms of miscasting and complemented it with dance routines that consisted mainly of running, then jumping, then standing still. At least the performers in Grease, unlike Meryl Streep and Pierce Brosnan, could pick up a tune and carry it for a few bars without dropping it.
However, thanks to Bjorn Ulvaeus and Benny Andersson, Mamma Mia had some great songs that have helped propel it to a box office take of $610m — and counting.