Brad Pitt has compared his split from Angelina Jolie to "a death", admitting that he is an emotional 'retard' whose heavy drinking helped ruin his marriage.
Jolie stunned the world in September, 2016 when she filed for divorce following an alleged altercation on a private jet between the actor and their 15-year-old son, Maddox.
Now in his first interview since the shock separation, he reveals he is tee-total, is in therapy and says his family has been "ripped apart", conceding: "I hit the lottery and I still would waste my time on those hollow pursuits," according to the Daily Mail.
He told GQ Style magazine that the split was "self-inflicted" and when asked if the last few months had felt like he was grieving a death, he simply replied: "Yeah."
The Fight Club
star has quit alcohol since the incident, admitting it had become a "problem" during his life with Angelina, adding: "Truthfully I could drink a Russian under the table with his own vodka. I was a professional. I was good.
"I was boozing too much. It just become a problem. And I'm really happy it's been half a year now, which is bittersweet, but I've got my feelings in my fingertips again.
"I mean, we have a winery. I enjoy wine very, very much, but I just ran it to the ground. I had to step away for a minute.
"But me, personally, I can't remember a day since I got out of college when I wasn't boozing or had a spliff, or something.
"I mean I stopped everything except boozing when I started my family. But even this last year, you know - things I wasn't dealing with."
He has now replaced boozing with therapy, adding: "You know, I just started therapy. I love it. I love it. I went through two therapists to get the right one."
As for his new tipple now he his drink free? "Cranberry juice and fizzy water. I've got the cleanest urinary tract in all of LA."
Alongside his bombshell revelation that his drinking damaged his relationship, the actor says that he spent too much time away from his children working on films.
"I say that as someone who's let the work take me away. Kids are so delicate," he explains.
"They absorb everything. They need to have their hand held and things explained. They need to be listened to. When I get in that busy work mode, I'm not hearing. I want to be better at that."
And it seems the therapy is working - Pitt refuses to take the magnifying glass away from himself, saying he is "emotionally retarded" and hasn't "been great" at proving his feelings to his children, explaining: "It's hit me smack in the face with our divorce: I gotta be more. I gotta be more for them. I have to show them."
As for his movie career in the wake of the last nine months, Brad tells the magazine he wishes he could just change his name.
"I don't really think of myself much as an actor anymore. It takes up so little of my year and my focus. Film feels like a cheap pass for me, as a way to get at those hard feelings. It doesn't work anymore, especially being a dad... I wish I could just change my name."
Explaining his life in the weeks after Angelina filed for divorce, Brad says he was too devastated to return to his home in Beverly Hills and needed to get away.
He slept on a friend's floor for six weeks as he tried to cope with the loss of his relationship and family homelife.
He tells the magazine: "It was too sad to be here at first, so I went and stayed on a friend's floor, a little bungalow in Santa Monica. I crashed over here a little bit, my friend [David] Fincher lives right here. He's always going to have an open door for me, and I was doing a lot of stuff on the Westside, so I stayed at my friend's house on the floor for a month and a half."
Following the plane incident, Brad was investigated by the FBI following an anonymous tip-off. It was later closed with no charges but he faced a series of obstacles from Child Services in a bid to regain access to his six children.
He and Angelina - who fell in love on the set of Mr and Mrs Smith in 2005 and wed in 2014 - are now working out their divorce privately, through the help of group counselling as a family, after a nasty start to their split.
"I was really on my back and chained to a system when Child Services was called. After that, we've been able to work together to sort this out. We're both doing our best. I heard one lawyer say, 'No one wins in court - it's just a matter of who gets hurt worse.' And it seems to be true.
"You spend a year just focused on building a case to prove your point and why you're right and why they're wrong, and it's just an investment in vitriolic hatred.
"I just refuse. And fortunately my partner in this agrees. It's just very, very jarring for the kids, to suddenly have their family ripped apart.
"Kids are so delicate. They absorb everything. They need to have their hand held and things explained. They need to be listened to. When I get in that busy work mode, I'm not hearing. I want to be better at that."
"For me this period has really been about looking at my weaknesses and failures and owning my side of the street. I'm an a**hole when it comes to this need for justice. I don't know where it comes from, this hollow quest for justice for some perceived slight. I can drill on that for days and years.
"It's done me no good whatsoever. It's such a silly idea, the idea that the world is fair. And this is coming from a guy who hit the lottery, I'm well aware of that. I hit the lottery, and I still would waste my time on those hollow pursuits."
The 53-year-old actor graced the cover of US GQ Style magazine, the first time he has appeared on the cover of any magazine since his split.
The actor appeared on three different covers for the magazine, gazing soulfully at the camera in each one.
His piercing blue eyes are the focal point of each cover and the actor isn't smiling in any of the three cover photos.
Brad and photographer Ryan McGinley travel to White Sands National Monument, Carlsbad Caverns National Park, and Everglades National Park and the photos are a result of that trip.
It does appear as if things are improving between him and his family as it was reported last week that his six children stayed with him at his Los Feliz home in Los Angeles for the first time in seven months.
The Fury star welcomed Maddox, 15, Pax, 13, Zahara, 12, Shiloh, 10, and eight-year-old twins, Vivienne and Knox along with their two nannies for the weekend.
The 53-year-old and the kids "had a family dinner around the table, which Brad truly enjoyed," a source told In Touch Weekly last Wednesday.
"It was total chaos, as the kids all wanted to eat different things, and Brad was grateful to have a chef who accommodated all of their requests," the insider dished.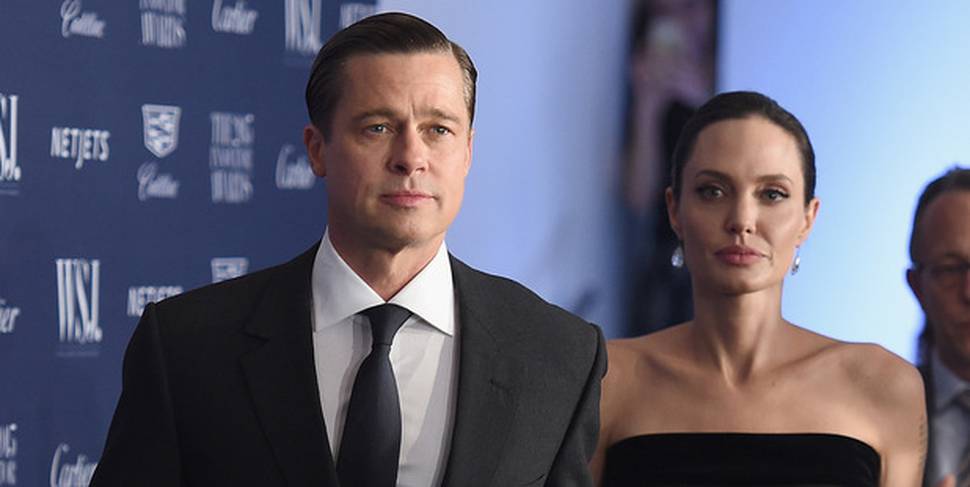 Angelina, 41, insisted the nannies joined the children, according to the insider, "because she is the one with sole physical custody of the children. Brad has no need to have his own nannies right now." It was also recommended by the family therapist.
Last month, a source also told ET that Brad had been speaking directly to his estranged wife about doing what's best for their children.
"It's still in the process of being resolved," the source said of the couple's divorce, ending 11 years together, noting that they are making progress privately. "Brad knows Angelina is a really good mom."
The couple recently agreed to resolve their divorce and custody dispute in private.
They said in a joint statement at the time that they had engaged "a private judge to make any necessary legal decisions and to facilitate the expeditious resolution of any remaining issues."
READ MORE:
• Arrest: Man claims to own Hosking's Audi
• Nicky Watson's extreme makeover
Back in February, Angelina opened up about the divorce for the first time to BBC News while in Cambodia promoting her latest film.
She said: "It was a very difficult time. Many people find themselves in this situation.
"My whole family have all been through a difficult time. My focus is my children, our children.
"We are and forever will be a family and so that is how I am coping. I am coping with finding a way through to make sure that this somehow makes us stronger and closer."