10pm:
Ending the night with a final encore of
When We Were Young
,
Rolling in the Deep
and
Someone Like You
, the show ended at 10pm sharp, having delivered everything fans could have hoped for and more.
9:50pm: She says the Auckland crowd has been the best she's had on the stadium tour.
9:11pm: On a more serious note, Adele spoke about the terror attacks in London today.
"All I want is to be home with my friends and family. They're okay but there's four people who aren't so let's dedicate this song to them," she said before singing Make You Feel My Love.
9:00pm: Falling to the ground and pulling off her boot, Adele shrieked that the beetle was on her. She then brought a fan on stage to get rid of the bugs, promising she could take a selfie with her.
15-year-old Tegan from Hamilton shook as she came on stage and gave Adele a Kiwi soft toy, which Adele said she's give to her son.
8:50pm:
"Talking of the Beatles I watched that Eight Days in a Week in Australia,' she says. Then she talks about Neighbours and how much she loves it.
"Do you get it in NZ?"
"Yes", the crowd replies.
"Do you like it?" Adele asks.
"No!" the crowd says.
8:46pm: "Now there's a giant beetle on the stage. There's two of them. They're going to start mating and take over the stage!"
8:45pm: She freaks out and screams at a "hornet" landing in her hair and falling to her chest during a break and a chat with the crowd. I've f***ed my throat now, she laughs.
8:44pm: After joking that most of her songs are "miserable," Adele says she's going to play all the upbeat numbers in a row. "We'll get them out of the way quickly and then we can all cry," she cackles before launching into Rumour Has It.
8:16pm: She's making everyone sing Happy Birthday to her Kiwi make-up artist Michael Ashton.
8:15pm: "Aren't you lively! This is my first time ever here. I've just been in Australia sweating my tits off. Not only am I happy to be here but your weather is much more my cup of tea."
8:10pm: Visuals of local Auckland landmarks, including the Town Hall, Princes Wharf, One Tree Hill and the Sky Tower filled the screens above Adele as she powered through Hometown Glory.
8:04pm: Waving to the crowd with both hands and encouraging everyone to singalong, it was a fun and enthusiastic start to the night.
7:54pm: Despite repeated warnings of a prompt 7.30pm start, it was 7.52pm when the giant eyes on the circular screen flicked opening and Adele took the stage, opening the show with Hello.
7:51pm: It appears Adele is about to appear after a slight delay to start the show.
7:28pm: Anticipation is building among fans as Adele is just moments away from hitting the stage.
6:38pm:
Warnings to travel early to Adele's concert seem to have gotten through to the public. Auckland Transport spokesman Mark Hannan said public transport to the show was going "really really well" by around 6.35pm, with less than an hour before Adele was due to come on stage.
"There are still people getting onto buses downtown, but there's no wait - there are buses waiting for people now. Trains were busy and there was a very minor delay on the Southern line but around half the people are already at the venue, and there are deep queues there. So people have travelled early."
6:16pm:
New Zealand Transport Agency says city-bound traffic is currently heavy at Papakura, and heavy again from Princes Street to Greenlane.
A crash north of Drury that temporarily blocked the right lane has now been cleared.
Northbound traffic is also backing up on the Waikato Expressway, and the Northern motorway is heavy city-bound between Northcote Road and the Harbour Bridge.
Traffic is currently backed up on Manukau Rd.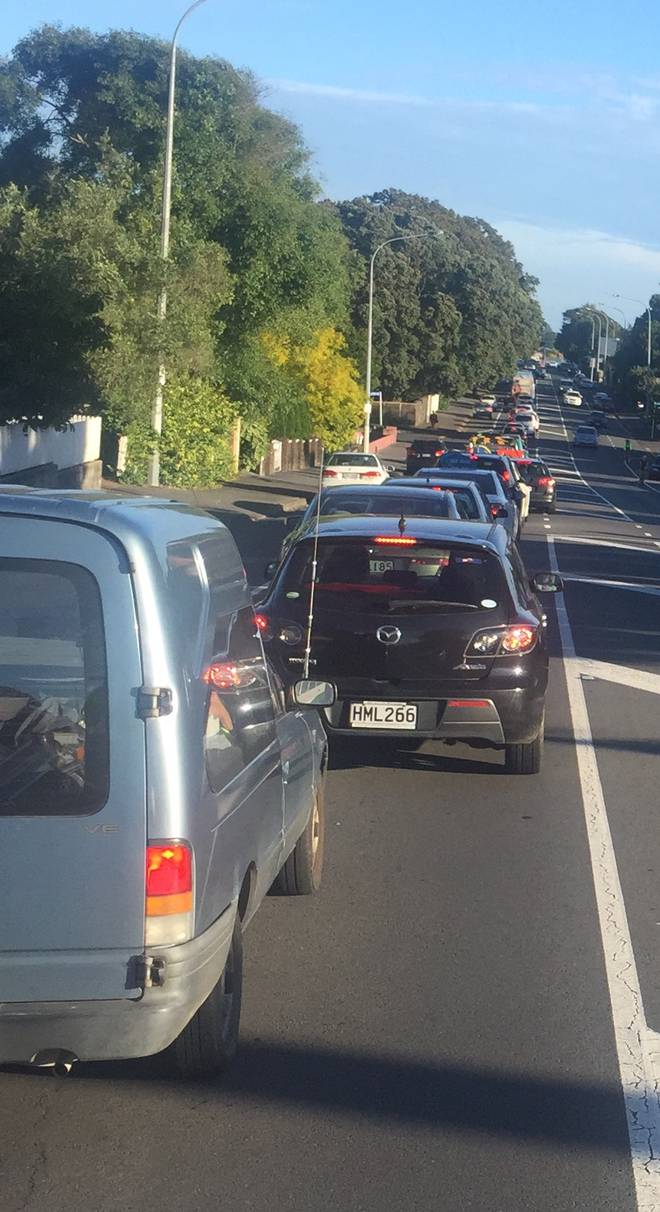 5:50pm:
Hundreds of Adele fans have heeded the travel warnings and arrived at Mt Smart Stadium before gates opened.
A fan told the Herald it took her over two hours to get to the concert, leaving Mairangi Bay at 3:45pm and arriving at Mt Smart at 5:30pm.
Fans have posted photos on social media of the extensive queues at Mt Smart.
Auckland Transport has issued a series of warnings ahead of Adele's concert tonight, which is expected to cause havoc during rush hour.
Up to 45,000 fans are expected at the first show of Adele's New Zealand tour, which kicks off at 7.30pm at Mt Smart Stadium.
READ MORE
• Adele tour boss: 'She might not be back'
• Adele show: What you need to know
New Zealand Transport Agency says city-bound traffic is currently heavy around Drury due to Adele traffic, and heavy again from East Tamaki Road to Greenlane. A crash north of Drury that temporarily blocked the right lane has now been cleared.
Northbound traffic is also backing up on the Waikato Expressway, and the Northern motorway is heavy city-bound from Sunset Road to the Harbour Bridge.
Northern busway stations are reportedly busy with concert-goers waiting for busses into the city.
Trains are also packed with fans heading to the concert.
"If you're heading to the Thursday night concert, you will be travelling during peak evening traffic, and when public transport is at its busiest," Auckland Transport warned.
"Travel may take over two hours and it is recommended you arrive at the venue at least 60 minutes prior to the start of the show so plan your travel in advance and allow plenty of extra time."
Auckland Transport sent a series of tweets warning of the extra load on the city's transport infrastructure.
With Adele due on stage at 7.30pm, it asked ticket holders to plan their trip well in advance.
It also took the extreme measure of asking commuters not going to the show to travel "off-peak".
It asked ticket-holders to check schedules for tonight's public transport options, including buses, trains and ferries.
Adele's second two shows, on Saturday and Sunday, aren't expected to be as congested thanks to the lack of commuter traffic.
Everything you need to know about Adele's Auckland shows
• The show starts at 7.30pm on the dot with no support. Sydney was an exception and the result of trying to transport 90,000 people to an arena which is a 30-minute train ride out of the city centre. You can be late if you want, but you'll risk missing part of the show.
• Travel early and smart.There are about 45,000 people heading to Mt Smart each night and Auckland Transport is warning of two-hour traffic delays and advising you travel before 5pm (gates open at 5.30pm). AT is offering extra public transport services, free with your Adele ticket. Head to at.govt.nz/bus-train-ferry/events/adele for all the info.
• It sounds dumb, but check your ticket and make sure you're heading to the right show on the right day. Also, know where you're sitting. The stage and set up is massive and totally different to what you're used to. So know where you're going, follow the signs, and try not to steal someone else's seat.
• If you're wondering just how big the set is, let's put it this way: Two 747 freighters are making two trips each to move everything from Melbourne, and another 12 12m shipping containers came across the water from Sydney with the staging system. The whole thing takes about 60 hours to set up and that's not even including the fact that Mt Smart had to build a whole extra grandstand to fit everyone in.
• If you're an Adele VIP, know that your fancy tour gifts come in a handy Adele tote bag, which you'll be able to wear on your back so you don't have to worry about where to put it.
• Live Nation have put out the official warning that tickets purchased via reseller sites such as Viagogo, Ticketblaster, Queen of Tickets, or eBay may not get you through the door.
• Wear comfortable shoes. This is not the kind of show which will keep you moving the entire time and a lot of time will be spent just standing there.
• Make sure your phone is charged and there's plenty of storage space for photos, Adele's been known to pose for pictures and even photobomb selfies. But you can't bring professional cameras, video cameras, Go-pros or selfie sticks.
• Adele also doesn't want any laser pointers or glow sticks, but you can take a sign if you want.
• You can take snacks from home - no takeaways however - and your own water bottle as long as it's no bigger than one litre, but they will take the lid off you when you go in. The same goes for any drink you purchase inside.
• Metservice is predicting wet weather for Saturday and Sunday's shows but they will go ahead, rain or shine. You won't be allowed an umbrella so take a raincoat or poncho.
• Hot tip: pay attention to the confetti. Some of the pieces come with handwritten notes on them which make for a super cute and totally free tour souvenir.9:00pm: