The more things change the more they stay the same. Guns N' Roses still know how to bring the showmanship, and they'll also still make the audience wait before they get it.
To be fair, the first delay wasn't the band's fault. Instead a problem with the turnstiles kept fans locked outside the stadium in pouring rain for almost two hours.
By the time it was fixed and fans could get inside, warm up band Wolfmother was already playing.
But that was no matter for the eager crowd of fans in top hats, cut off denim, and leather jackets. They were ready to rock, even as the rain continued.
Then came the next delay, an unexplained hour long wait for Guns N' Roses to appear.
The antsy crowd even began to chant in a bid to get their idols on stage, but there was no forcing the band to show before they were ready.
When they were finally ready, the rock group even cheekily acknowledged the wait, being announced on stage as the group that "put the punk in punctuality".
But once they were finally ready to play, they soon won the audience back.
Guns N' Roses can still bring a wall of noise, heavy guitar, and high energy showmanship. Despite looking out of breath every now and then, Axl can also still manage those trademark screams that last seemingly forever.
Add in pyrotechnics and impressive lighting, and all was forgiven by the fans. Through the pouring rain, they screamed the lyrics back to the band that nobody thought would reunite, let alone reunite for a tour that included New Zealand.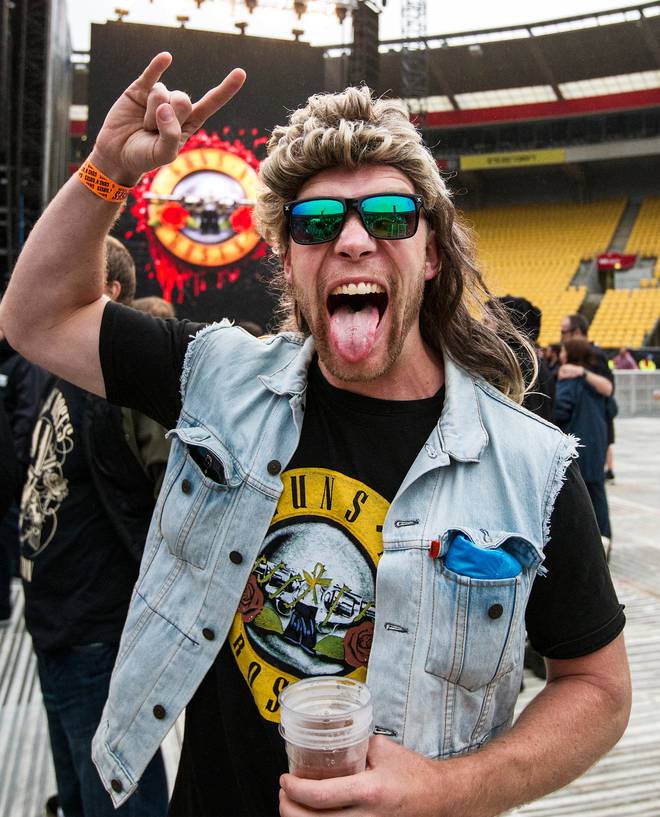 It's a reunion that plays on nostalgia and reliving your youth. Guns N' Roses make a good argument for embracing both the good and the bad of that nostalgia.
Full setlist
It's So Easy
Mr Brownstone
Chinese Democracy
Welcome to the Jungle
Double Talkin Jive
Better
Estranged
Live and Let Die
Rocket Queen
You Could Be Mine
You Can't Put Your Arms Around A Memory/New Rose
This I Love
Civil War
Coma
Slash solo/Godfather theme
Sweet Child O Mine
I Used To Love Her
Out Ta Get Me
Wish You Were Here (Pink Floyd cover)
November Rain
Knockin On Heaven's Door
Night Train
Encore:
Don't Cry
The Seeker (The Who cover )
Paradise City
* Tickets are still available for the Auckland show, Saturday 4th of February at Western Springs.