The vibe was funereal. A barely audible dirge welcomed us into Vector Arena, while shafts of cold, stark white light illuminated the stage. The Bad Seeds, all clad in dark suits, walked out sombrely, to take up position.
As the heavy Gothic chords of Anthrocene rung out from the grand piano, the centrepiece of a crammed stage, Nick Cave, also impeccably dressed in a dark suit, appeared.
He sat hunched over on a little stool, with a music stand to his left, and began: "All the fine winds gone, and this sweet world is so much older".
He was mostly hushed, oscillating between spoken word and song while gesturing extravagantly from his crooked body, like a grizzled old storyteller around a campfire.
It was commanding and hypnotic. The piano's steady march to impending doom punctuated only by rumbling bass and frantic bursts of jazz drumming.
Next, the dirty bass fuzz of Jesus Alone shook the stage while an absolutely ear-piercing synth whine, courtesy of head Bad Seed Warren Ellis, swooped erratically like an injured harpy. It was relentless.
There was little respite to be found in the haunting Magneto, its delicate fragility commanding complete and silent attention from the audience.
Higgs Boson Blues lifted the audience's spirits as Cave's lopsided dancing and gangly outstretched arms encouraged others to join him. But things really took off during the driving horror grooves of From Her to Eternity, which saw Cave going into full manic preacher mode.
He appeared to have platforms set up in front of the security barrier, from which he would leave the stage to lean directly over the audience.
While he whipped himself into a frenzy, hands rose up from the audience to grab at his gesticulating arms. As it turned apocalyptic Cave grabbed a punter's hand and didn't let go for the entirety of the song. Against the backdrop of blood red lighting, the cacophony of the band and Cave's increasing histrionics it resembled an unholy exorcism.
The swampy, chugging Americana of Tupelo kept the blasphemous vibes going with the Bad Seeds getting madly raucous behind Cave's feral yelps.
It quietened down a bit when Cave sat down at the grand. "If you could sing along with this it'd be ideal because... uh, I don't know... it'd just be a good idea," he said, before leading a subdued sing-along through Into My Arms.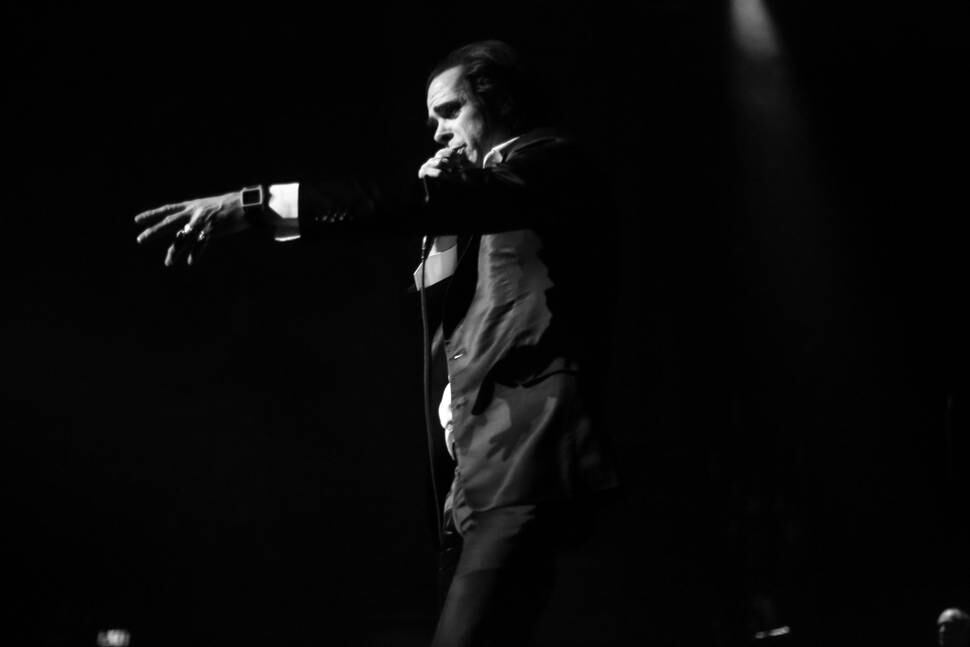 From there the textual sophistication of the impossibly sad Girl in Amber segued into the raw emotionality of I Need You.
This was a wild and brilliant ride of conflicting urges that lashed out and sought reassurance all at once.
With his arms outstretched like a grotesque angel Cave intoned, 'Nothing really matters," over and over and over... When the song switched to vulnerability, "I need you, I need you" the relief was palpable. It was also short-lived as the final minutes of the song veered haphazardly between the two, sounding as musically conflicted as the depicted emotions.
The band switched things up entirely with the louche groove of Red Right Hand, which they followed with an uncompromising run through of violent early number, The Mercy Seat.
As the pastoral organ of Distant Sky soothed the wounds a black and white projection of Danish vocalist Else Torp filled a screen behind the band.
Her angelic voice sent chills down the spine, causing more than a few teary sniffles in the audience. When Cave's gruff baritone returned for his second verse with the anguished, 'but they lied' refrain, it was heart stopping stuff. On record the song's affecting, live it's simply brutal.
The gentle, swaying beat of Skeleton Tree was a perfect end to a near perfect set. If they'd called it a night there it still would have been more than enough.
But Cave and his Bad Seeds returned for a five song encore that, in contrast to the main set, was loose and unpredictable. Cave even began taking requests.
"I don't really know if people want to hear that anymore," he replied when someone inevitably shouted Stagger Lee. "We're all a little old..."
"Does anyone not want to hear it?" he asked, only to be answered with a roar of disapproval.
"Oh... okay we'll crank it out for another f**ken couple of years then."
What happened next was worth the price of admission alone. The song's debauch swagger building into delirious hysterics with the Bad Seeds erupting into a squealing, calamitous inferno as Cave played the devilish tempter, luring you gleefully into the fire.
They left the stage on the stately quiet of Push the Sky Away, which afforded a chance to reflect back on the incredible performance we'd just been treated to.
It'd been intense and powerful, encompassing moments of both clamorous noise and funeral quiet, and even sneaking in the odd moment of humour.
In short, it'd been emotional. Bravo.