Selena Gomez has accused her ex-boyfriend Justin Bieber of not being able to 'handle the hate' over his new relationship with Sofia Richie.
The Same Old Love singer posted a message to Bieber on Instagram, a photo of him and Richie.
"If you can't handle the hate, then stop posting pictures of your girlfriend lol," Gomez wrote.
"It should be special between you two only.
"Don't be mad at your fans. They love you."
Bieber had threatened to make his Instagram private after fans posted negative comments about his relationship with Richie - the younger sister of Nicole Richie.
Read more:
• Selena Gomez parties large in Auckland
• McKiwi is back
The What Do You Mean singer appears to have responded to Gomez's dis, replying to a fan: "It's funny to see people that used me for attention and still try to point the finger in this way. Sad. All the love," Bieber wrote.
"I'm gonna make my Instagram private if you guys don't stop the hate this is getting out of hand, if you guys are really fans you wouldn't be so mean to people that I like," Bieber wrote.
Bieber posted a series of black-and-white photos of him and Richie, 17, in Japan, where he is performing his Purpose world tour.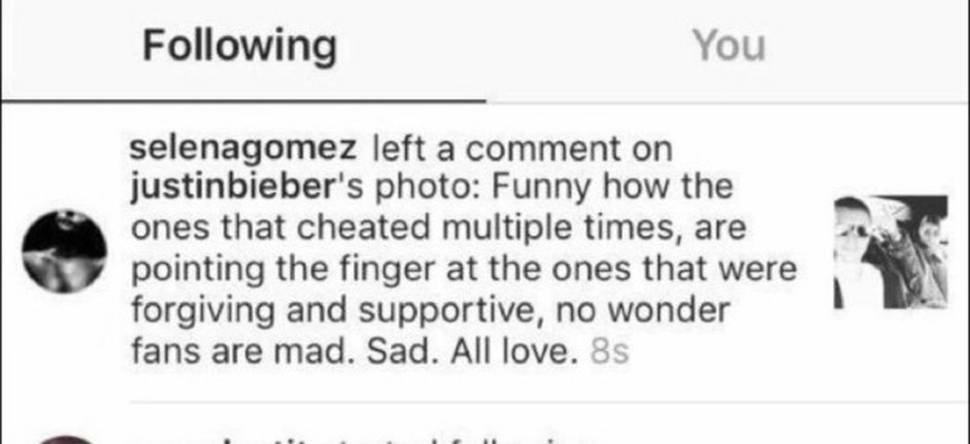 Richie appears to have disabled comments on her Instagram photos featuring Bieber, while Gomez's comments on Bieber's Instagram prompted #SelenaEndedJustinParty to trend on Twitter. Bieber and Gomez broke up in November 2014.