A new trailer for Star Wars spinoff movie Rogue One: A Star Wars Story dropped over the weekend and it looks great. Here are five things we're pumped about ...
1. Rogue One's very own Suicide Squad
"Can you be trusted without your shackles?" Wait, why is Jyn Erso (played by Felicity Jones) in shackles? We know a team is being sent on a deadly mission to retreieve the plans for the Death Star, but in this new full-length Rogue One trailer we get to see a bit more of Erso and the team who will be joining her. Jedis, assemble.
2. An awesome new droid
Move over BB-8 - there's a new adorable droid for everyone to fall in love with.
Looking like a bulked up C3PO, K-2SO (voiced by Alan Tudky) is already winning points for his trailer reveal. "The captain says you are a friend," the droid says to the movie's central character, Jyn Erso. "I will not kill you."
3. Stunning scenes and familiar features
Fans of the original Star Wars trilogy will be delighted at all the reworkings of familiar robots and space ships that they've come to know and love. Rogue One looks like it's going to be visually stunning and some of the scenes from this new trailer prove that completely.
4. The coolest character in the whole movie
Donnie Yen looks like a complete badass as the mysterious Jedi/Samurai Chirrut Imwe. He doesn't appear to have a light saber, but he still manages to take out a fleet of Stormtroopers with ease. "I fear nothing. All is as the Force wills it," he says in the trailer.
OMG Darth Vader!
It looks likely that Star Wars mega villain Darth Vader will make an appearance in Rogue One. Near the end of the trailer we catch a glimpse of Darth Vader and his iconic black helmet looking at a black screen with red lights in what we have to assume are plans for the Death Star. Chilling.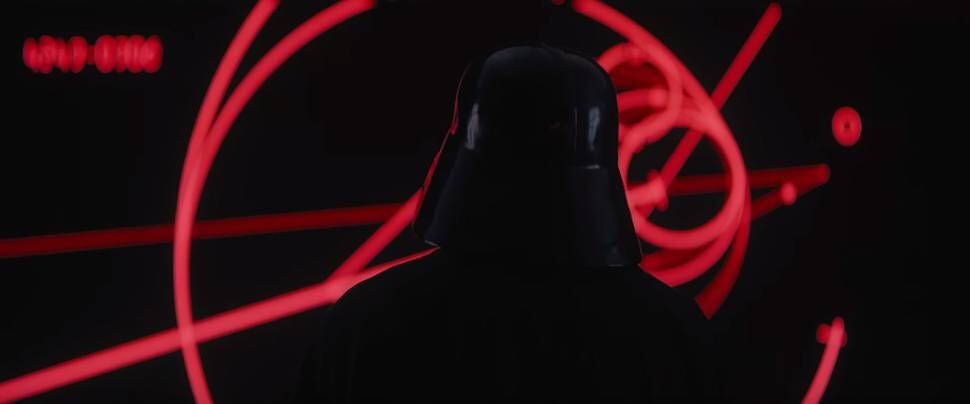 Rogue One: A Star Wars Story
is set to be released in December this year.