Let's face it - life is usually mundane
Distinguishing between horses and zebras: "I am constantly seeing dangers and significance everywhere. I don't have a head cold, I have meningococcal meningitis! And will soon die! I start thinking about how tragic this will be for everyone I know; how sad they will be when they hear how this bright young thing was snuffed out needlessly; what will they say at my funeral? ... and then I get over what extremely minor aliment it is and forget all the dreadful predictions I made. Until the next time I get sick, and it isn't a headache, it's brain cancer! Or maybe a tapeworm has got in my head! Once I had a mosquito bite on my arm, and it was infected, so obviously it was the same antibiotic-resistant, flesh-eating bacteria I saw on CNN. I called my godfather [who is also a doctor] to confirm my suspicions ... Luckily , my brilliant godmother answered ... She was saying it in the context of medical maladies, but I believe it can apply to many other things: 'If it's making a galloping noise, it's probably a horse, not a zebra.' In other words, it's probably - not always, but probably - the most mundane explanation. So when you are fretting unreasonably about something and coming up with zebra explanations ['My boss is quiet this morning, so I'll bet she's going to fire me!'], try to steer yourself back towards horse-thinking ['She's probably tired or busy']." (Adulting: How To Become A Grown Up in 486 Easy(ish) Steps by Kelly Williams Brown.)
Suspicions about tunnels
"Could someone explain to me why the tunnels you encounter heading north were ever necessary?" asks Derek. "Was it just so they could justify a toll or did some big company want to experiment? It boggles the mind especially when you consider the many mountain roads you have to negotiate around the whole country. Then for no real reason there is this tiny hill with two massive tunnels going through it. There is also a bridge before the tunnels. Surely this bridge could have ended at any level or distance, it even could have gone to the top of the hill. To make thing more confusing, just 2km south of the tunnels is a similar hill where the earth was simply removed and levelled out for the road."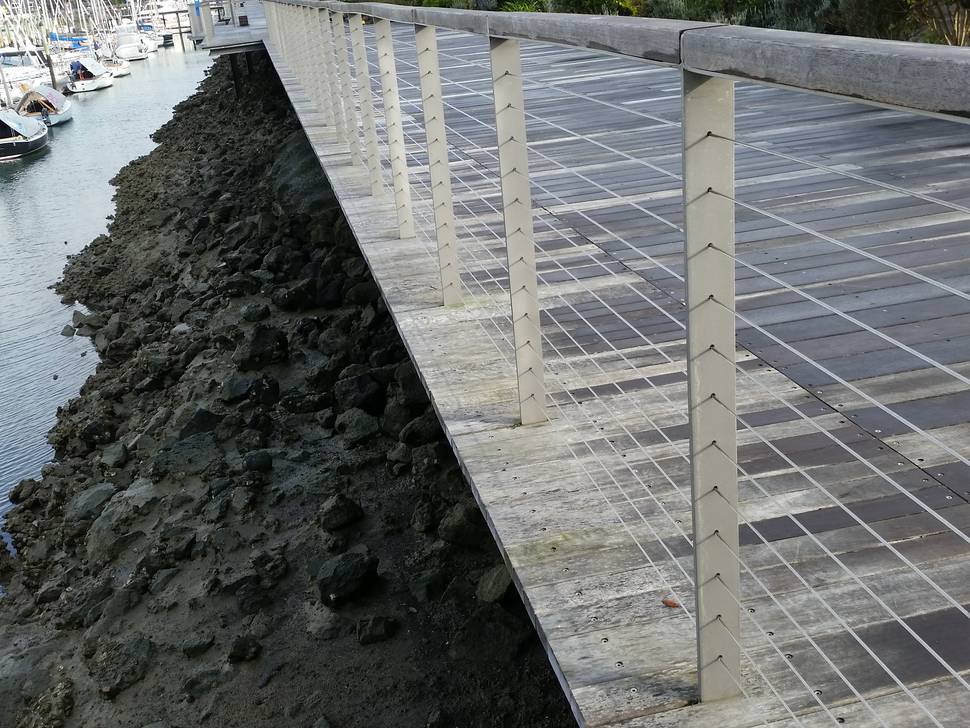 Climbing tool
"Who let this fence at Westhaven [below] on a major new public thoroughfare slip through?" asks Oisin Frost. "My nephews were using the horizontal lines like a ladder and balancing on the top rail."
Drone takes flight without its return address
"Help!" writes Andrew who is desperately hoping someone spotted his fly-away drone in Mt Eden on Saturday, after he lost sight of it around Grange Rd area about 4.30pm ... on its maiden voyage.
Good read:
"Did an Olympic kayaker capsize after his vessel hit a couch in Rio de Janeiro's Rodrigo de Freitas Lagoon? Are the Olympic organizers covering up the incident to avoid embarrassment? And was the sofa in question actually more of a daybed? The #kayaksofa conspiracy theory is the biggest mystery of the young Rio Games, which have thus far been composed of equal parts athletic excellence, slapstick comedy, and garbage. It began on August 5, when British journalist Paul Kelso posted an amusing update on Twitter..."
.
Video: This feisty Swedish lady from Lidköping will not accept her failure, and gets into a droll fight with the game show host.
Herald app users tap here for today's video.
Got a Sideswipe? Send your pictures, links and anecdotes to Ana at ana.samways@nzherald.co.nz