A gripping series about EU intrigue was perfect for Samantha Morton, writes Lydia Jenkin
Uncompromising, intense, forthright, and as empathetic in real life as she is with the characters she plays, Oscar and Golden Globe-winning British actress Samantha Morton has had a richly varied career.
Known for her stunning performances in films such as Control (the biopic about Joy Division's Ian Curtis) and In America (as a grieving mother), she also received critical acclaim for her directorial debut The Unloved, and will play a key role in the upcoming J.K. Rowling film Fantastic Beasts and Where To Find Them.
Now she's appearing in a gripping six-part TV series called The Last Panthers. She plays the central role of Naomi, a mysterious woman who works for a powerful insurance agency, specialising in diamonds and their recovery, alongside John Hurt, who plays her boss, Tom, and a strong multi-national cast who help take the story from France and the UK, to Serbia and Montenegro.
Morton has been somewhat under the radar in recent years (due in part to a terrible accident in 2006 where a piece of building plaster fell on her and caused a stroke - which meant taking 18 months to recover and learning to walk again - as well as being mother to three children, the youngest who is just two) but this was the perfect project for her which came along at the right time.
"In the past few years, lots of TV shows have come my way, but they all seem to come with a seven-year option, where you have to agree to live in America potentially for seven years or whatever it is. And I have three children, I live on a farm, rurally [with husband director Harry Holm], and so that's just not really an option for me.
"So when this show came along - it was a one-off series, and it was based here - the whole package just seemed incredibly exciting. When I met Johan Renck, the director, to talk about the role, I was basically just hoping that he'd like me and I'd get to move forward and play Naomi."
On the surface, the plot initially seems to be about a gang of high-class thieves and the woman trying to track them down. It's inspired by the story of the real-life gang of Balkan thieves suspected of stealing US$136m of jewels from the Carlton Hotel in Cannes in July 2013, and does indeed begin with an audacious and thrilling burglary in Marseille. But The Last Panthers is about far more than diamonds and insurance - as Morton explains, "It's about Europe.
"It's about what the European Union is trying to achieve and how that affects different countries. It's the most progressive, ahead-of-its-time series, I can't even really believe we got to make it. That's why the work of Jack Thorne is so incredible, because they've managed to predict what might evolve, they've managed to write it, get the money to make it, and it's all unfolding right now."
Morton has long been known for her vocal support for children's rights, including speaking out in late 2014 about the abuse she experienced as a child in care, during a lengthy scandal and investigation into the abuse of children in care the UK. She's just as forthright when it comes to speaking up for refugees and the troubling history of British influence across Europe, and has great admiration for The Last Panthers creator Jack Thorne who has managed to weave such serious topics into a drama series.
"Look at the refugee crisis, and the war in Yugoslavia in the nineties and how that continues to affect the politics of the area. The show is so prescient, and so relevant. It's not really about diamonds. It's about what the British have done to the rest of the world. Terrible, terrible things they've done, leaving a trail of destruction, and then trying to cover their tracks with finance, and do deals with dirty money."
Along with its topical and compelling storyline, Morton was drawn to the series because playing Naomi was an immediately appealing proposition.
"I loved the role of Naomi because it was the type of role that would normally be given to a man. It was a joy to find a part for a woman that had that many layers and textures. It wasn't the role of a mother or a wife or a friend or a sidekick or whatever, she had her own story, and a strong character. And so often in film, which is understandable, you have a plot line that is subject to someone else's story. But in this case it's her story, and I found that incredibly powerful and rewarding."
She also found it exciting to play someone at age 25 as well as age 45, because The Last Panthers jumps back 20 years to see how past Samantha Morton as Naomi in scenes - with John Hurt as her boss Tom - from The Last Panthers.
It was a joy to find a part for a woman that had that many layers and textures. It wasn't the role of a mother or a wife or a friend or a sidekick ... she had her own story.
events in the Balkan countries have deeply influenced the desperate situation of the present.
"It was an invitation for really working hard and working out how to make it believable and relishing that. I'm 39 now, but I was 37 when I was playing Naomi, and I was playing her at age 45, as well as her early 20s, and it was great to able to experiment with both those worlds as an actor - one which I remember quite vividly [my 20s], and one which I've not experienced yet."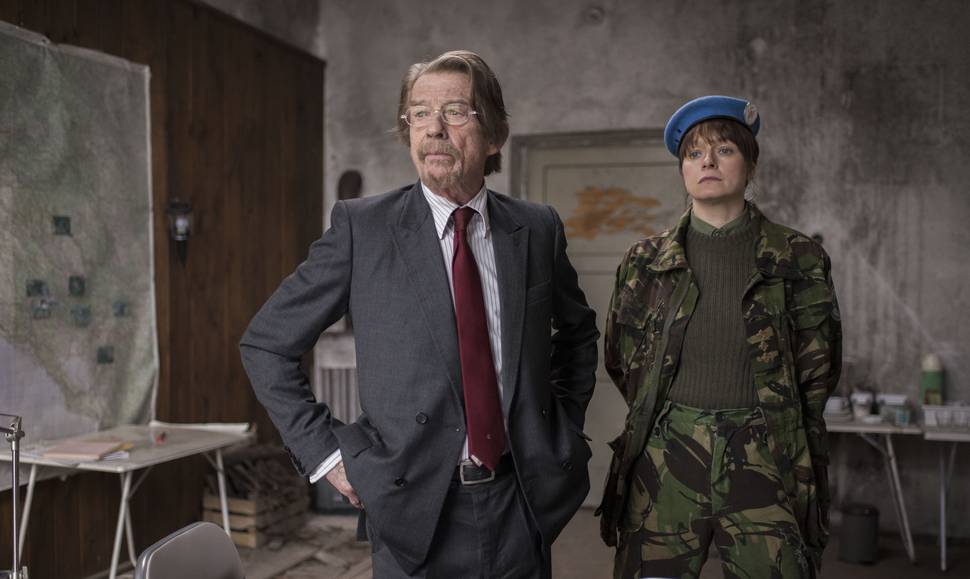 The 20-something Naomi is working in Eastern Europe as a negotiator for the UN as a soldier, an occupation which required some substantial training for Morton.
"I've had my third baby and I was comfortably not in the shape of a soldier" she says, laughing. "I'm very happy in my shape, but they said, 'Okay, you've got to play a 20-something soldier', and not that I had to be thin or anything, it was about looking strong, looking as if I could dead-lift 60kg.
"So I did a lot of training for three months, and it was intense and tough, but it was more about getting into character than looking thin."
Morton has long been vocal in her opinions about the undue pressure actresses (and women in general) face in regards to their appearance, and has been frequently supportive of other women in the industry who also speak up.
"I know in Hollywood the expectation is for all women to look thin and look like athletes, but do women really look like that all the time? I don't think so. So I've tried to always say, I'm a responsible mother, and I don't think you should bring unhealthy eating habits to your home, in front of your children and your family, you should be as normal as possible. But this was different, because I was playing a soldier, and I needed to look competent and strong, and that was why I trained. And it was actually a lot of fun."
Fortunately for Morton, she was very familiar with the military world due to her family background, and found it easy to slip into that world.
"I knew nothing about loss adjustment at all, or insurance investigation, but I did know a lot about the military. I grew up in a military family [her brother was a marine], so I could relate to that side of her character, and I think Naomi was based on her past as much as her present. I think Jack [Thorne] envisioned her in her past military role before he envisioned her as an investigator, so that's the standpoint from which I worked too."
They filmed the series on location across London, Marseille, Serbia, and Montenegro, with a multinational cast speaking three languages.
"It gave the show great authenticity I think. The actors involved, a lot of them lived through this, and if you're among the people who've experienced these things, it's a whole different feeling".
It's also caused reviewers (who have universally applauded the series) to use words like challenging and complicated - which may be off-putting to some.
"I think that's accurate though" Morton says. "For want of a better phrase, I think you have to invest in it. It's not going to give everything away to you. When I watched it - and I knew the script - I was absolutely fascinated and gripped and enthralled, by various characters, and I'd watch it again and find things that I'd missed. And it reminded me of a show like The Wire where you get into it immediately, but then you really get into it, and if you allow yourself you really try to understand it all, you're rewarded.
"It's not easy entertainment, it won't patronise the audience, or lecture, but we made what we wanted to make without any apologies or any thinking about dumbing it down, we were as truthful as we could be, and I think that shows. I'm very proud of it."
Rialto Channel is open from June 23-29 to all Sky Basic Subscribers.
Lowdown
Who: Samantha Morton
What: New TV series The Last Panthers
Where and when: Screening on Sky TV's Rialto Channel from Tuesday, June 28, at 8.30pm.