It's 30 years today since the release of Top Gun, a film that defined a generation and launched Tom Cruise into a whole new stratosphere as a movie star.
To mark the occasion, let's look back at a few little known facts from the global smash hit ...
THE PENTAGON INFLUENCE
According to The Washington Post, the Pentagon "worked hand-in-hand" with the movie studio to make the film and only charged them $US1.8 million to use all of their planes and aircraft carriers.
But their co-operation came at a price.
The Pentagon demanded script approval to ensure that the Navy was portrayed in a positive light.
In fact they even had the cause of Goose's death changed from a midair collision to an ejection mishap because the Navy were, according to Time Magazine, concerned that it looked like too many pilots were crashing.
HEIGHT ISSUE
Tom Cruise is three inches shorter than the actress who played his love interest in the film, Kelly McGillis.
"Tom and (director) Tony (Scott) and I really weren't bothered by the height difference, but apparently Paramount was, so I acted the whole time in my stocking feet," McGillis told NewsOK.
Not only did McGillis not wear any shoes during their scenes, but Cruise wore special cowboy boots that gave him a little height boost.
MORE SEX, PLEASE
A test audience who saw the movie before it was released had one major gripe ... Where's the love scene?
The producers obliged and five months after the production had wrapped, they summoned Tom Cruise and Kelly McGillis to Chicago to film the infamous elevator scene and the sex scene.
But a lot had changed in that five months.
"Kelly had lost like 60 pounds (27 kilograms) and Tom was actually shooting Color of Money," director Tony Scott said.
Cruise's hair is much longer in those two scenes and McGillis' hair was much darker, hence why she hid it underneath a cap in that elevator scene.
SOUNDTRACK SNUB
The producers wanted to use a Bryan Adams song in the movie but he was having none of it.
The Canadian singer refused to let them use his track Only the Strong Survive because he felt that Top Gun glorified war.
Adams and pop group Toto were also asked to sing one of the film's most famous songs, Danger Zone, but they both passed. Kenny Loggins did the honours. The 'Love Theme' from Top Gun, Berlin's Take My Breath Away, became one of the most enduring ballads of the 1980s.
GET YOUR MONEY'S WORTH
"We're paying $1 million for Tom Cruise so we gotta show some flesh," recalled technical adviser Pete Pettigrew of what filmmakers said regarding the need for a somewhat gratuitous locker room scene in the film.
NO FLY ZONE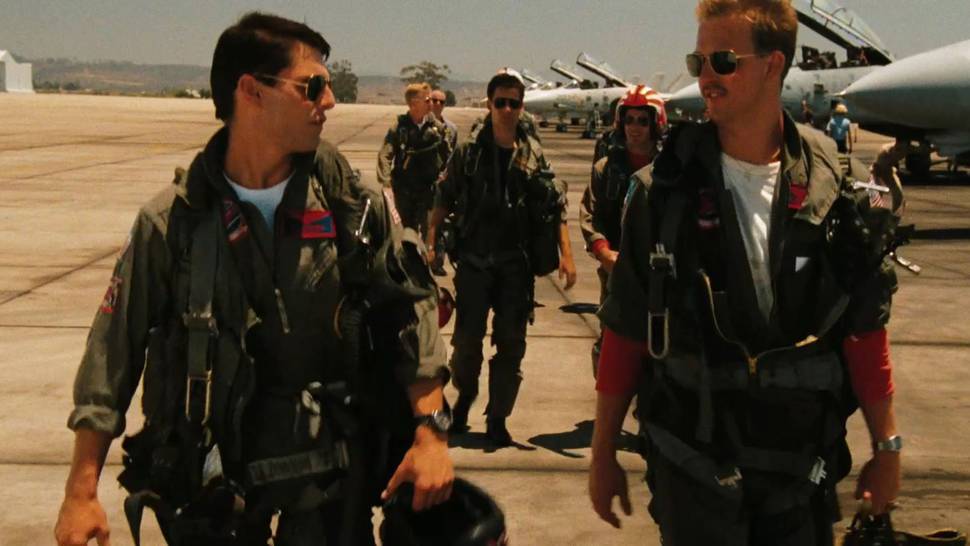 Tom Cruise was initially reluctant to sign on for the film, so producer Jerry Bruckheimer came up with an idea to convince him to say yes.
Bruckheimer called the navy and arranged for Cruise to be taken up in a fighter jet.
"So they take Tom up there they do five Gs," Bruckheimer said about the flight.
"They do barrel rolls, they do everything. He's heaving in the plane. He gets on the tarmac, runs to a pay phone ... and he said, 'I'm in. I'm doing the movie. I love it. This is great.'"
Some of the other actors weren't as keen as Cruise to go for a zip through the clouds.
It's never been revealed which actors refused to go for a flight, but apparently Anthony Edwards (who played Goose) was the only actor who didn't vomit in the cockpit.
TRAGIC DEATH
Famed stunt pilot Art Scholl was killed during the production of the movie, aged 54. He diedwhen his Pitts S-2 camera plane failed to recover from a flat spin and plunged into the Pacific Ocean. Scholl's last words over the radio were "I have a problem - I have a real problem." The exact cause of the crash was never determined, and neither the aircraft nor Scholl's body were ever recovered. The film is dedicated to him.
BIG MONEY
Top Gun was not a cheap film to make. Every hour of flight for those F-14s cost them a whopping $10,000. However, it was money well spent: Top Gun was the highest grossing film of 1986. It took $177 million in the US alone, and $353 million worldwide. Aussie smash Crocodile Dundee was the second biggest film of the year, and Platoon third.