With just over a month to go before the new season of Orange Is The New Black premieres, Netflix has given fans a fresh glimpse into Litchfield prison - and it's turning nasty.
The trailer focuses on the now, "for-profit" prison meaning a new batch of inmates, tighter rules and more heated conflicts. And Piper? Her paranoia is growing. But maybe, with good reason.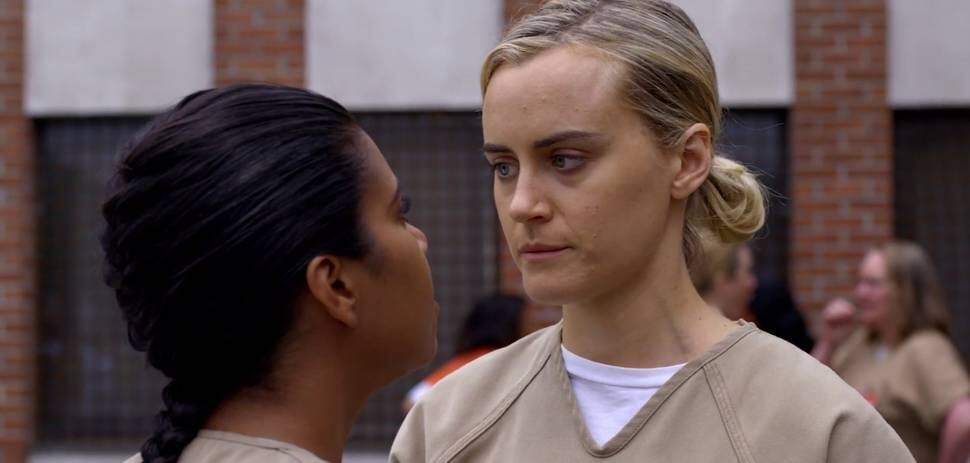 Starting off with a subtle jab at Barack Obama "Look at Obama, he got to be president so now the rest of us get to be .... in prison" the teaser shows the inmates working in new jobs, mopping the floors and answering phones.
But it's the clashes between inmates and with the guards that will have fans salivating.
"You really want to go there with me?" A new character threatens Taystee to which she replies: "Oh we there, bought a house moved in b**** and now I am re-modelling the kitchen."
Even main character Piper Kerman who was attempting to be a big hitter in the prison at the end of Season 3, seems to be running scared.
"I've been in Litchfield for a while now and I have started to feel unsafe lately," Kerman says.
"Everybody is getting on each others nerves, s***'s about to get stirred," Poussey Washington says in the clip.
OITNB
was renewed by Netflix for a fifth, sixth and seventh season earlier this year, which means the inmates should have plenty of time to sort out their woes or maybe make them worse.
Australian actress and model Ruby Rose who played Stella in Season 3 isn't featured among the original favourites in the upcoming season, but has previously hinted at a return to the hit show.
Season 4 of Orange Is The New Black will be available on Netflix on June 17.
- AAP