One's a boy who has no contact with his parents and lives with his aunt, cousin and half-brother; the other boy sleeps rough to avoid his drunken father. One night, the boys sneak off to a local graveyard where they witness a murder then find themselves in increasing danger as a childhood prank escalates into something darker.
It's not a story ripped from the news headlines; it's the plot of Mark Twain's 1876 novel, The New Adventures of Tom Sawyer. If you don't remember mischievous but loveable Tom and his best mate, Huckleberry Finn quite like that, it's probably because you've seen the more innocent 1973 musical film where a young Jodie Foster played Tom's "girlfriend", Becky Thatcher.
But Margaret-Mary Hollins, who directs Auckland Theatre Company's April school holiday version, says the novel -- regarded as an immortal classic -- has more of an edge to it. Hollins says the production keeps all of Tom's fun-filled adventures in the small-town of Hannibal, Missouri -- on the banks of the Mississippi River -- but doesn't shy away from the story's more sinister aspects.
"There's a lot about superstition in the novel," says Hollins, a seasoned director with a special interest in community and children's theatre. "The boys are quite obsessed with it, so we've placed more emphasis on that. We also talked a lot about the murder scene -- whether and how to include it -- and, in the end, decided it needs to be shown, but we are warning parents that it's there and will be a scary moment."
That moment is unlikely to overshadow Tom's antics, which include duping his mates into whitewashing a fence, stealing his first kiss from Becky Thatcher, hunting for stolen gold and -- the incident that causes the trouble -- sneaking out of Aunt Polly's house to visit a graveyard to find a cure for warts.
Hollins says writer Mike Hudson adapted the story, first for a production at The Auckland Performing Arts Centre (Tapac) last year and was asked to do so again for the ATC. He's shortened the story and used recent films as reference points. These include Matthew McConaughey's Mud, about two boys exploring the Mississippi who find a fugitive who needs their help, and the 1986 classic, Stand by Me.
She says they're films where worlds collide, very much like The Adventures of Tom Sawyer. It's a coming-of-age story but highlights some of the more baffling aspects of the adult world and shows children morphing more slowly into adulthood.
"It's like when you see young girls who are becoming women but still carrying teddy bears in their bags."
The production is the first in a series of ATC shows this year featuring cast members who will be trained through the company as part of a new programme for young actors.
For the 30-strong cast of Tom Sawyer, this started with a three-day acting intensive, introducing the young actors to the play and spending time working on American accents with a dialect coach.
Actor Tim Earl, who plays Tom, says he finds it intriguing that the adult world was full of structure and strictures, yet children had, in many ways, a great deal of freedom to get outside and explore the world.
It has parallels with his own childhood; the 22-year-old grew up on a mini-farm outside of Christchurch and recalls mornings -- "they were so cold" -- rising early to help his father with lambing, running around with his friends after rugby and cricket and playing war games with guns made out of sticks, and summer holidays camping at Mapua beach in Nelson.
"But we had our fair share of video games and watching movies, too. It would just get to a certain time where our parents would decide we'd been inside too long and we'd be kicked outside to play," he says. "Tom Sawyer has an authentic energy to it and I do sometimes find myself feeling I've been transported back in time."
Earl appears in back-to-back ATC shows, starring next as the lead character in The Curious Incident of the Dog in the Night Time.
Where to explore, off the beaten track
The Adventures of Tom Sawyer is the classic story of a young "free range" boy with an unquenchable thirst for action and excitement. There's certainly a lot of talk about how "free range" modern kids are and whether too much of their time is spent in front of a screen.
But Auckland, surrounded by beaches and bush and packed with regional parks, offers plenty of chances for a Tom Sawyeresque adventure.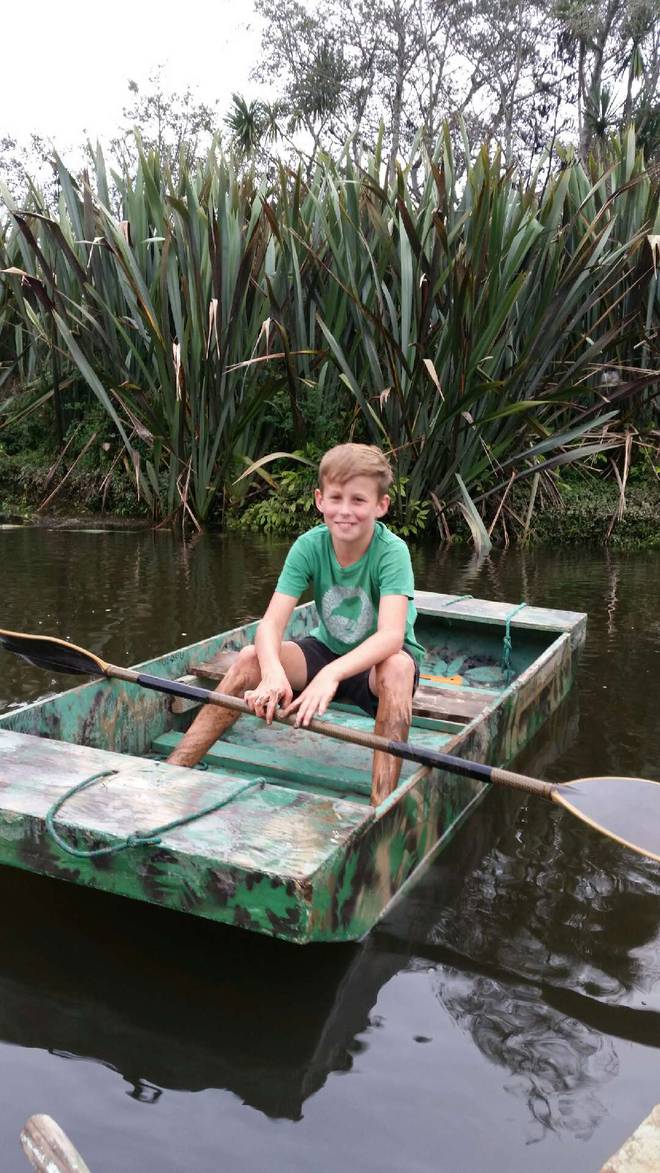 Here are some suggestions:
1
The upper Waiwera River is a great place to splash about and build rafts. There's also a place in the bush off the Okura Track where people have already built tepees.
2 It's a 15-20 minute walk from the Devonport Ferry Terminal to North Head, where you'll find fortifications, gun emplacements and tunnels to explore. Bring a torch if you're planning to go underground.
3 There's more to Bethells Beach than the surf - think bush walks, sand dunes and a dune lake (Lake Wainamu) to enjoy.
4 The Auckland Domain and Albert Park have the best trees for tree-climbing; there's lots of space to run around at the Auckland Botanic Gardens in Manurewa and at Cornwall Park.
5 Visit Beach Haven, where rope swings hang from pohutukawa trees and there's a boat the kids can pull in and out (attached to the sea bed by rope). You can swim only at high tide but the rest of the time there's mud, purple crabs and some huge trees and, just around the corner, Shepherd's Park with a network of tracks and bush that lead down to the estuary.
Performance
What: The Adventures of Tom Sawyer
Where & when: Selwyn College Theatre; from April 21