Jon Snow may be dead, but his sister Sansa is very much alive and in control in the latest trailer to be released from Game of Thrones.
The fresh glimpse into the sixth season was released today and paints a miserable and tormenting image of the show's favourite characters while also gifting the most thrilling of teases.
Sansa Stark broods as she is pictured surrounded by soldiers wearing the direwolf sigil of House Stark. Her desire for vengeance is clear.
"It's all I think about. What was taken from me," Sansa says over flashbacks to both her tormenting husband Ramsey Bolton and the Red Wedding.
At the Hollywood premiere of Game of Thrones on Monday, Sophie Turner, who plays the previously meek Stark character was asked to describe Sansa in three words.
She replied "boss, ass, bitch" and judging from this trailer, it would seem that finally Sansa is going to toughen up and take control.
But she's not the only one. Quite a few of the show's female characters will be fighting back this season.
"If anyone thought the dudes had it going on, this season will change their minds," Emilia Clarke, who plays Daenerys Targaryen said to Reuters on the red carpet at the sixth season premiere. "Yes, we're bringing the fire."
In the trailer viewers get a glimpse of Daenerys, who ran into the Dothraki clan at the end of season five after fleeing her realm on a dragon.
The Queen is shown being stripped in a hut by her Dothraki captives before a dragon comes soaring over the horsemen, presumably flying to her aid.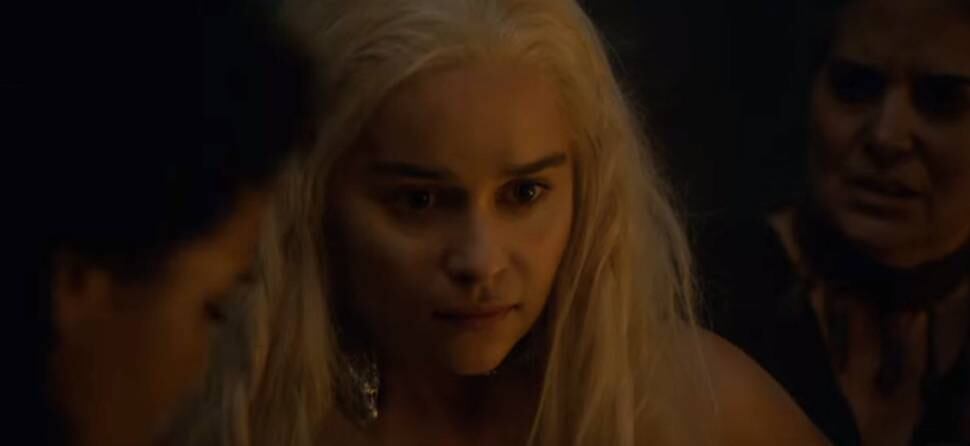 Over at the House of Black and White, a blind Arya Stark is given a second and final chance as we see her training with the mysterious Waif.
In the previous trailer Arya was slapped across the face by an angered Waif after claiming she is "no one" a skill that the Faceless men achieve through dedicated training.
While the fate of Jon Snow still remains a mystery, the new clip provides yet another look at the character's motionless body.
Davos Seaworth alongside a few watchman who remain faithful to Snow are pictured guarding his still body in what looks to be a standoff between members of the Night's Watch.
"I thought he was the man to lead us through the long night, but I was wrong," the voiceover says.
The trailer would be less than complete without the witty remarks of Tyrion Lannister.
"That's what I do, I drink and I know things," Tyrion tells Daenery's interpreter Missandei as he guzzles a goblet of wine.
Tyrion warns "dragons do not do well in captivity" before he is seen going down into the dungeons below Mereen to see Daenerys' chained dragons Viserton and Rhaegal.
The dragons throw a fireball making it seem like Tyrion gets fried - but surely that can't be the case ... right?
* Game of Thrones screens on Soho on Monday, April 25 at 1pm and 8.30pm.